I love a thoughtful pub makeover; it's one of my favorite things. Anyone can shove a container in front of a pub and then rip out their heart and history to make things modern. And nobody thanks breweries and landlords afterwards for creating sterile rooms in which Sky Sports is played endlessly. Then you have places like the Cove at Fairlight, near Hastings, which closed in 2014 and sat sadly until Olivia Loveridge and Henry David took it over this spring and breathed new life into it.
The wooden-fronted pub is painted black, giving it the feel of one of the 50 or so 16th-century net cottages lining the shingle beach in Hastings Old Town. The pub sign is a heavenly, hand-painted image of midnight swimmers unwinding on the nudist beach just off the coast. Disappointingly, no naturists were spotted during my time at the Cove; The clientele in the beer garden had all chosen to wear trousers and shoes to enjoy their pints of Harvey's Sussex Best and their plates bitterballan addictive, croquette-like Dutch bar snack usually made with meat, but here with mustard-colored cauliflower.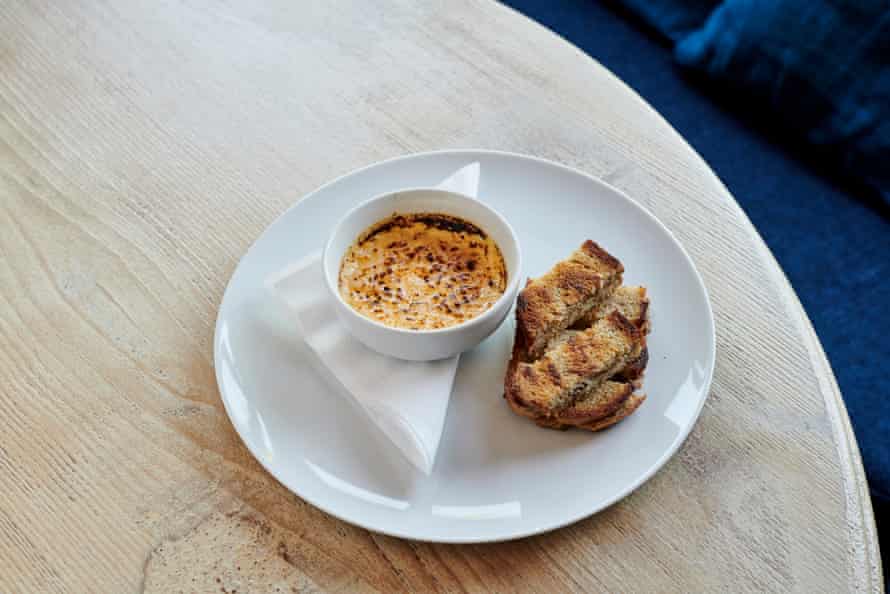 The Cove's menu is small and constantly changing, but it comes with a claim to local origins that I found quite irresistible. "Deer are hunted by Arthur in his woods," it says. "Other meat is delivered from Jamie down the road. Fish comes from the English Channel; Lettuce, vegetables and whatever else is in season is grown 400 meters away. The dairy is in Northiam and the egg layers are all named." Delightful, yes, but more important than anything else – the signage, the garden, the menu – is the fact that the loo has a large print of actor Nicolas Cage. It's a moody black and white shot of the Con Air star in a snakeskin jacket enjoying some quiet time with a small dog. Let's hope he stops by for a plate of Bitterballen and a stroll through the nudist cove soon.
We popped in late on a Sunday afternoon for some sort of tea dash dinner, having already had lunch elsewhere, and planned on just enjoying a few small plates. Things didn't go according to plan. The Cove prepares fresh Scottish pancakes to accompany its smoked salmon starter and another crème parmesan starter is served with anchovy toast. I adore Scottish pancakes, which are the rib-sticky, sweeter cousin of the dainty, flimsy blini. We call them Drop Scones in Carlisle and brush them with butter. Here at the Cove, they're warm and deliciously spongy, and served with the aforementioned smoked salmon, pickled cucumber and light horseradish whipped cream. The parmesan pudding, on the other hand, was a spicy little number, placed in a small bowl like a crème brûlée and served with an equally confident toast smeared with fish butter.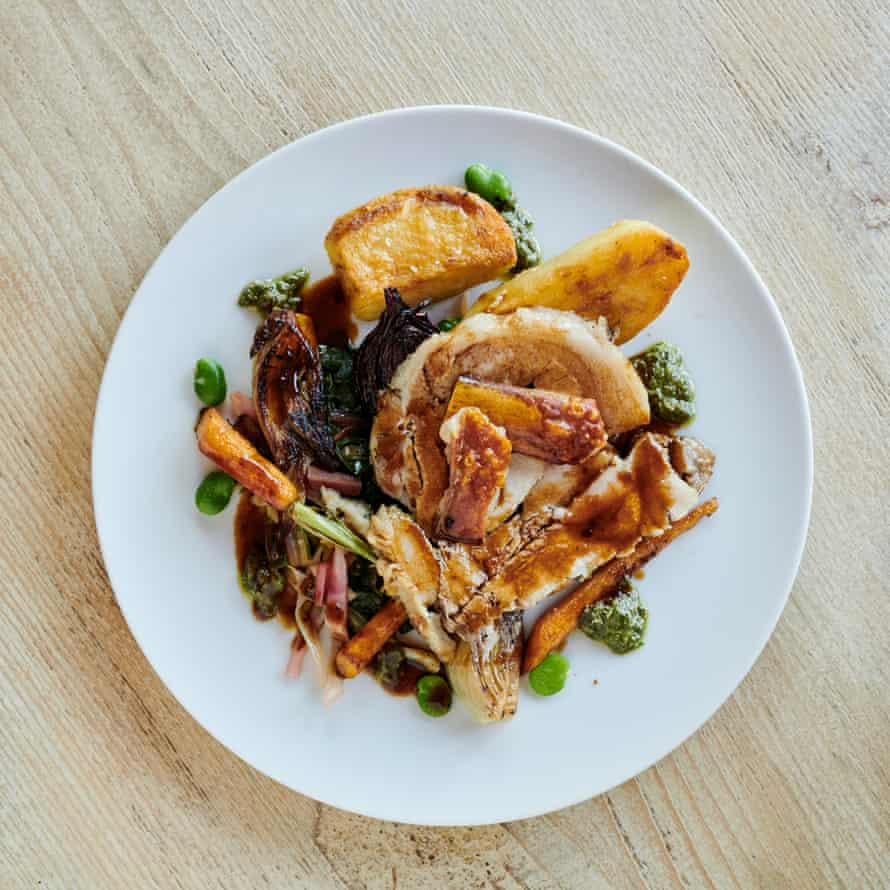 You see, The Cove doesn't serve simple pub grub – it's grown-up and clever – but neither does it annoy family groups with the kind of cheeky temper that will have your grandma staring sadly at a plate of veal cheek in elderflower juice. The Sunday menu includes a shrimp cocktail with brown prawns and a homemade brioche burger with crispy onions and accompanying fries. Such gestures are very helpful when trying to build goodwill in a community. The roast that day was a large portion of moist, rolled porchetta with an earthy herb filling. It was served with fluffy Yorkshire puddings, roasted carrots and some of the best roast potatoes I've ever tasted, and a lovely fresh green dipping salsa to go with it. Yes, Yorkshire puds and salsa for Sunday lunch. Torn rule book.
It was a mountain of food and of fabulous quality, especially considering we ate around 4pm when most pubs usually start to fight. Those wanting something lighter should opt for the shakshuka, a humble baked egg in tomatoes and peppers that really packs some heat. Another main course of sea bass was made memorable by its warm accompanying salad of peas, beans and asparagus.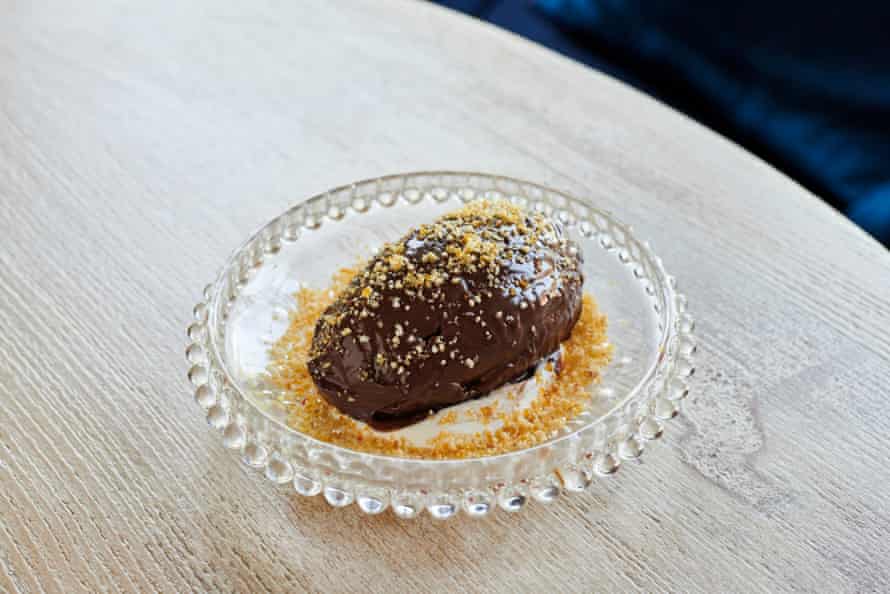 The dessert, while entirely unnecessary at this point, was a thing of simple beauty: a bowl of dark chocolate ganache — no butter base, no shell, just ganache — with hazelnut praline on a puddle of creme fraiche. It left our table of three subdued and wildly territorial. Our order of "one pudding and three spoons" felt right when we made it, then this ganache arrived – fluffy, flavorful, sinfully rich and proof of why simple, French-influenced home cooking will live on forever.
Just a recently re-opened pub with a new lick of paint and a new menu near a beach in East Sussex, The Cove is trying to keep the locals happy. It doesn't need to make national waves, but somehow I think it will.
The Bay 53 Waites Lane, Fairlight, East Sussex, 01424 814772. Open Wednesday to Sunday, lunch 12.30pm-2.30pm (Sun and Bank Holidays 1pm-6pm), dinner 6.30pm-9pm. About £35 a head for three courses, plus drinks and service.

The next episode of the third series of Grace's Comfort Eating Podcast will be released on Tuesday 5th July. Listen here.