From Pat Eby Special to mailing

Magical creatures populate the shelves, sprawl on tables, grin, grimace and stare with sparkling eyes. Sea slugs and cephalopods from the depths of the ocean coexist with ancient dinosaurs with frills, horns and flying beasts. Cottontails and foxes hang out with family pets. These peaceful kingdoms by crochet artist Jennifer Starbird enchanted onlookers young and old alike at a Macklind Market in early June.
Starbird, who has a master's degree in archeology from the University of Illinois at Chicago, began crocheting after the birth of her son. "I loved archaeology. My area of ​​study was South America, but when I had children it wasn't realistic to leave the country to dig every summer," she says. "I needed something to occupy myself."
A crochet stitch in time • She didn't have a kind grandmother to teach her how to crochet. "My mother sewed a lot, but I wanted something more manageable and without the big machine," she says.
Given the whimsical nature of her work, we asked if "Starbird" was her first name or one of her choosing. "My father gave me this name," she says, "and he loves what I do."
She didn't make yarn sculptures straight out of the box. "I started out with scarves, bags – the usual things. I made a kite with a Crafty Intentions pattern three years ago," she says. "Megan Lapp, the owner and designer of Crafty Intentions inspired me to branch out."
Addicted to amigurumi • She liked the articulated sculptural style Starbird used to create Lapp's pattern amigurumi. The style originated in Japan a few decades ago and quickly caught on with people crocheting and knitting around the world.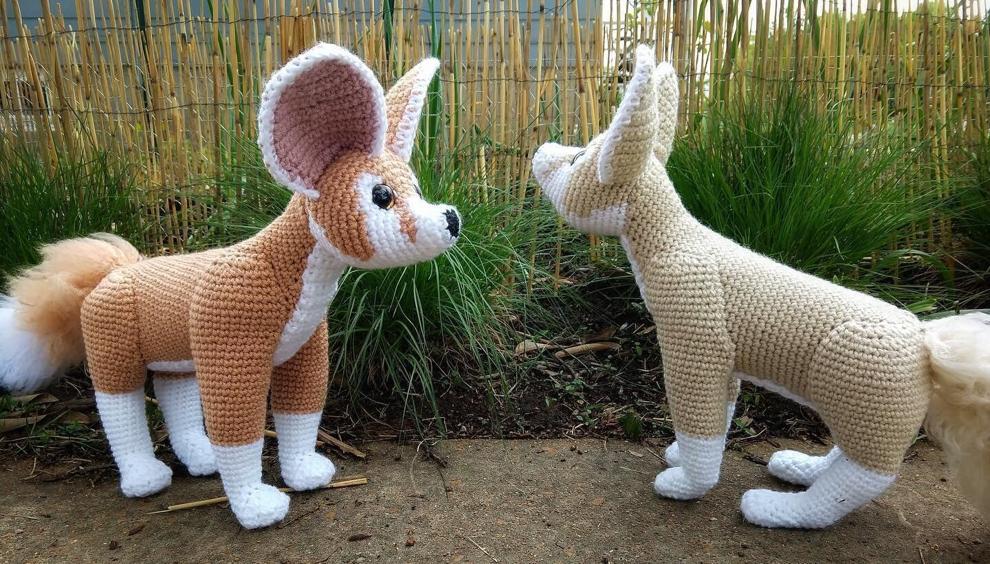 Starbird soon began creating her own patterns, having completed the kite for various creatures on land and sea, animals close to home and in the wild. She also makes patterns of extinct creatures and lesser-known animals, as befits her scientific background.
Not all creatures made of soft yarn are warm and fluffy. Her current design in work and testing, the Mosasaurus, has been fun and could become a favorite. "It's an extinct marine reptile," she says. They last roamed the seas 62 to 88 million years ago, more or less.
Her collection of dinosaurs is also impressive and would make a great stuffed animal for any little paleontologist, but she mostly sells her pieces as sculptures. "The larger pieces have floral wire hardware wrapped well so they don't protrude and are articulated," she says.
Although many people buy her handmade yarn sculptures, crochet enthusiasts download Starbird's highly detailed patterns from her site on Ravelry, an online knitting and crochet community where artisans can buy and sell patterns and find resources.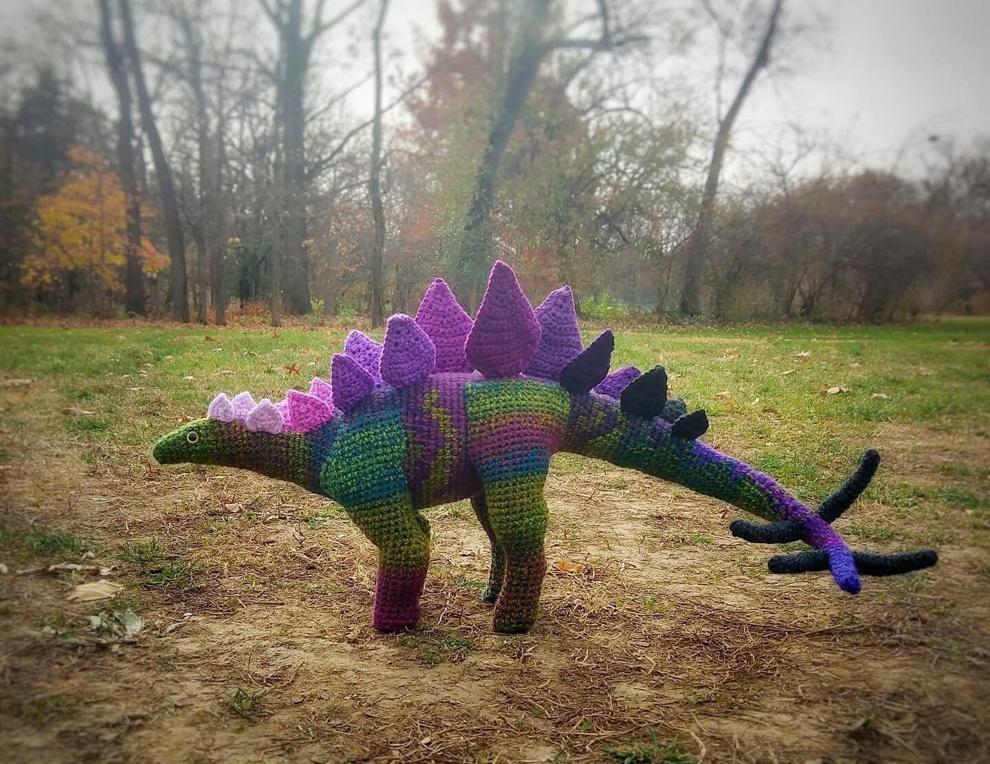 coloring of their world • Starbird uses bright colors in her creations and often crochet multiple colors into one piece. "I always use really good yarn," she says. "The technique I use to mix colors is called intarsia. Most of my crochet work is done with a 4mm crochet hook while maintaining an even tension."
Welcome to the crochet world • "The crochet world is really a nice community," she says. "I keep in touch with people on Facebook and Instagram who want to see what I'm designing next and what pieces are available," she says. "When I have a new pattern, I call testers. I use five or six people who have four weeks to do the piece and suggest changes. I want my patterns to be right."
What started as a "keeping busy" moment has blossomed into a business for Jennifer Starbird, fueling her curiosity about the world and its creatures. She also uses her talents close to home when she crochet her custom animal sculptures. "Cats, dogs, geckos, cockatiels, ferrets—I've made them all." Her own pets, cat Mango and dog Mira, are well-loved members of her family.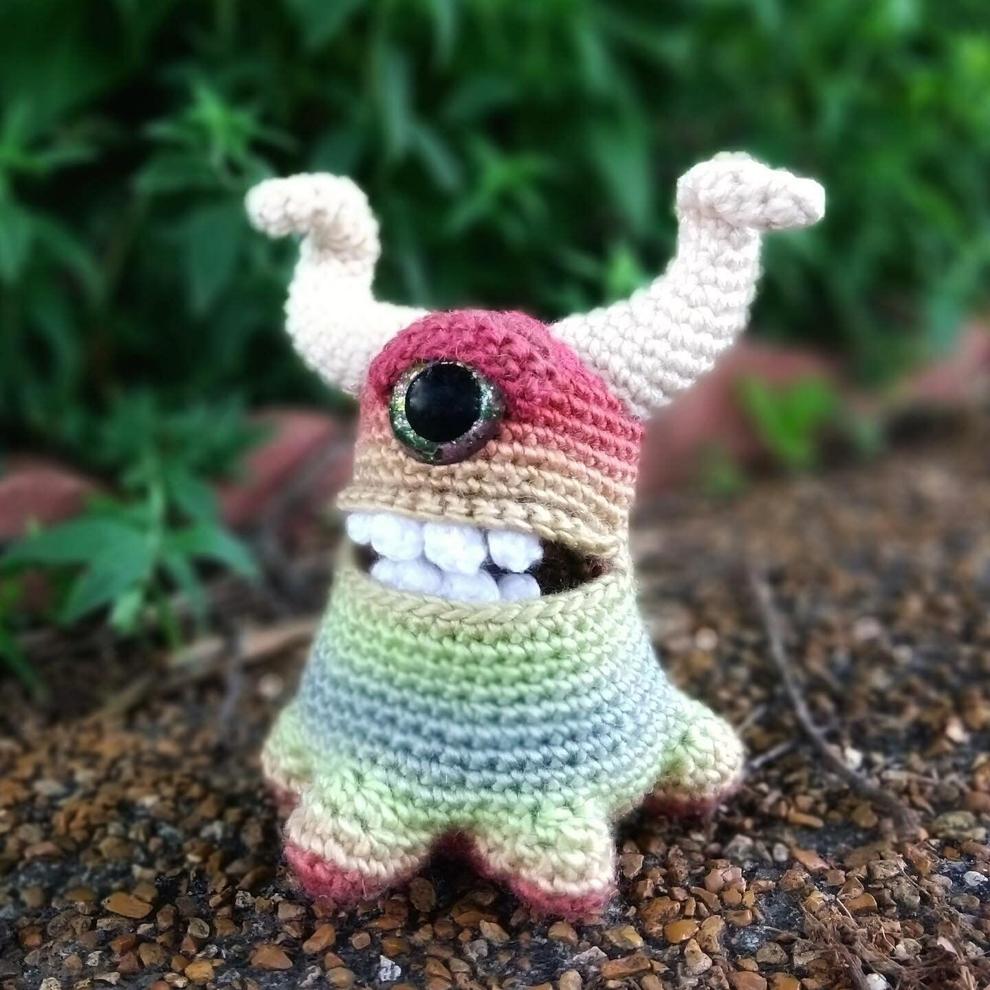 Artist • Jennifer Starbird
family • Starbird and her husband Josh have two children, a 13-year-old son and a 9-year-old daughter. They have a big orange cat named Mango. They also live with Mira, a dog the family adopted who was rescued from a foster home. Her name in the rescue group was "Miracle".
What she does • Three-dimensional yarn sculptures of common and unusual animals, sea creatures, pets, dragons, unicorns and more in Japanese amigurumi style. She also sells detailed downloads of her interesting crochet patterns for her creatures.
Where to buy • Starbird's yarn sculptures and patterns are available at her Etsy shop, Starbird Creations STL. She also answers inquiries on her Facebook page and on her Instagram page. She also sells at local markets and pop-up shows.
How much • Photo-detailed patterns with full instructions sell for $5-$6. Their amigurumi-style pieces range in price from $15 to $150. Larger pieces, like the big cat and dragon, are in the $200 range
.