Garden furniture is outside and the patio is looking great and ready for spring and summer, but what's missing? A patio heater that will keep you and your guests comfortable when even the warmest afternoons turn into cool summer evenings.
A patio heater is the perfect way to keep the party going all night and extends the time you can spend outside no matter what the weather has to offer. With a heater by your side, everyone can relax without getting too cold, meaning you can spend more time in the garden with friends and family.
Our selection of outdoor heaters is suitable for almost any space. So before you decide, you should check out each of them. How to find the heater that best suits your outdoor space.
Continue reading: We present you the best fire pits to completely transform your outdoor space
Gardenline portable patio heater
Jump to the details

Kettler Kalos lantern electric patio heater
Jump to the details

Garden Co Outdoor Gas Patio Heater
Jump to the details

Freestanding electric heater from Dunelm
Jump to the details

Sahara gas tabletop heater
Jump to the details
The best affordable patio heater
Photo: Aldi
Gardenline portable patio heater
Dimensions: 41 H x 22.5 L x 22.5 D cm
Material: metal, glass and plastic
Keep the whole family warm and cozy with a compact, portable patio heater from Gardenline.
With two heat settings and 360 degree oscillation, there's enough warmth for everyone. Or if you want the heater all to yourself, turn off the rocker switch and enjoy the warm touch of direct heat.
And when you're on the go, the heater has a top carry handle so you can place it anywhere in your garden. Thanks to its portability and lightweight design, it won't take up too much of your valuable outdoor space.
Advantages and disadvantages
Budget friendly option

Simple power switch

table design
Small size

Plastic materials are not durable
Stay cozy with an electric patio heater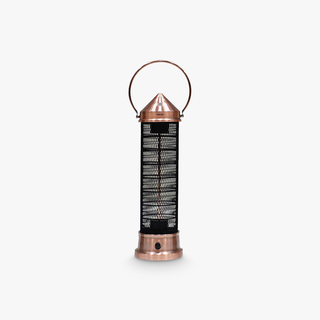 Photo: John Lewis
Kettler Kalos lantern electric patio heater
Dimensions: 84 H x 22.4 L x 29 D cm
Material: steel
Enjoy a quiet evening outdoors with this noise and smoke-free electric heater from Kettler.
This medium sized freestanding electric heater gives you the best of both worlds – even heat distribution and energy efficient performance. With a powerful 1800W output and a simple on/off switch, the heater will keep your whole family warm at the touch of a button.
Plus, the lantern body and chic copper finish add a contemporary look that will enhance any style of patio furniture.
Advantages and disadvantages
Portable design

security bias

Made from durable materials
On the expensive side

Can only be used with an outlet
Warm up with a gas patio heater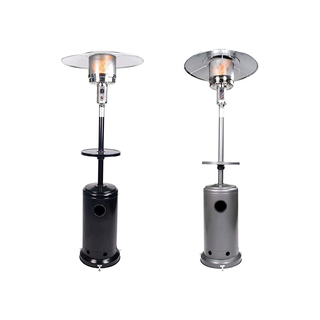 Photo: Amazon
Garden Co Outdoor Gas Patio Heater
Dimensions: 89.2 H x 48 W x 45 D cm
Material: steel
Functional, large and portable, the Garden Co gas patio heater is the ideal choice for heating large areas.
With multiple fuel options including propane, butane and LPG and a large 13KW heating capacity, this heater will keep your guests comfortable and warm for hours. Most importantly, since the heater covers a large area, your guests won't have to squeeze around it to keep warm. In other words, it's a must-have for summer evenings.
And thanks to its wheels and adjustable drink table, the heater can be easily moved for instant warmth and a much-needed seat.
Advantages and disadvantages
Premium waterproof cover included

Anti-tipping switch for safe use

Powder coated
Some customers say it takes time to assemble.
The best infrared patio heater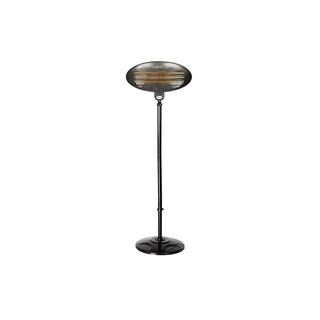 Photo: Dunel
Freestanding electric heater from Dunelm
You save
£13 (20%)
£52
£65
Dimensions: 210 H x 50 W x 50 D cm
Material: steel
Designed to calm you down on chilly evenings, an infrared patio heater is the warmest addition to your garden. The Dunelm Freestanding Electric Heater has three flexible heat settings of 650W, 1300W and 2000W to deliver instant and controllable heat.
With its quartz infrared technology, this heater is specifically designed to maximize heat retention and energy efficiency. Thanks to its intelligent technology, less heat is lost to the surrounding air, so you can sit back and enjoy the warmth of this reliable electric heater.
Advantages and disadvantages
Two heating levels

IP24 certified for outdoor use

Adjustable height
Our pick for the best tabletop patio heater
Photo: Amazon
Sahara gas tabletop heater
Dimensions: 96 H x 52 W x 52 D cm
Material: Stainless steel
For garden parties that last all night, a tabletop patio heater is the perfect option to keep everyone warm when the temperature drops.
The Sahara Gas Table Top Patio Heater features a weighted base for stability and variable heat control, allowing you to select your ideal outdoor temperature.
The adjustable and protected reflector of the freestanding models directs all the heat to where you need it, providing a comfortable heat distribution with less gas consumption. But not only is this heater great for its thermal efficiency, it also has solid safety features. For example, the heater is tilt-proof and has a flame failure switch-off so that you and your guests can enjoy the time together without any worries.
Advantages and disadvantages
The hose is easy to detach

detached

Durable Materials
Some customers say the hose rusts after getting wet.

Basic design
Are patio heaters expensive to run?
According to Perfect For Home, patio heaters can keep you and your party guests warm without breaking the bank. Because the heaters only take a few minutes to turn on and operate with a power switch, they are considered one of the most cost-effective types of outdoor heating.
Compared to outdoor fire pits, which require maintenance and are usually expensive, patio heaters can save you a lot of time and money. Just remember that the cost of running your outdoor heater will depend on the cost of electricity in your area and the wattage of your chosen heater.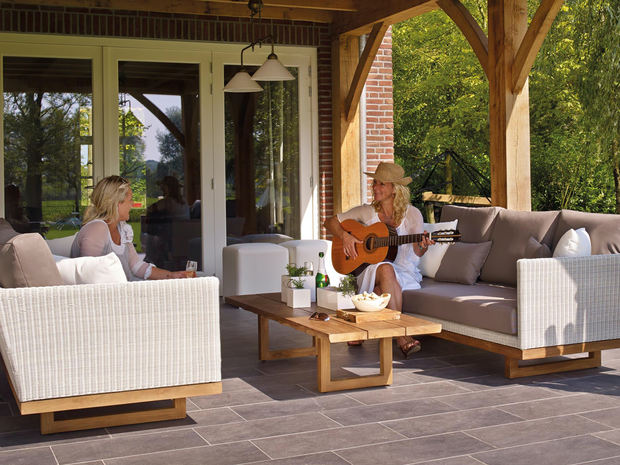 What is the difference between an electric and a gas patio heater?
Typically, patio heaters use electricity or gas to generate heat that keeps chilly weather at bay. To help you choose between the two types of heaters, we have compiled the most common differences between a gas heater and an electric heater:
User friendliness: Electric patio heaters can simply be plugged into an outlet, while gas heaters need to be installed correctly using a gas cylinder and a suitable hose.
Maintenance: These heaters don't cause mess and can be cleaned with a simple wipe.
Use: Gas heaters are a good long-term option if used very frequently. They have lower running costs and can heat larger areas better than electric heaters.
Costs: Typically, gas heaters cost more to run per hour.
Efficiency: Electric heaters tend to be more efficient and environmentally friendly than gas heaters.
Security: In general, both electric and gas powered outdoor heaters are safe to use.
Noise: Electric heaters are usually noise and smoke free.
Our verdict
Hands down our favorite patio heater to keep the party going all night is this Kettler Kalos lantern electric patio heater. Stylish and functional, with no noise or fumes, we believe this outdoor heater has earned its rightful place on your patio.
---
Prices updated on 06/17/2022. We are not responsible for changes in the above prices.