f0 years ago, now-retired banker Chandra Shekhar Sharma planted a Bael tree in his yard. As a lover of trees, plants and nature, he continued this practice and brought new life to his home every year. Today he owns over 1,000 plants in almost 400 different varieties and proudly calls his home a "greenhouse".
As a resident of Agra, he lives in a particularly congested area and his home has been his oasis. "I planted trees and put pots on all the walls of my house," he says The better India. Fruits and vegetables such as pomegranate, lemon and orange as well as flowers such as jasmine, roses, bougainvillaea and tulips grow on the dense greens he planted. It invites birds such as sparrows and hummingbirds, various insects, monkeys and other wildlife.
"I love my plants and trees," says Sharma, who feels a family connection to them. Most of his home is populated with many plants and water lilies that grow in the surrounding waters. Most of the exterior walls of his home are covered with a vertical garden, a concept that is gaining traction these days. "The concept is becoming increasingly popular around the world," he adds.
When planting a new seed, he keeps certain things in mind, such as where the sun's rays will fall and what areas will be shaded. He pays attention to the climate, soil, water level and quality of Agra. Rather than growing plants that only bloom in the winter, he focuses on finding plants that bloom about eight or nine months out of the year.
While he also has Japanese bonsai and other exotic plants, Sharma mainly focuses on plants that can easily grow in Agra's hot climate. "You know how people say, 'We have a garden in our house'? I wanted to do something different. There is a home in my garden," he says.
He has a great passion for this green family and spends every morning taking care of them with care and attention to detail. Sharma has never had a gardener but has always preferred to work alone, trimming and tending the plants herself. He also prefers to use a bucket and mug rather than water them with a whistle, paying attention to each plant. "Every morning I wake up wanting to spend time with my plants. Other people train. For me, this is my workout."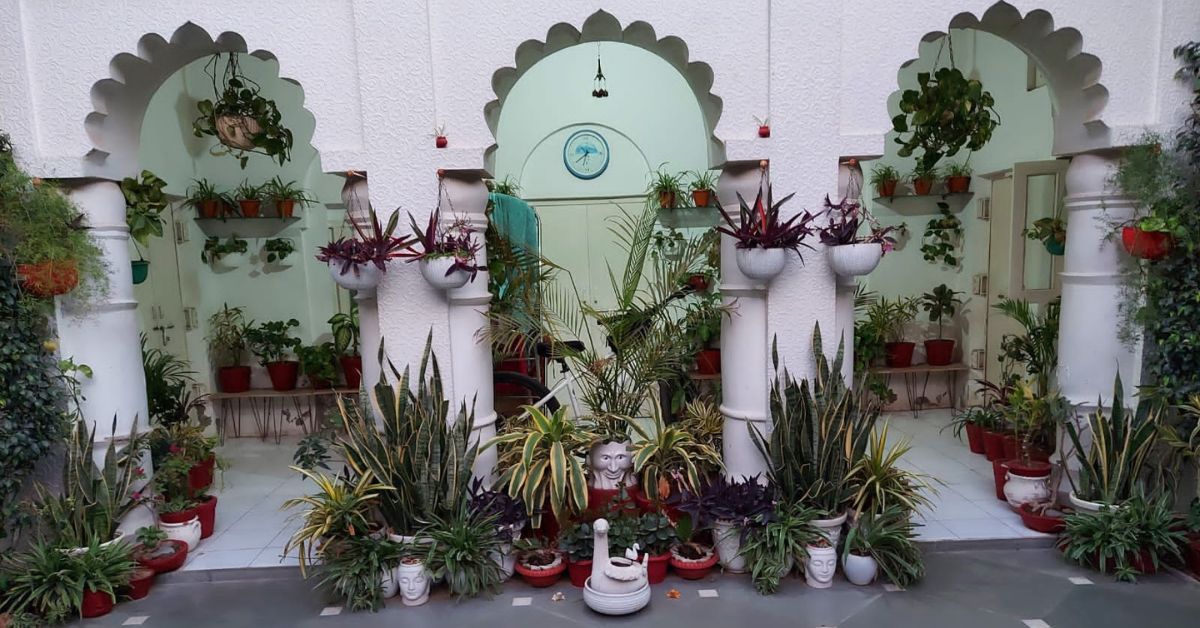 He also doesn't use chemicals to help the plants grow, instead using kitchen scraps and cow manure.
Living in this house has brought a multitude of benefits to Sharma and his family, in addition to a fresh supply of fruit, vegetables and flowers. There is clean, fresh air with plenty of oxygen and the general air quality has improved. The walls remain cool and their humidity has been reduced. In the unbearably hot Agra climate, the temperatures in his house are always around 4 to 5 degrees cooler.
Sharma also started sharing his knowledge with others. He has visited about 50 homes, giving advice, teaching people about gardens and helping them create their own. "I want Agra to be beautiful," he says. "Until we plant trees, the temperature in Agra will continue to rise," he adds.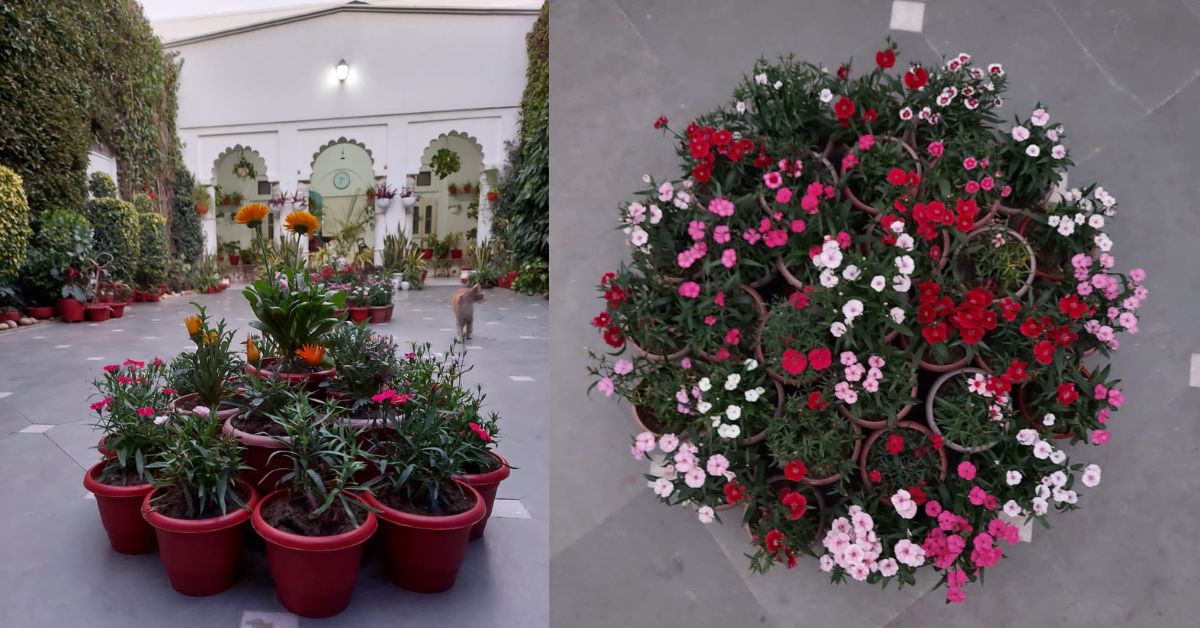 Among the people he has helped is Indu Balasaxena, who thanks to him now has a vertical garden at home. "He comes to the market with us, explains to us which plants we buy and how we plant them," says Balasaxena. Not only does Sharma help her ensure the plants have a long, healthy life, but she also shares aesthetic tips so the plants can add a sense of beauty to your home. "He has a spectacular artistic vision of which plants should grow where so that they last the longest and look beautiful. He's my pillar," she adds.
Like Sharma, Balasaxena believes vertical gardens should be adapted by every household across the country and sees this as a small step in addressing the ongoing climate emergency. "Every house has a wall, so it's not about space. Everyone has time, it's about their desire to act. Ten to 15 pots is doable for everyone," says Balasaxena.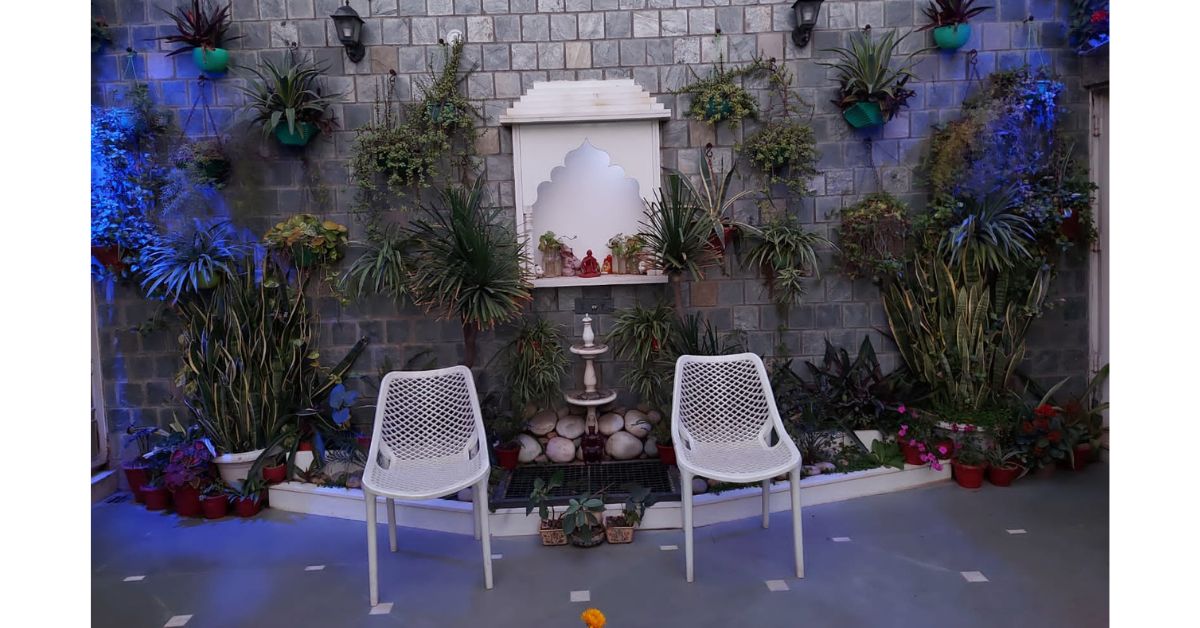 Having plants in and around the house also means more than just planting seeds. It's about caring for them every day, giving them the attention they deserve and caring for their health as Sharma has done so expertly for almost half a century. "The government is coming and putting more plants in public places. But each person must adopt three to four plants in order for them to be properly cared for. Even Sharmaji is like that. He pays close attention to small details. His work is inspiring and commendable," says Balasaxena.
Edited by Yoshita Rao