Warning: This synopsis is for those who have seen Sherwood Episode 2 BBC One.
The plot thickened with another shock murder and an alleged "spy policeman". Here's your breakdown of the second episode of the BBC drama…
Shovel meant double trouble
Ah, Andy. What have you done? Tensions had been building between ambitious Tory councilwoman Sarah Vincent (Joanne Froggatt) and her new father-in-law, Andy Fisher (Adeel Akhtar), who hung a Labor poster in his shop window. When Andy's son Neel (Bally Gill) proudly showed off his new sound system by connecting Andy's phone via Bluetooth, you knew it was going to backfire. Lo and behold, lonely Andy was watching late night porn that woke Sarah up from the speakers next door. frightening. Andy cried from humiliation.
The next day, when he brought her a package of gardening tools, Andy burst into Sarah's bathroom. He realized she was eliminating the adjoining gate between them – a father-son bond that held meaning for his late wife. As Sarah cruelly taunted that she killed herself because she was "dying inside" — not just of cancer but figuratively — the red mist descended. Andy grabbed a spade fresh from the box and hit it. As blood pooled around Sarah's head, it looked deadly.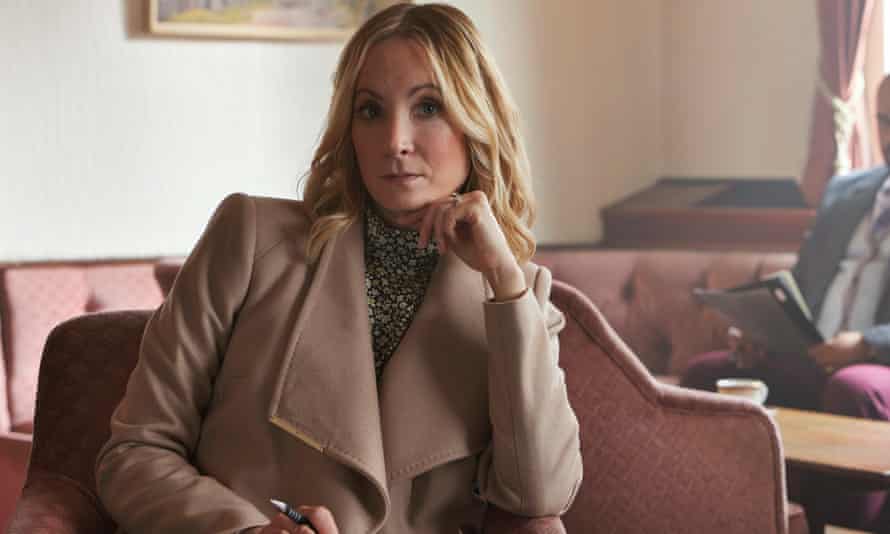 It is a fictionalized version of the second murder in Annesley Woodhouse, the hometown of writer James Graham, in the summer of 2004. Just 11 days after ex-miner Keith Frogson was murdered with a crossbow, newlywed Chanel Taylor was killed by her father Terry Rodgers in the kitchen shot . The crimes were unrelated but brought another wave of police to the already struggling community. After a 17-day manhunt, Rodgers was found in the woods. Will Andy go down there too?
Arrow Attacks Enhanced
We first found Andy in his happy place at the wheel of a Robin Hood Line train bound for Nottingham. At least until his cabin window was shattered by an arrow fired from 60 yards, before the archer fled back into the tree line. We saw the fugitive Scott (Adam Hugill) striding through the woods, longbow in hand and quiver on his back, like a remix of The Hunger Games from the East Midlands.
Was Andy his target? It seemed unlikely. Well, until the next attack raised the possibility of racial motivation. Local lawyer Vinay Chakarabarti (Ace Bhatti) narrowly dodged two arrows fired at him as he was watering his garden.
The detective duo brings back memories
The killer of Gary Jackson (Alun Armstrong) had been at large for 48 hours when we joined DCS' Ian St. Clair (David Morrissey) and the Met's DI Kevin Salisbury (Robert Glenister) who were sent up to investigate the to support investigations. His return to the region brought back memories of his lost local love, Jenny, and a raging fire, believed to be the deadly one that Gary lit in 1984. The wistfulness continued when he encountered Jenny (Nadine Marshall) at the grocery store and had a stilted catchup chat.
Forensics showed that Gary had a skull wound near the arrow in his chest, likely the result of a final blow with the crossbow butt. The burned plastic bag found in his backyard incinerator contained traces of ketamine and the Sparrow family's fingerprints. Signs pointed to the local crime clan…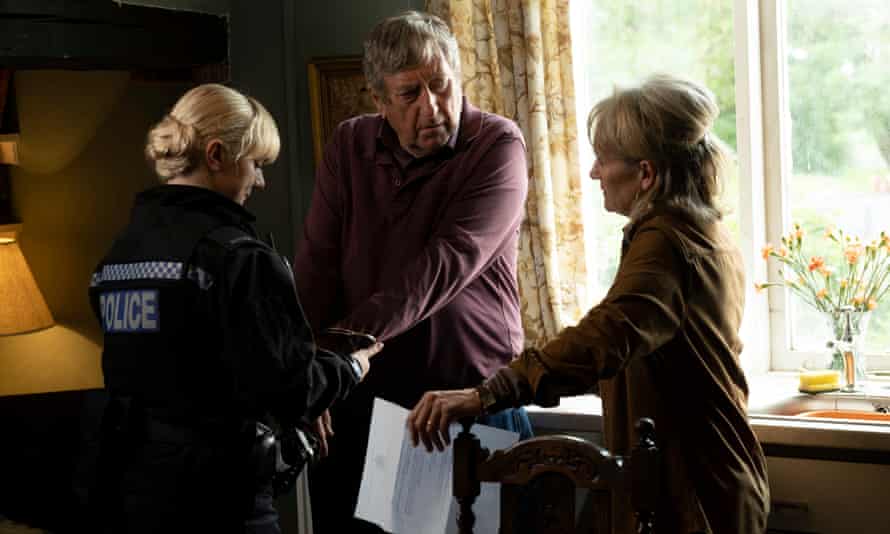 "We are just a family taxi company"
When St. Clair's squad raided the Sparrows' farm, they refused to deal with Class-As or contact Gary. Patriarch Mickey (Philip Jackson) accused the police of a vendetta — even though they'd just covered their tracks by removing a vanload of dodgy TVs and dismantling the click farm run by son Rory (Perry Fitzpatrick). When younger brother Ronan (Bill Jones) mentioned Rory's friendship with Scott – they practiced archery and chatted about technology – he hesitated before asking his siblings to give him an alibi for the night of the murder.
When arrows from their archery range matched the murder weapon, Mickey and Rory were arrested. It turned out that Gary and the Sparrows had neighboring allotments. He had snatched a shipment of drugs from their shed and burned it, giving the Sparrows a motive for revenge. But they were still in custody when Chakarabarti was targeted, which got them to safety. For now. Rory's definitely up to something shady.
Sisters separated by death
Newly widowed Julie Jackson (Lesley Manville) spent the episode looking haunted and broken. She pored over family photos, sniffed Gary's National Union of Mineworkers tie, and drank the wine of the day. A few doors down, her estranged sister Cathy (Claire Rushbrook) pondered what to do and settled for tossing a sympathy card through the door. The mismatched rabbit illustration on the front was kind of heartbreaking.
Cathy and husband Fred Rowley (Kevin Doyle) had concerns of their own and worried about Scott's whereabouts. He'd missed his benefit fraud hearing, so the judge had issued a warrant for his arrest. Cut to the woods where Scott buried his £15,000 savings – his father's box settlement – in tote bags. It's not gonna earn much interest down there, mate.
Scott's headquarters was hardly reassuring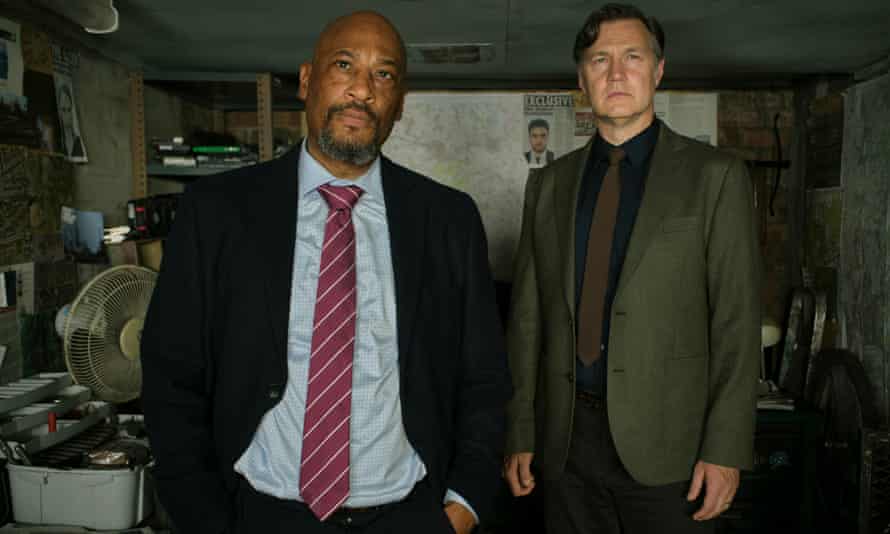 Salisbury suggested dabbing Gary's dog's mouth in case he had bitten his killer. The brainwave paid off when traces of Scott's DNA were found. Good boy. Allegations began after a police raid on the Rowleys' home. Cathy was appalled that her stepson had murdered her brother-in-law. Fred insisted that Scott's goals could not be linked to the miners' strike. He wasn't even born then and didn't care about "spending all his time on the computer." Did he work for the Sparrows' click farm? Has he been radicalized online? Had he somehow investigated the so-called "spycop"? His hacking skills were rudimentary, but he had researched Gary and Chakarabarti (not Andy, it seemed).
When police searched Scott's prison, they discovered the hiding place of a textbook conspiracy theorist. Newspaper clippings on the walls carried headlines such as "You lied to us", "Time for the truth" and "Is the government behind this?". Maps have been marked with the locations of the attacks. "You are all liars" was spray-painted on the inside of the door. There's nothing to see here, officer.
The spycop conspiracy came into focus
Gary's attorney Chakarabarti admitted they were pursuing wrongful arrest claims dating back to the 1980s. His arson charges could have been dropped, but Gary believed he had been blacklisted and forced out of his job, so he wanted to know who had implicated him. Such campaigns had gained momentum since the 1984 investigation into the "Battle of Orgreave," a violent clash between police and miners' pickets. Salisbury also believed that his own involvement in the arson case had hampered his career.
His NUM sources had convinced Gary that a so-called "spycop" was in their midst. Undercover officers had spied on suspected radicals in the 1960s and 1970s and then passed information to Scotland Yard, the Home Office and the security services. Had they also been used in mining communities in the 1980s, adopting cover identities to gain the locals' trust?
Rumor has it that one such spy was sent to Ashfield and may have singled out Gary as a militant. Also, they hadn't left after the strike ended and have remained in the community to this day. Did that have anything to do with the secrecy of Gary's redacted arrest file? Was it one of his fellow arsonists? Distrust suddenly appeared everywhere.
line of the week
"What the hell does that mean?" "I don't know, but it's not good." St Clair and his phlegmatic sidekick DS Cleaver (Terence Maynard) ponder this garage graffiti.
Notes and Observations
James Graham deliberately included scenes where characters talk at once – Jackie and Cathy in the first episode, Ian and Kevin here. Counterpoint dialogue adds naturalism but is not often seen on TV due to problems with sound recording, editing, and subtitling.

What's up with St. Clair's briefly glimpsed brother Martin (played by Corrie's Mark Frost)? He seems to be a sore point. There's more to come I bet.

A shout out to director Lewis Arnold's beautiful cutaways of the Nottinghamshire countryside. They provide moments of calm amidst the seething drama.
Join us next Monday when the series reaches its halfway point. In the meantime, please leave your thoughts and theories below…