As we move into the summer months, many Scots are looking to improve their gardens or expand their property.
However, before you start installing a new garden shed, fence or greenhouse, you should first check whether planning permission is required or not.
After an East Lothian family was ordered by local authority to demolish extensions to their £10,000 home, STV News is investigating the rules and regulations surrounding planning permission for new buildings and developments.
Which buildings do not require planning permission?
Sheds, garages, greenhouses and summer houses are referred to as "outbuildings". Most do not require planning permission as they meet a set of rules known as 'permitted development'.
However, people should still check with their local authority's planning department before beginning any work as other permits may be required.
If the property is also in a landscape conservation area or on a listed property, the outbuilding should have a floor area of ​​less than four square meters.
The full list of developments that may not require planning permission can be viewed here.
When do I need a building permit?
People need a building permit if:
You want to build something new;
You want to fundamentally change a building – such as an extension;
You want to change the use of your building;
Your building is in a nature reserve;
Your property is a listed building.
Planning authorities can provide information on the status of protected areas and people can check if their building is listed by checking Historic Scotland's listed building search.
What are the "permitted development" rules for an outbuilding?
Current rules state that a new building:
Located at the back of the house;
Not used as a separate house;
Don't take up half or more of the "curtilage" — that is, half or more of the grounds behind your home;
not be higher than four meters at the highest point;
Have no part that is one meter or less from the boundary that is higher than 2.5 meters;
Eaves (the part where the wall meets the roof) must not be higher than three meters.
What rules apply to extensions?
The rules depend on how many stories (levels) your expansion will have.
If your extension is a single story, you do not need a building permit as long as:
It is at the back of the house;
It goes back no more than ten feet if it's a terraced house, or four meters if it's not a terraced house;
The eaves height (where the wall meets the roof) is no more than three meters;
It is no more than four meters high, including the sloping roof;
It doesn't cover more floor space than your house;
It doesn't take up half the lot – the lot behind your house;
It is not in a nature reserve.
If your extension has more than one floor, you do not need to apply for planning permission as long as:
It is at the back of the house;
There must be at least 10 meters between the extension and the property line;
It is no higher than your house (without chimneys);
It takes up no more floor space than your original house;
It doesn't take up half the lot – the lot behind your house;
It is not in a nature reserve.
What about building a gate, fence or wall?
People are automatically granted planning permission to build a gate, fence, or wall if they meet the "permitted building" rules.
In this case, the gate, wall or fence may be up to two meters high as long as:
It's not on a road;
It doesn't come forward any further than the "main view" (the front of your house) or the side view (the side of your house);
It is not within or bordering the site of a listed building;
Your house is not in a nature reserve.
If the application does not meet these rules, it may still qualify for an approved development as long as it is no more than one meter tall and is not located in a conservation area or on the site of a listed building.
What happens when I apply for a building permit?
Your local planning authority will post the details of the application on their website and notify your immediate neighbors.
While the application is being reviewed, anyone can visit the site and post comments.
A drop-down list of the websites of the various local planning authorities across Scotland can be found here.
Planning authorities are aiming for a decision within four months for major developments and within two months for local developments.
Planning permission can be applied for online via the ePlanning Scotland website.
If your project requires planning permission and you do the work first, you may be served with a writ of execution.
Why was an East Lothian family ordered to tear down their fence and summer house?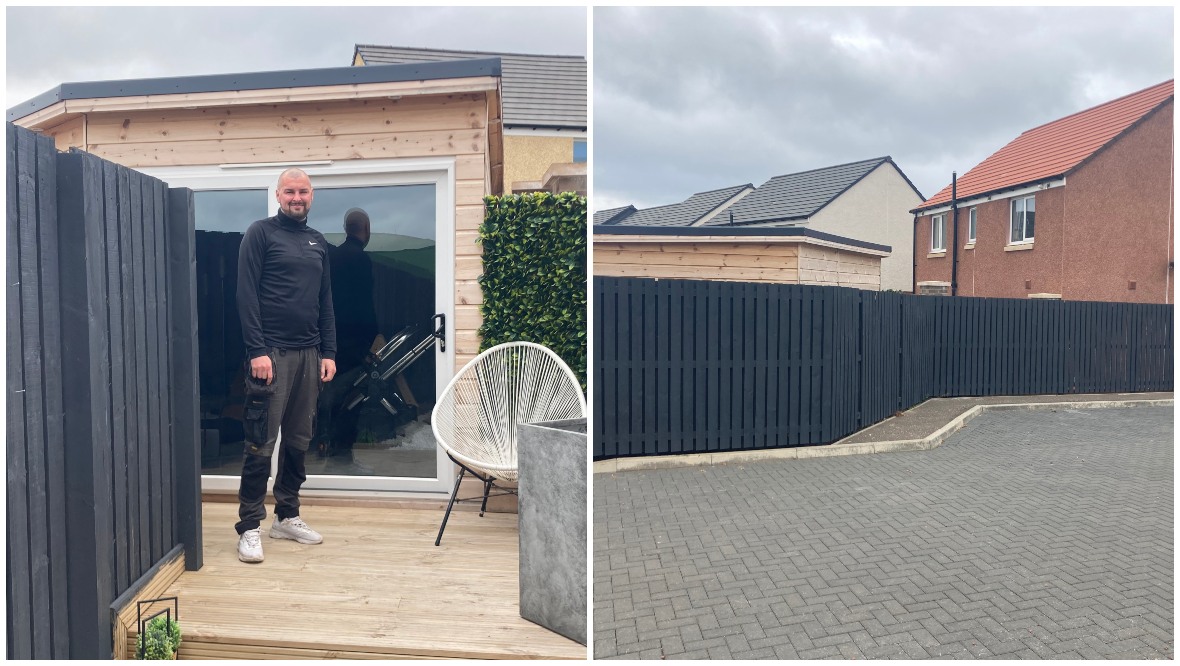 Gary Anderson and his partner Lana Cockerell have been ordered to demolish a summer house and fence nearly a year after they put them up on their land after being branded an 'eyesore'.
The couple spent £10,000 fencing off the land next to their home and building a summer cottage in the corner.
Although the land to the side of the house comes with the property and is included in the title deeds, East Lothian planners said it was part of an "open space" design of the larger estate.
The council said the decision to leave some land between the back fence of the properties and the footpath "softened the landscape" and moving the fence to the edge of the path "undermined the contribution that area of ​​open space made to the… landscape rendered". .
East Lothian Council said: "The fence and garden shed together with the patio are unsuitable in terms of their positioning in an area of ​​open public space.
"They do not disturb or respect the design of this part of the housing development."