Front yard lighting ideas are an important consideration when designing the entrance to your home.
There are both aesthetic and practical factors to consider, including the positioning and power sources of each fixture, and you also need to consider outdoor lighting from streetlights or neighboring properties, as these affect a home's light levels in the evening.
These outdoor lighting ideas welcome guests, help make a home safer and look good too.
Lighting ideas for the front yard
Front yard landscaping ideas must include lighting for both aesthetics and safety. Just like with garden lighting ideas, when installing the garden lighting, you should definitely check the safety rating of each of the lighting fixtures you want to choose. Those rated for "wet" conditions are necessary, although on a covered porch, a "damp" rating might be sufficient.
1. Add some pretty porch lighting
There are a plethora of porch lighting ideas that are sure to give you, your family and your guests a warm welcome. In fact, there are so many different sizes and styles that it can be difficult to narrow them down.
"I consider a couple of things when choosing front porch lighting ideas," explains designer Mimi Meacham of Marian Louise Designs (opens in new tab). "The first is the amount of light needed. Is it a big or small room? High or short ceiling? Are there other lights nearby? Second, I think about the style of the house, whether it's a traditional home, a modern home, or somewhere in between. I will usually use the style of the home to guide my choice of fixture. Finally, I decide between a flush mount, a wall light or a pendant light. This depends on the amount of space you have and the look you want to achieve.'
2. Consider materials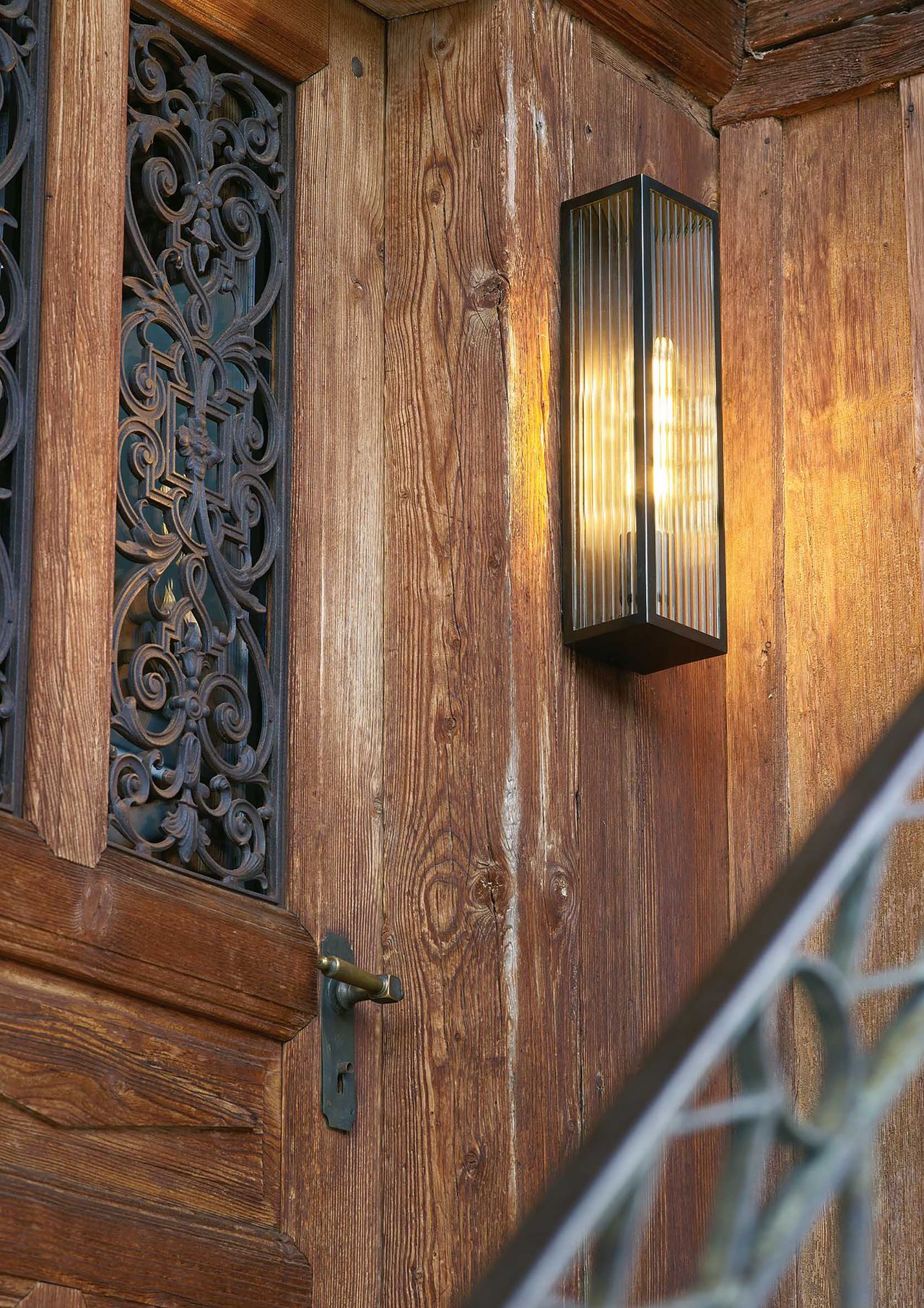 Consider the materials used for front yard lighting, which affect both the look and cost of outdoor lighting.
"Most people want fixtures that look like they've been part of the property for years," explains Original BTC's Charlie Bowles (opens in new tab). "Natural materials with interesting patinas like weathered bronze, copper and brass are the best choices as they are low maintenance, age well and weather beautifully."
3. Illuminate flower borders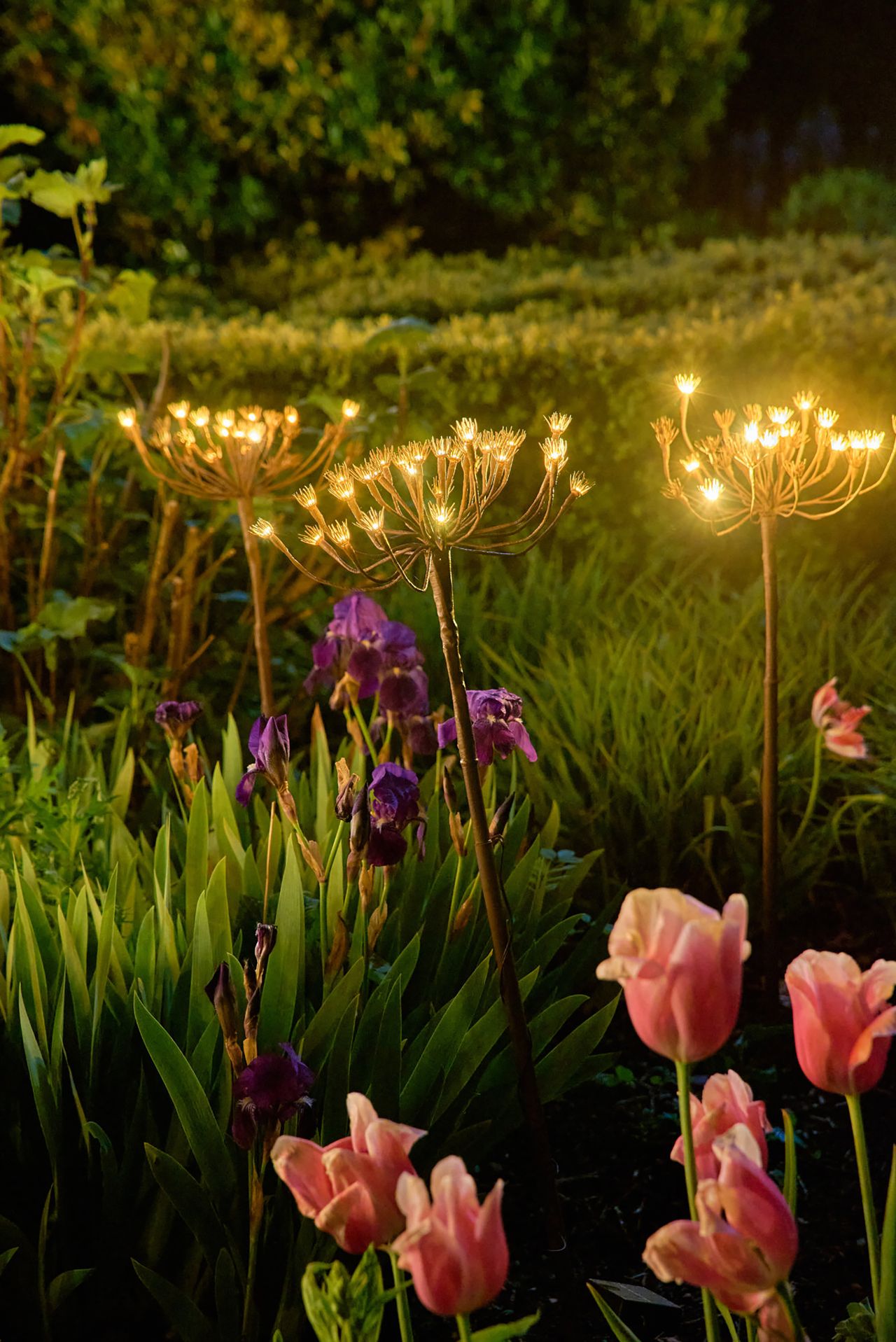 Solar garden lighting ideas can be the ideal way to display plants after dark. "If you have a landscaping or front garden that you're particularly proud of, make sure it's visible day and night by hiding landscape accent lights between your plants, or add stylish lamp posts that are so interesting." are like your foliage," recommends Mark Feldman, Chief Home Officer of Riverbend Home (opens in new tab).
4. Make sure garden steps are visible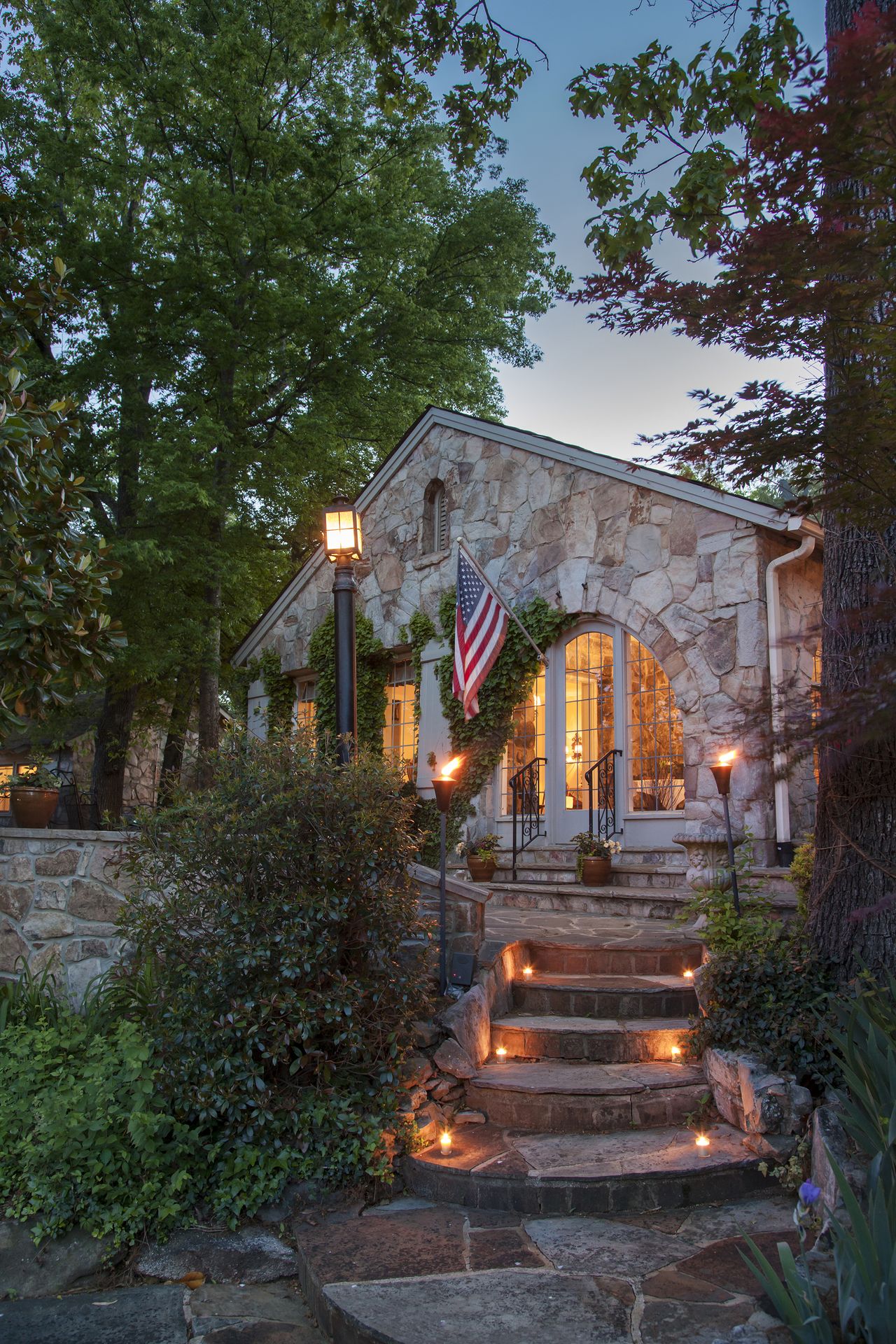 Make garden steps safer after dark as part of front yard lighting ideas.
"If you're lucky enough to have walls next to your steps, you've got the perfect spot for your lighting," explains Philip Milner, Technical Director at Lighting For Gardens (opens in new tab). They could be recessed into the walls to give you a tidy look, or if that's not practical surface mounted lights are available that don't protrude too far. Some of the lights have built in eyelids to reduce glare.'
5. Add lighting along a path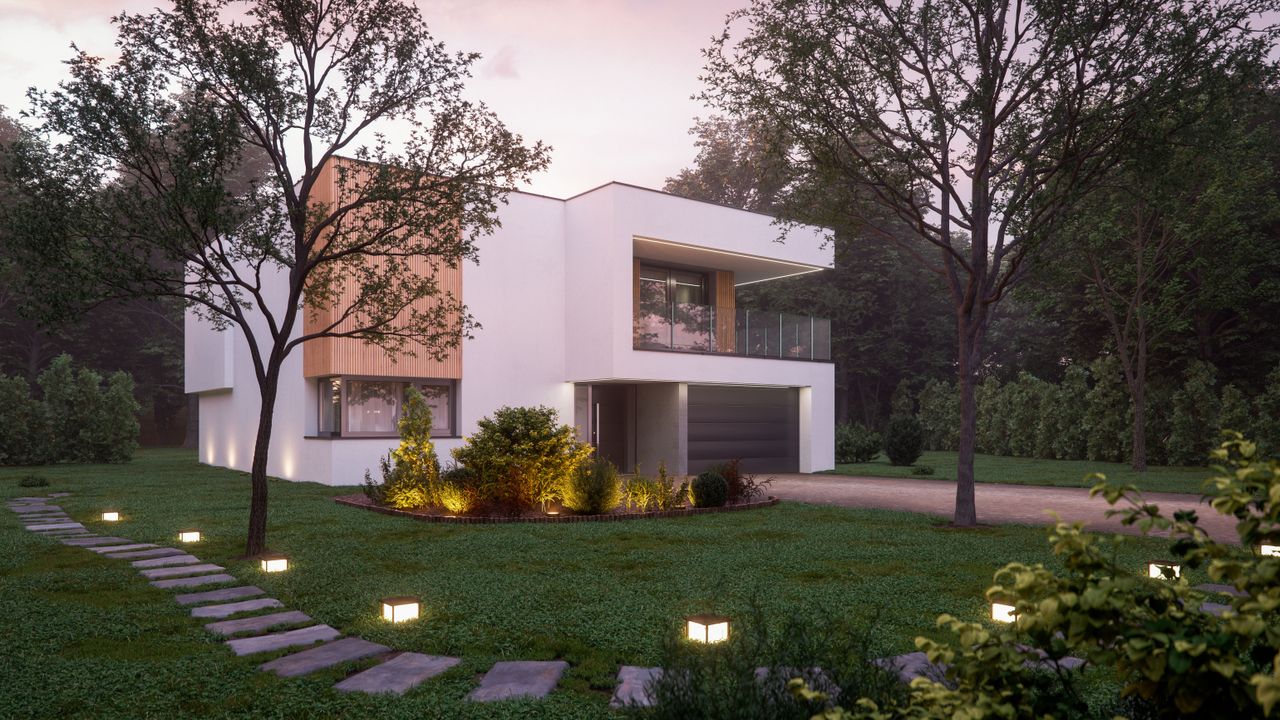 If your home is accessed via any type of front yard path, then adding lighting is important. Pathway lighting not only helps visitors find their way and reduces the risk of accidents, but also prevents them from accidentally trampling on your lawn or flower bed ideas.
6. Consider easy-to-add solar lighting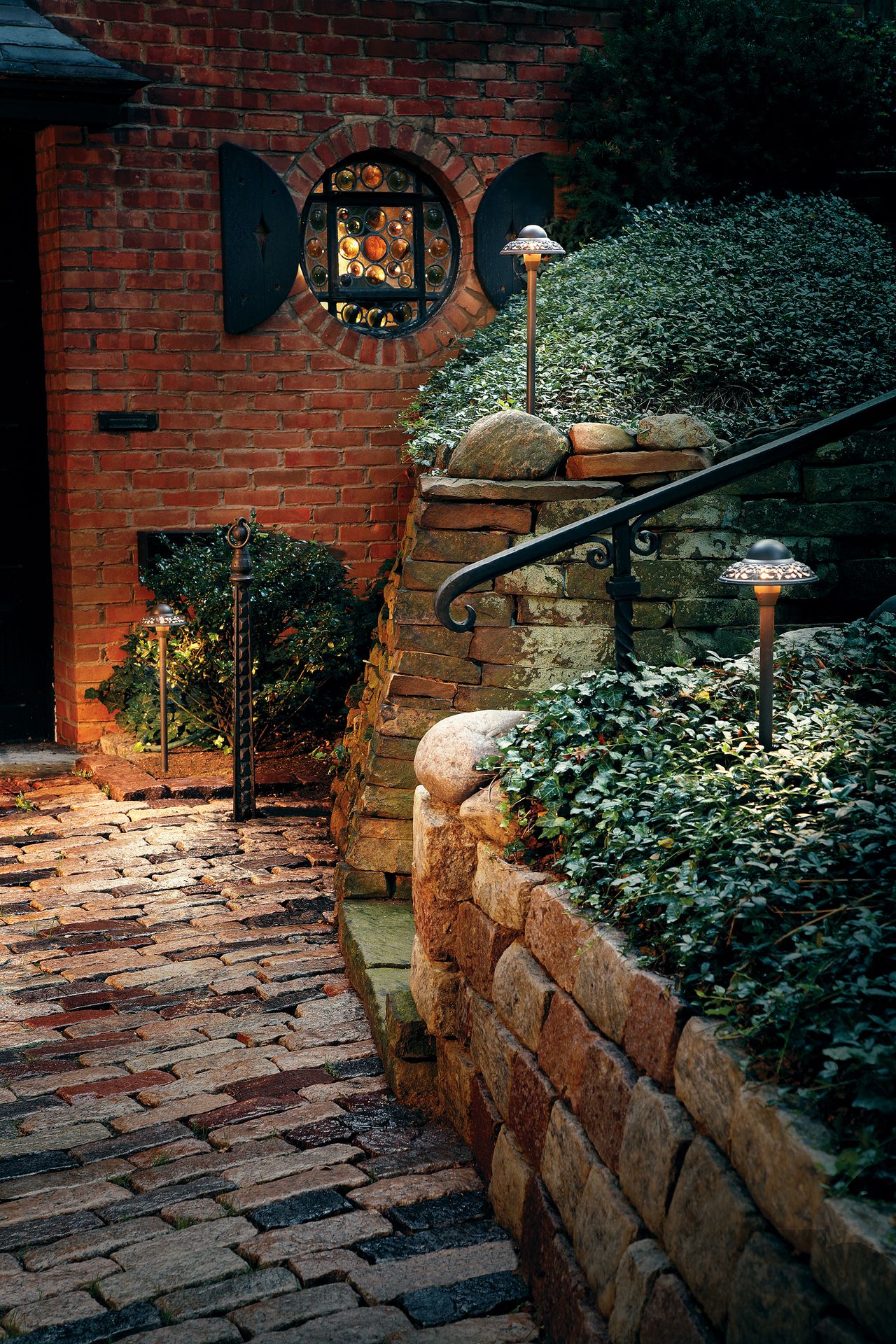 Unlike wired front yard lighting ideas, solar lights require very little effort to install. Simply position and place the attached panel in sunlight.
"Solar lighting is great for adding a warm glow and sparkle to your garden and you don't have to think about plugging it in. Most are also timed so you don't have to remember to turn them on or off as they automatically turn on at dusk and turn off six hours later," says Thalia Shaw, founder of Sparkle Lighting (opens in new tab).
"You have to have a little patience with solar lighting and make sure your lights have the best conditions to ensure they work, including a clean solar panel at all times and plenty of direct sunlight with no shade. They also sometimes need to switch off for a while to have enough opportunity to recharge."
7. Add a decorative touch with fairy lights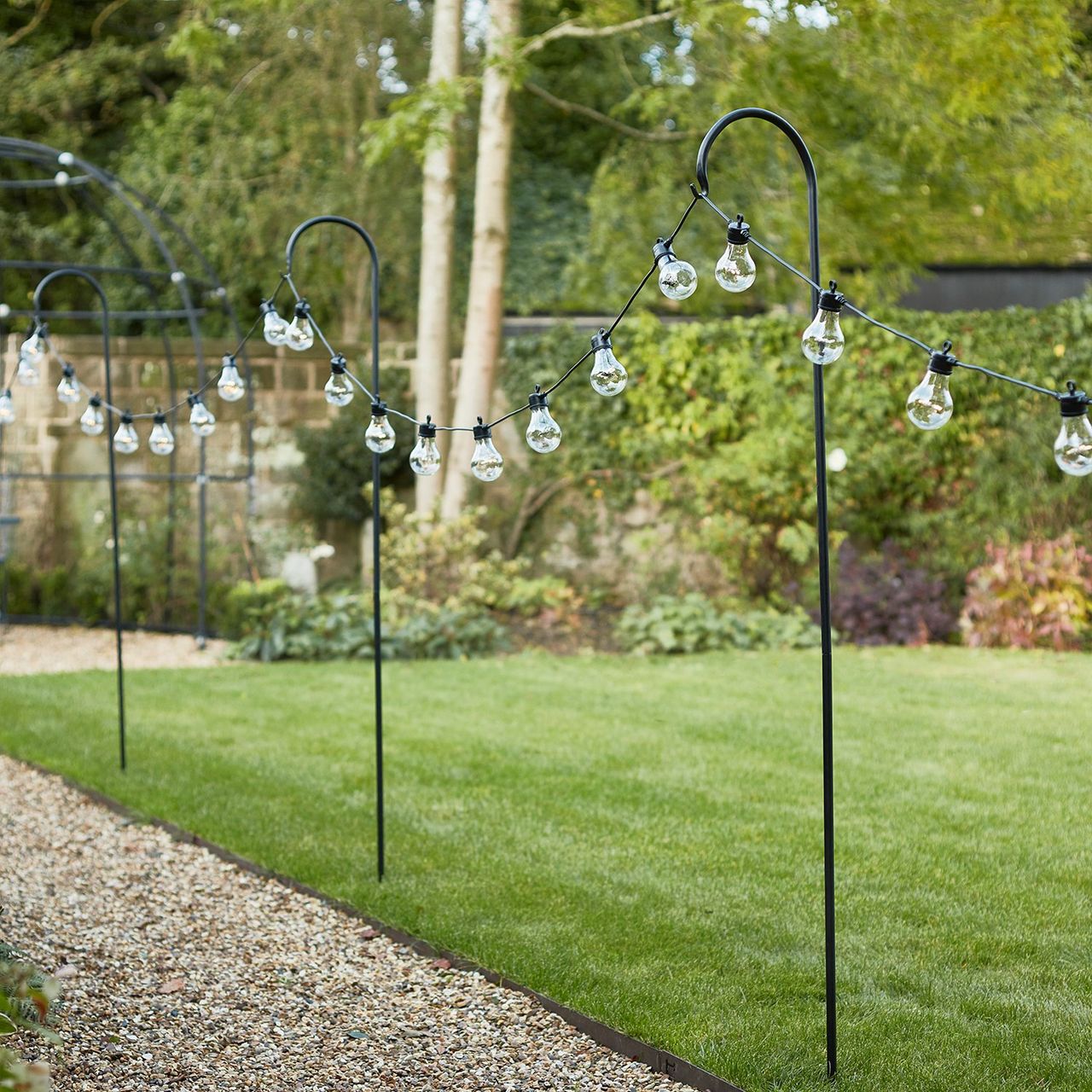 Opt for outdoor string lights ideas for the most beautiful lighting in the front yard. Festoon lights look gorgeous draped over a rose arch, hedge or fence. Alternatively, you can opt for a freestanding design like these shepherd's hook garland lights to line a path.
8. Don't forget to install safety lighting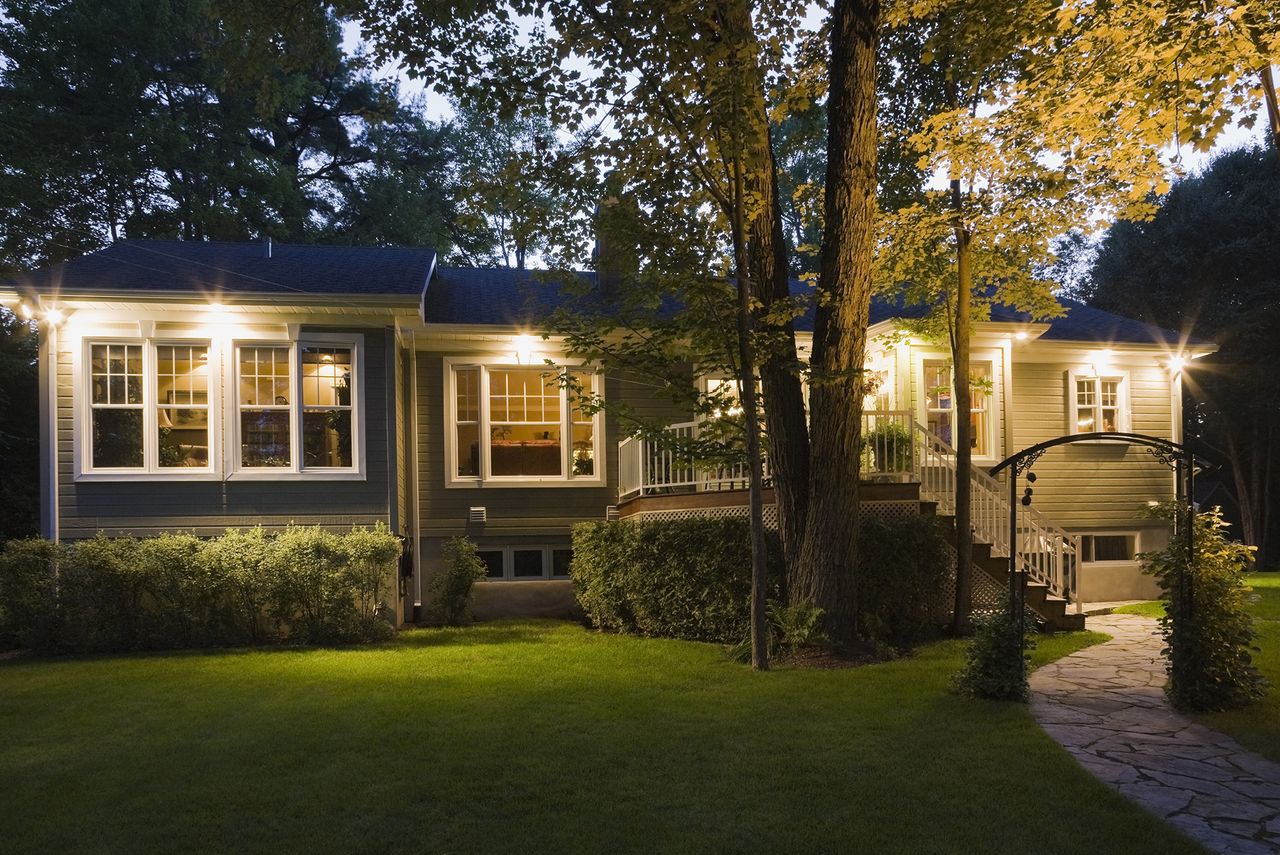 Consider garden security lighting as part of front yard lighting ideas to make your property safer. You can opt for floodlights, spotlights or sconces, and consider motion-activated lighting that triggers when needed but doesn't leave the exterior of your home constantly lit.
"Lighting is an effective and cost-effective way to deter intruders," says Mark Feldman. "Use security floodlights to 'flood' an area with bright light. Lanterns let people know you're home, whether it's at the end of the driveway, near pathways, or by the door.
"Make sure all entrances to your home are lit: wall sconces on either side of a door or ceiling lights on covered entrances provide perfect lighting to welcome people you want at your door and discourage those who you don't want."
9. Flank your driveway with lights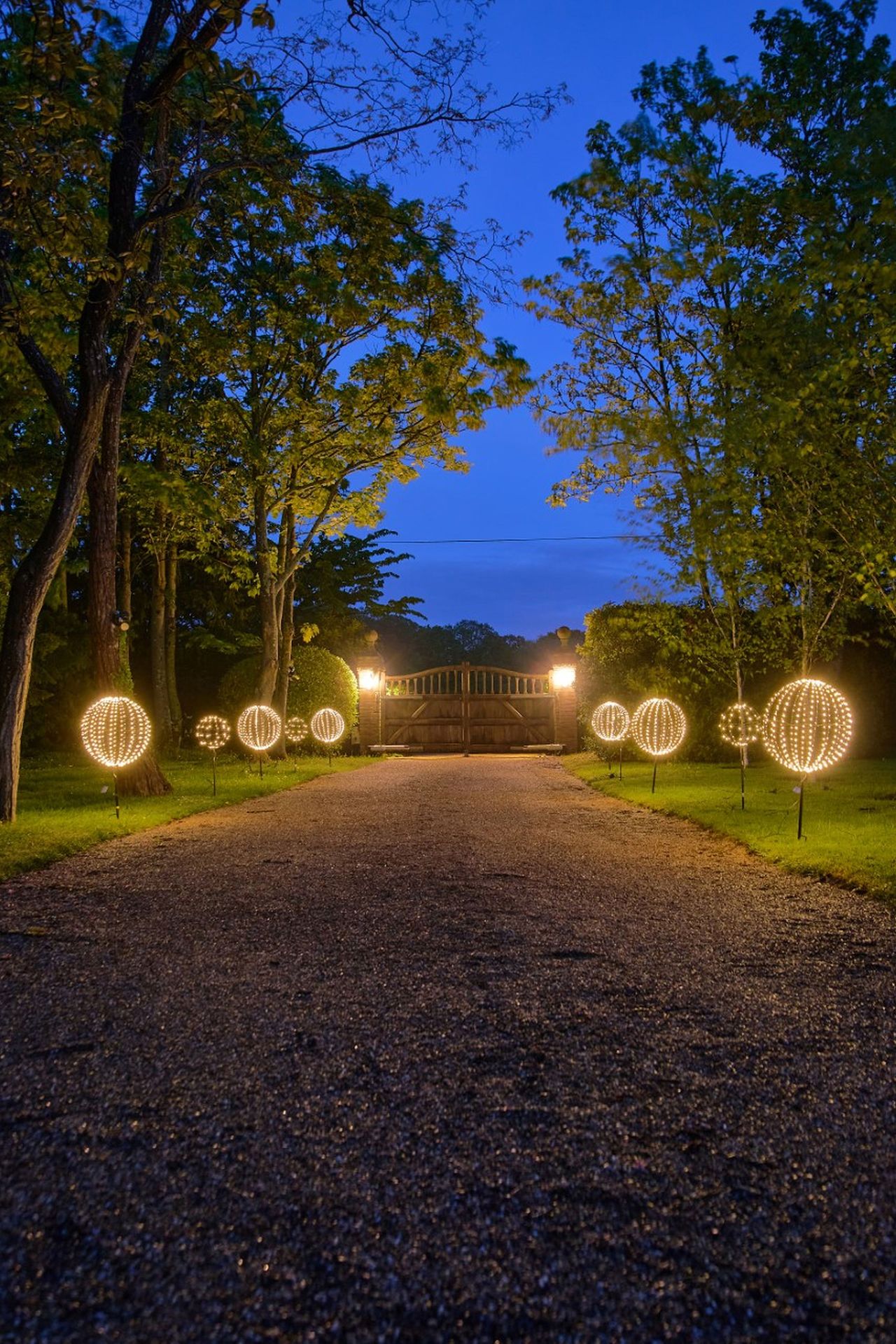 Motorists will appreciate the additional front yard lighting ideas as they approach your home, and it's a good idea to incorporate them into your driveway design before you start construction, rather than trying to add them later to install.
"Outdoor lighting for walkways, driveways and steps is much easier and more effective if you plan for it at the construction stage," says Piero De Marchis, director of Detail Lighting (opens in new tab).
"Not only does this give you more options that are likely to be less intrusive, but it also allows you to install custom wiring before anything is built. There is nothing worse than having to channel through a perfectly laid driveway or dig up the perfect lawn."
10. Light up a living wall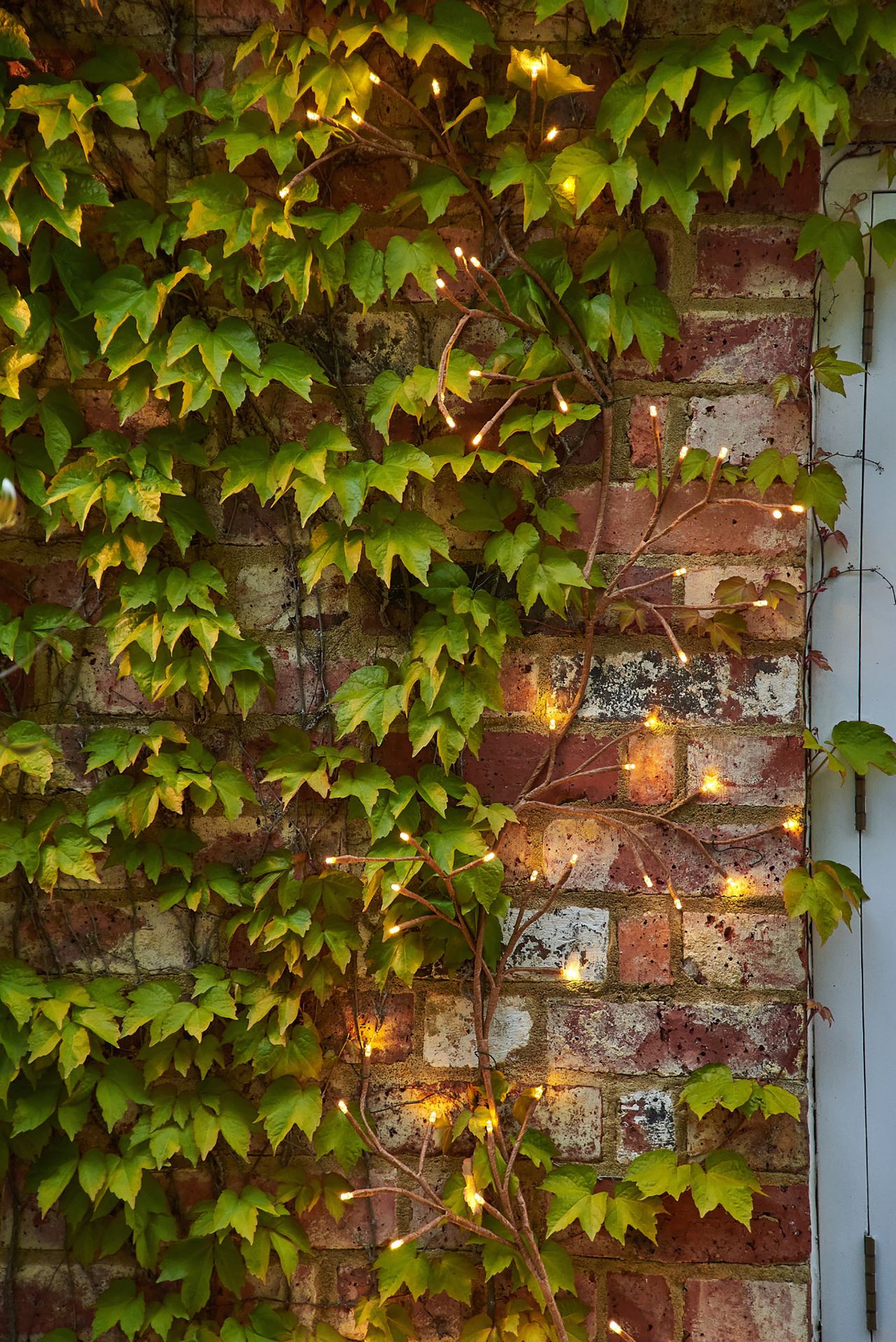 Climbing plants and living wall ideas are a beautiful way to add character and personality to the exterior of your home and they offer a great opportunity to incorporate decorative lighting into your front yard.
"If you have a vine with strong branches or a trellis, you can use garden twine, wire, or zip ties to attach the lights to the branches or panels," says Thalia Shaw. "You won't be able to see the wire as it's dark or light brown. Green leaves and twinkling fairy lights are just the perfect combination."
How do I light my front yard?
Adding solar lights is one of the easiest ways to light up your front yard. Add solar poles at your borders and along a path or driveway for pretty yet practical lighting. For a more significant addition, install motion-activated security lighting to add extra security to your home – it will also come in handy when you come home at night.
"Advancements have made outdoor lighting much easier to retrofit, cheaper to run and more resilient to the elements and condensation," says Piero De Marchis. "Retrofitting LED lighting is of course possible and there are many ways to do it. Unobtrusive in-ground path lights and ground stake lights are great lighting solutions that add interest and depth."
Does outdoor lighting increase the value of living?
Outdoor lighting can increase the quality of living. "Well thought out and properly installed front yard lighting can increase the value of a property by 20 percent or more," said Ben Fisher, luxury real estate specialist at The Fisher Group. "It not only emphasizes the architectural structure, but also strengthens the security of your home."
"Well thought out front yard lighting makes a home feel warmer and more inviting," he adds.
Outdoor lighting could also make selling a home easier. "Front yard lighting definitely adds perceived value to your home and makes it more attractive to buyers," says Bob Scott, founder of Sell Land (opens in new tab). "The most common reason for this is that it improves the aesthetics and outdoor qualities of your home. Front yard lighting allows you to accentuate the best features in the area such as yard, walkways and door design. This increases your attractiveness and can invite more buyers.'