Now that the sun has finally risen, it's time to gather your family and friends and throw an unforgettable party. Imagine the scene, cocktails, games, sunbeds and lots of laughter.
From gazebos fit for a Greek goddess to a cheeky limbo game, we've got everything you need to bring all your garden party ideas to life.
With our top picks by your side, you're guaranteed to have a great time.
Continue reading: The best garden furniture of 2022 to transform your garden into a real oasis
Ginger Ray Floral and Rose Gold Foil Party Fan Decorations
Jump to the details

Solar string outdoor lights
Jump to the details

John Lewis & Partners Cocktail Teapot Set (500ml)
Jump to the details

Garden Trading Wimborne director's chair
Jump to the details

M&S Classic Sandwich Selection (30 pieces)
Jump to the details

Helsinki Set of 2 Turquoise Zero Gravity Loungers
Jump to the details

Decorative Gazebo by Gardenline
Jump to the details

Garden Games Limbo
Jump to the details
1. Cute Garden Party Decorations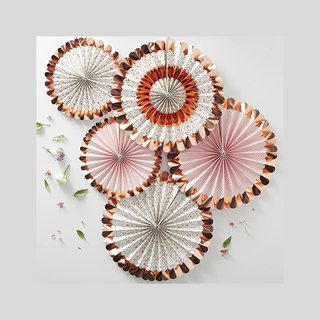 Photo: Amazon
Ginger Ray Floral and Rose Gold Foil Party Fan Decorations
You save
£4 (40.04%)
£5.99
£9.99
Add a touch of personality to your party with a collection of eye-catching ornaments. With rose gold colored paper accents, these fans make beautiful decorations to hang from the ceiling or on an outdoor patio.
The paired color palette is complemented by rich embellishments and is sure to complement almost any party theme. They are easy to set up and take down so you can store and reuse them for one soiree after another.
There are five paper fans in each pack and we love them so much we're almost certain you'll want to buy more than one pack. And if you love the look of this dainty set, check out the rest of the Ginger Ray collection.
2. Garden lights for staging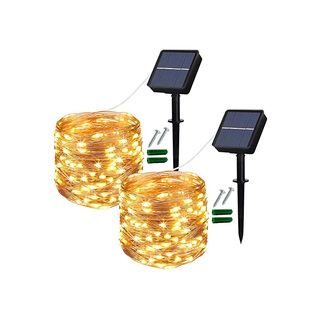 Photo: Amazon
Solar string outdoor lights
You save
£7.10 (37.39%)
£11.89
£18.99
Light up your garden with a pack of warm LED string lights. With over 7,000 customer reviews and a solid 4.3 star rating, these solar powered string lights will brighten up your garden.
Made from malleable copper wire, these decorative lights are easy to bend into any shape. Whether you want to decorate a heart, a string of stars or your garden fence, these lights are the perfect tool to let your creative side flow. Each strand is 40 feet long.
Continue reading: Top solar garden lights to illuminate your back garden
3. A cocktail tea set for modern mixed drinks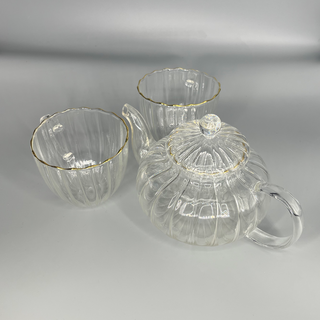 Photo: Lauren Pascal
John Lewis & Partners Cocktail Teapot Set (500ml)
Serving cocktails with a twist, the teapot set is the perfect blend of tradition and party fun. Mix your favorite beverage in the main teapot and serve in elegant glass mugs.
With its ribbed glass and gold accents, it's a must-have for your glassware collection. In fact, one of our editors has this set and gives it a big thumbs up for its modern take on traditional style teapots.
Although it may resemble a teapot, the glassware is not suitable for extra hot drinks. But rest assured, the teapot isn't just limited to cocktails, you can also opt for a cold brew coffee or fruit tea if that's more fun for you.
4. Outdoor chairs that won't disappoint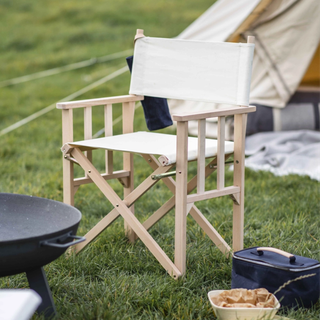 Photo: garden trade
Garden Trading Wimborne director's chair
Dimensions: 87 H x 48.5 W x 56 D cm
Weight: 4.5kg
Material: canvas and beech
A fitting seat for the head of house, the Wimborne Directors Chair available from Garden Trading will bring a touch of Hollywood grandeur to your outdoor patio.
This deluxe chair is crafted from strong beech and durable canvas that distributes weight evenly and provides you with comfortable support. When it comes to style, its classic white aesthetic adds a chic feel that's still versatile enough to complement all styles of outdoor furniture.
Lightweight and compact, this garden chair is the perfect option for some much-needed respite in the warmer months. And when you need some shade, its foldable construction makes it easy to store and move.
5. All the essential party food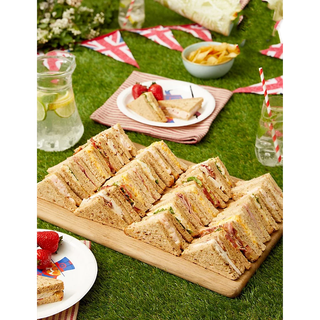 Photo: Marks & Spencer
M&S Classic Sandwich Selection (30 pieces)
Fit for a royal family feast, this selection of finger sandwiches will tick all the boxes for a traditional British-style spread.
Featuring a selection of ready-to-eat sandwiches, this classic platter will have diners asking for your caterer's number. Choose from a selection of fillings such as shrimp mayonnaise, fried chicken, BLT, cheese and onion, and egg and watercress – the choice is yours.
With over 4,000 trusted customer reviews and a glowing 4.8 stars, we're sure the wide range of sandwiches will be a treat at your next party.
6. A stunning array of sun loungers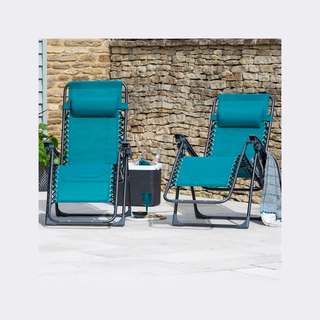 Photo: Dunel
Helsinki Set of 2 Turquoise Zero Gravity Loungers
Let your guests relax in the sun with two sun loungers.
These loungers make great seating during a soiree, but you'll love them just as much when you have them all to yourself. With locking armrests and fixed pillows, this sun lounger offers you extra comfort and support when you need a moment of relaxation.
With the Helsinki garden set you get two loungers for the price of one. Also, the bright and trendy teal finish gives your garden decoration a modern look with a touch of colour.
7. Add an outdoor gazebo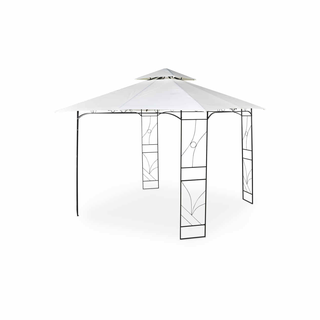 Photo: Aldi
Decorative Gazebo by Gardenline
Dimensions: 290 H x 290 L x 270 D cm
Transform your outdoor space with a contemporary gazebo. Whether you're hosting a family BBQ or an evening get-together, this airy gazebo creates the perfect party atmosphere.
With a decorative sturdy steel frame and cream polyester roof, the garden tent will act as a shelter for your guests when they need to cool off from the sun. Thanks to its four open sides, this classic gazebo stands securely and lets in a gentle breeze of fresh air on a summer's day.
8. Board games for everyone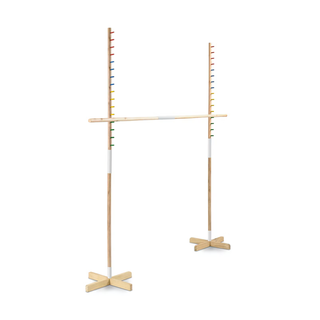 Photo: Matalan
Entertain the whole gang with a friendly hover game. Perfect for both adults and children, this classic game guarantees a few laughs and loads of fun.
With its premium wooden design and colorful markers to keep track of top scorers, the game couldn't be easier to set up and take no time to learn. Put on some music, start the competition and see how deep you can go.
---
The information presented above is correct as of 05/26/2022. We are not responsible for price changes. The Best Buys Featured badge indicates sponsored content, and we may earn a commission if you make a purchase.