Oak cabinetry kitchen ideas are nothing new – they've been a popular choice for years for their timeless appeal, not to mention the fact that oak is a durable material that only gets better with age. But if you think kitchen ideas with oak cabinets feel too traditional in a modern home, think again.
In recent years there have been a number of new and interesting techniques that have reinvigorated the material and transformed this old staple into a modern favourite. If oak kitchen cabinet ideas are high on your list, here are the top ways to freshen up the look.
Oak cabinet kitchen ideas – 10 modern ways to design a wooden kitchen
Finding the right oak kitchen ideas is crucial to creating a space you will love for years to come.
Whether you prefer a classic look with lots of detail or something more modern, such as room proportions.
If you're looking for more kitchen ideas, these kitchen cabinet ideas provide inspiration for open plan, galley, U-shaped and L-shaped kitchens.
1. Choose a calm scheme
Pale and interesting best describes this dreamy project from Banda in west London. "We positioned this wooden kitchen cabinetry idea on the south side of the apartment so it's filled with natural light," says founder Edo Mapelli Mozzi.
"It has a calming, uplifting feel and overlooks the garden square through the generously sized early Victorian windows. The long central island linearly reflects the length of the room. We worked with Obumex to create minimalist, custom cabinetry in light brushed oak and incorporate a Calacatta Dior marble kitchen countertop."
2. Discover the beauty of customization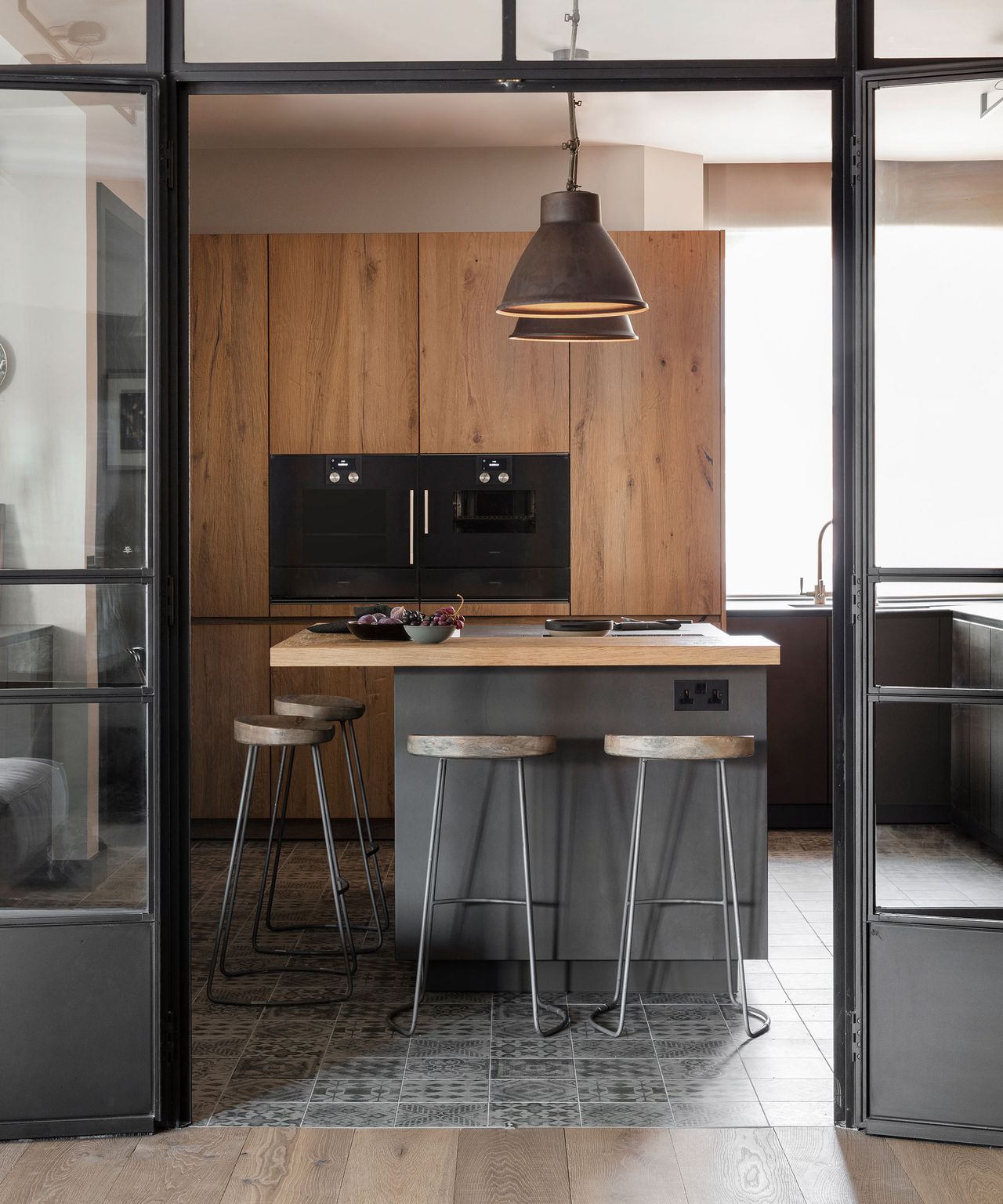 A combination of textured wood and striking metal details create this original look. "Hand applied concrete along with vintage oak and rolled steel finishes create a tactile space with a sleek industrial presence," says Gary Singer of Eggersmann Design.
3. Choose a dark and moody color scheme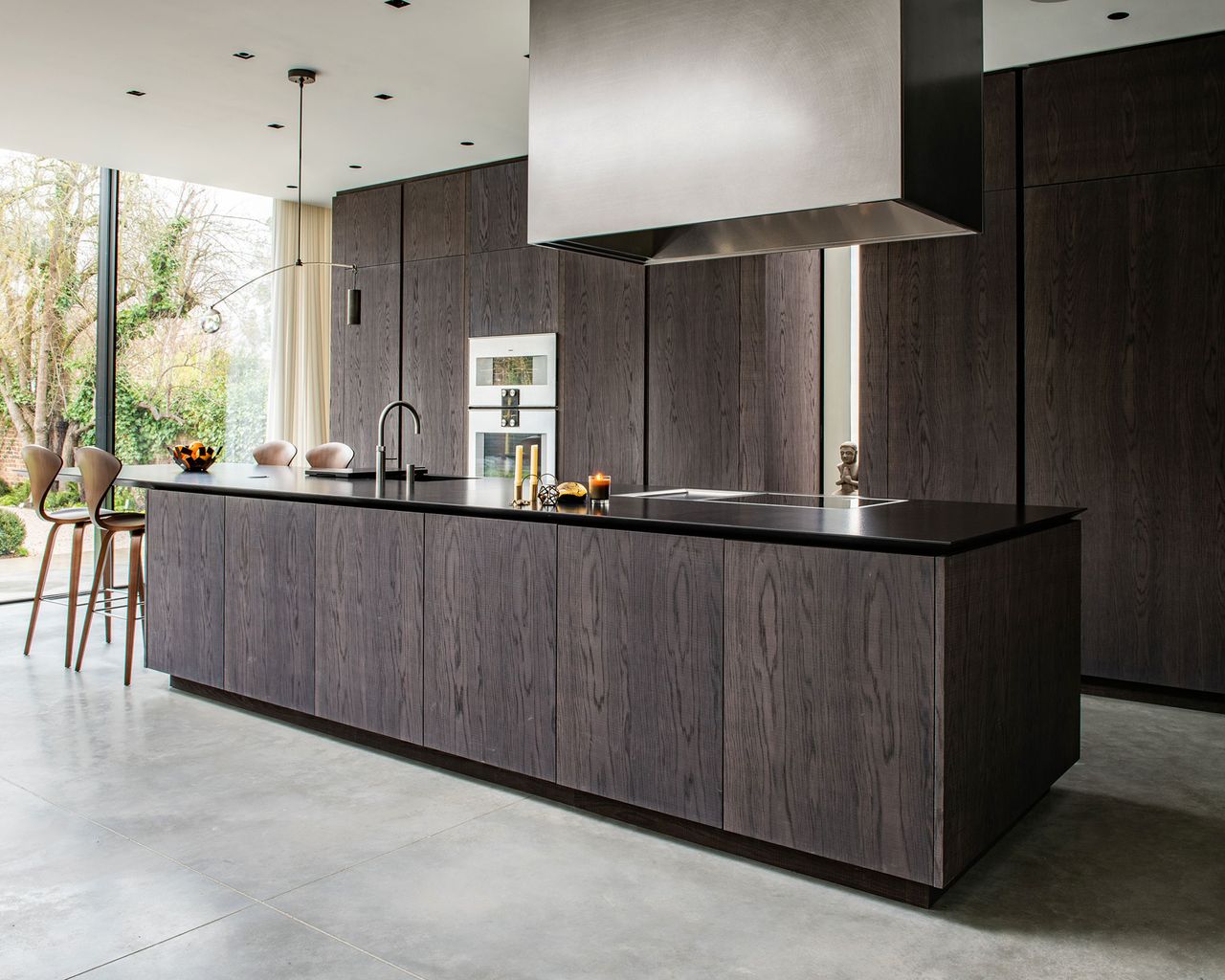 This design by Chamber Kitchens features dark kitchen cabinets with handleless rough-sawn oak doors, antiqued Indian black granite countertops and a polished concrete floor by Lazenby, all of which combine to create a sophisticated look.
"The restrained color palette ensures the Cherner chairs, ocher light fixture and Southeast Asian artifacts are not lost in this sizable space," says Matthew Higgs, designer at Chamber Furniture. "The clients (including an architect) were enthusiastic about the design, materials and process – it was a nice collaboration to be part of it."
4. Create decorative interest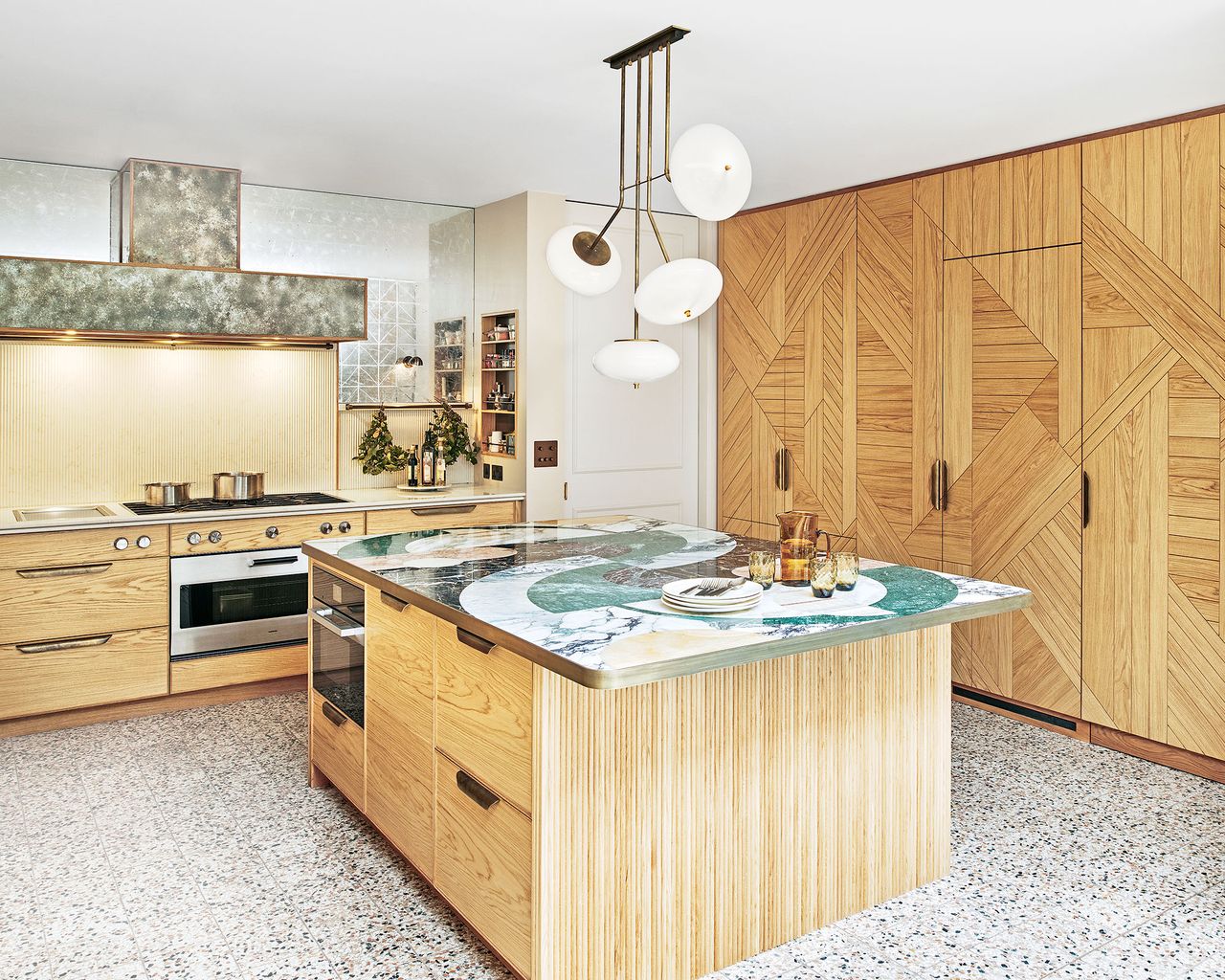 Details are the focus of this sensational kitchen from Ledbury Studio. "Handcrafted from English and European oak with patinated zinc accents, it combines a strong contemporary feel with traditional craftsmanship," says founder Charlie Smallbone. "Highlights are the elegant design of the tall cabinets."
5. Give it a modern farmhouse twist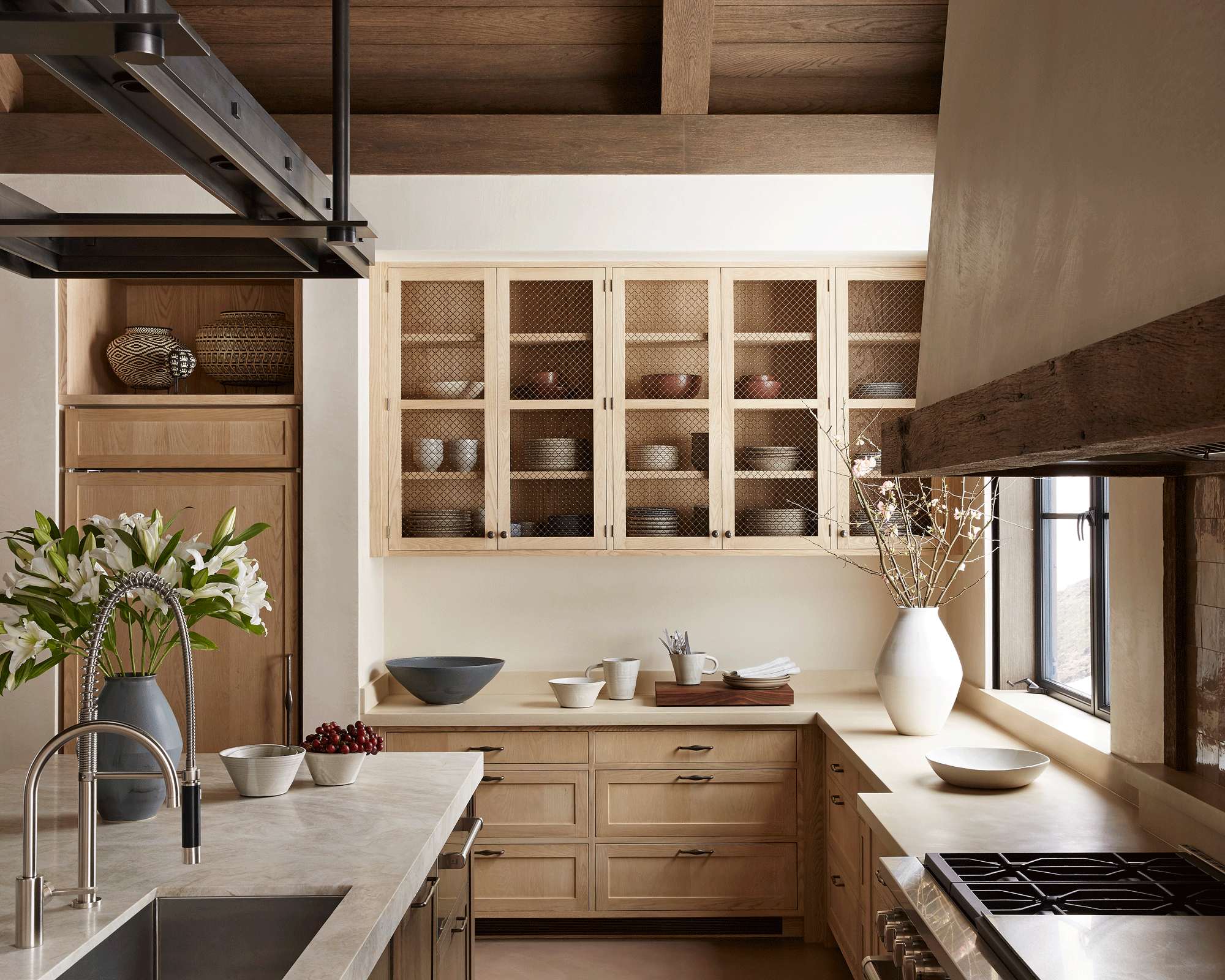 This multi-layered kitchen was designed by American designer Studio Jake Arnold. "We wanted to retain the charm of this Los Angeles home, and this kitchen exudes an amazing combination of vintage and modern elements," says Jake. 'The tones of the wooden cabinets and thin floorboards are the perfect contrast to the exposed beams, while the tapered edge of the stone worktop adds subtle detail.'
6. Mix different types of oak and wood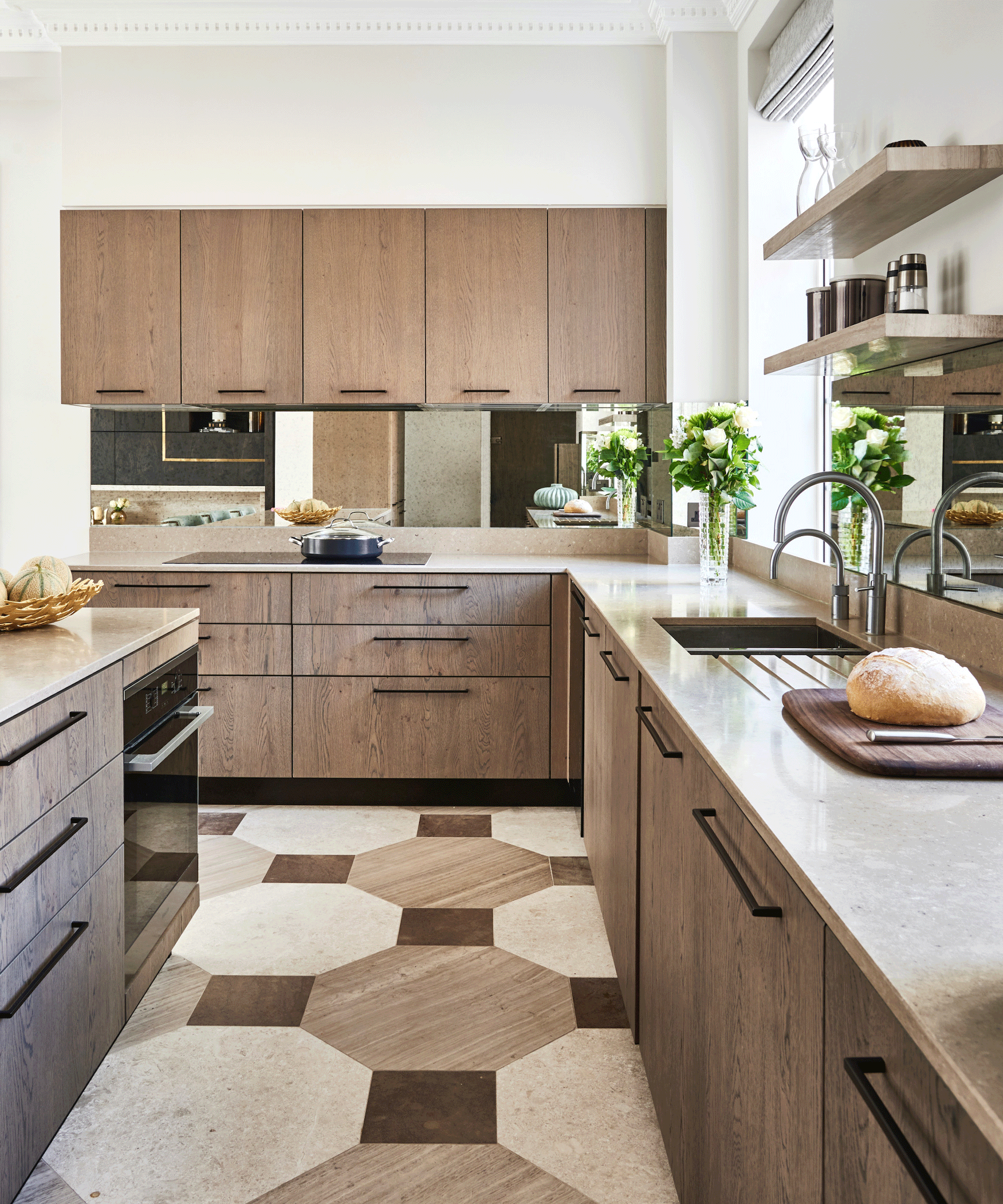 "If you're looking to introduce two or more types of wood in the same space, it's wise to make sure there's enough contrast between them. You can just see the media wall shelves in much darker stained oak, reflected here in the kitchen splashback," explains Deborah Bass, Director of Base Interiors.
The hexagonal flooring is cut from natural marble in similar tones to both woods, helping to unify the two. "Whatever woods you use in the kitchen, the key to avoiding a heavy 'wall' of wood is to balance the other finishes in the room – such as the counter top." E.g. brightly painted walls, simple handles, antique mirrors or metal splashbacks."
7. Create a textural look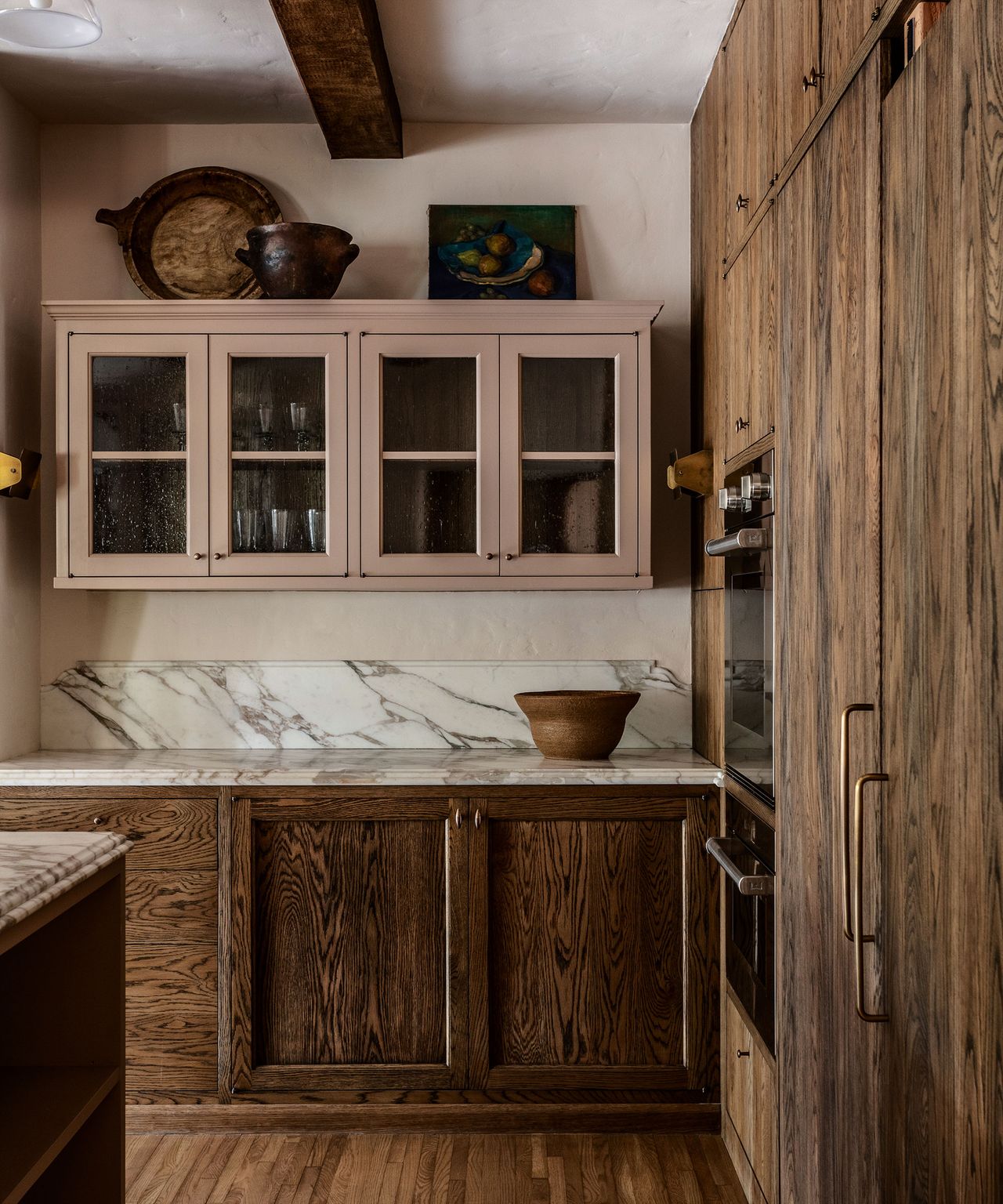 Jake Arnold's integration of contemporary Californian style and traditional British design has resulted in a wooden kitchen that inspires with its sense of comfort and luxury.
Timelessness was also the key in the kitchen. "We wanted to create a well-appointed space that acts as a focal point for the home, so we developed a rich, warm wood tone for the oak furniture, paired with hand-painted cabinets, antique bronze hardware and a classic La Cornue range. says interior designer Jake Arnold. "It was important to combine high impact with minimal materiality. Finally, we chose an ogee edge for the stone to emphasize the marble's natural veining.'
When it comes to choosing kitchen cabinet colors for a country kitchen, it's best to stick to muted tones. "The hue on the oak furniture – Farrow & Ball Dead Salmon – creates that warm and timeless feel that we love to create in our homes."
8. Invest in simple oak furniture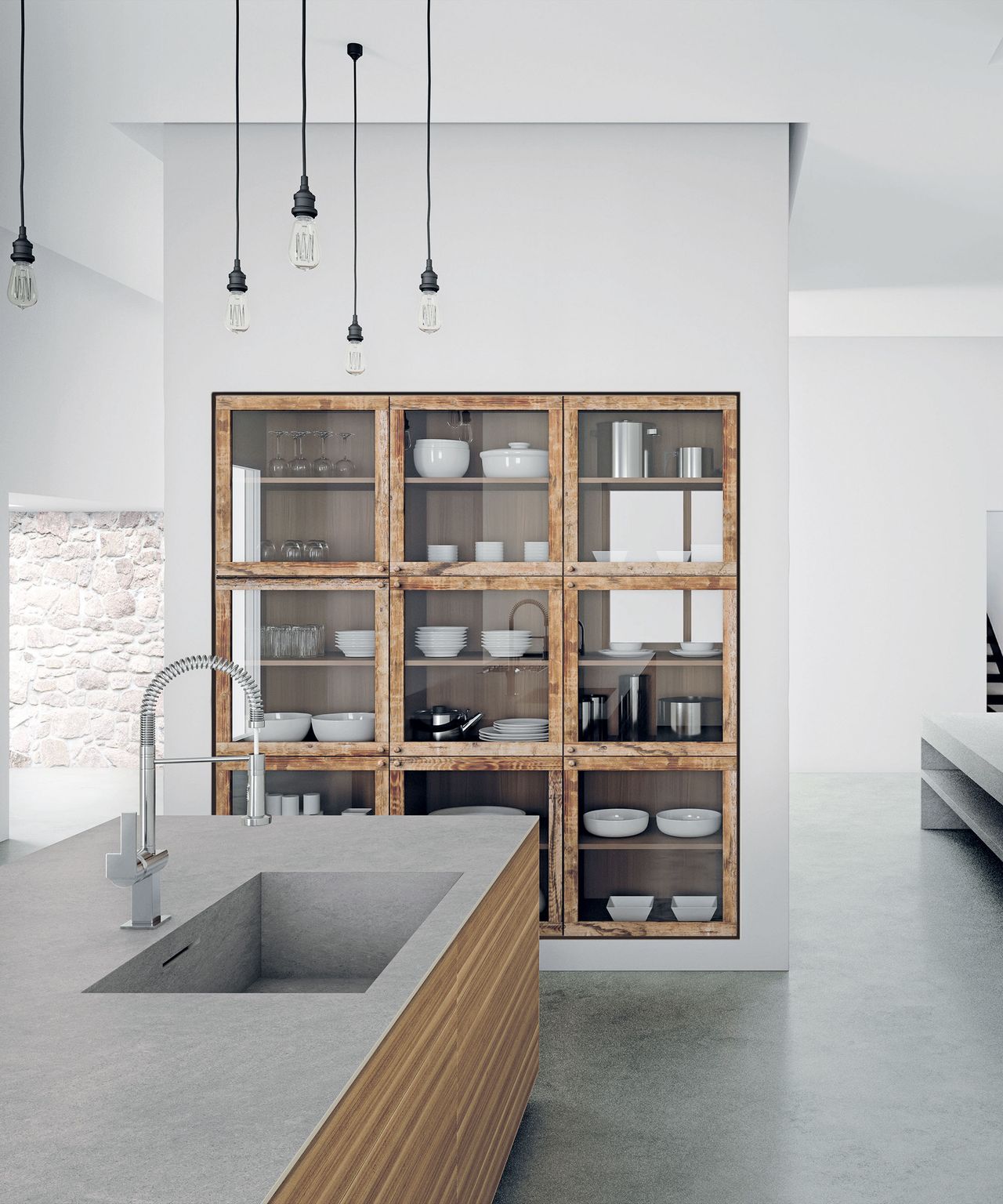 The beautifully integrated oak cabinetry idea is the highlight of this chic, well finished white kitchen and adds character to the open plan kitchen area. "The industrial look is key here," says Simon Boocock, Managing Director of CRL Quartz. "The Ceralsio Slate Gray ceramic surface with its structured surface is hard-wearing and easy to care for."
9. Take an industrial approach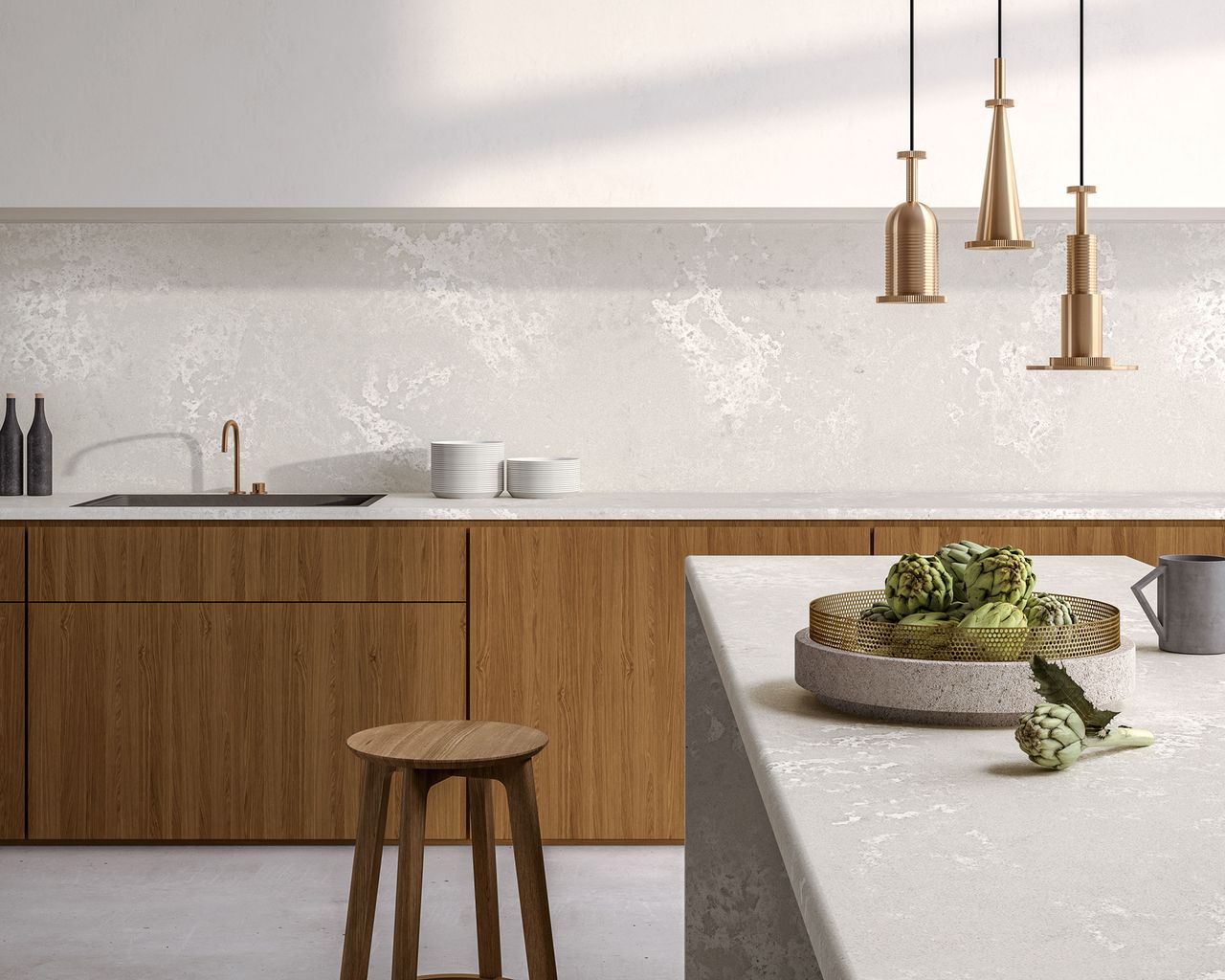 Considering kitchen color options for your modern kitchen? Whether you're remodeling or refreshing your room, oak cabinets are a fabulous choice, with the potential to both create a look you love and add a lasting finish to your room.
The charm of this oak cabinet kitchen idea comes from reinterpreting the industrial style with light, textured surfaces in Caesarstone's Quartz Cloudburst Concrete. "We wanted to soften the rawness associated with this trend," says Mor Krisher, chief designer.
10. Be inspired by nature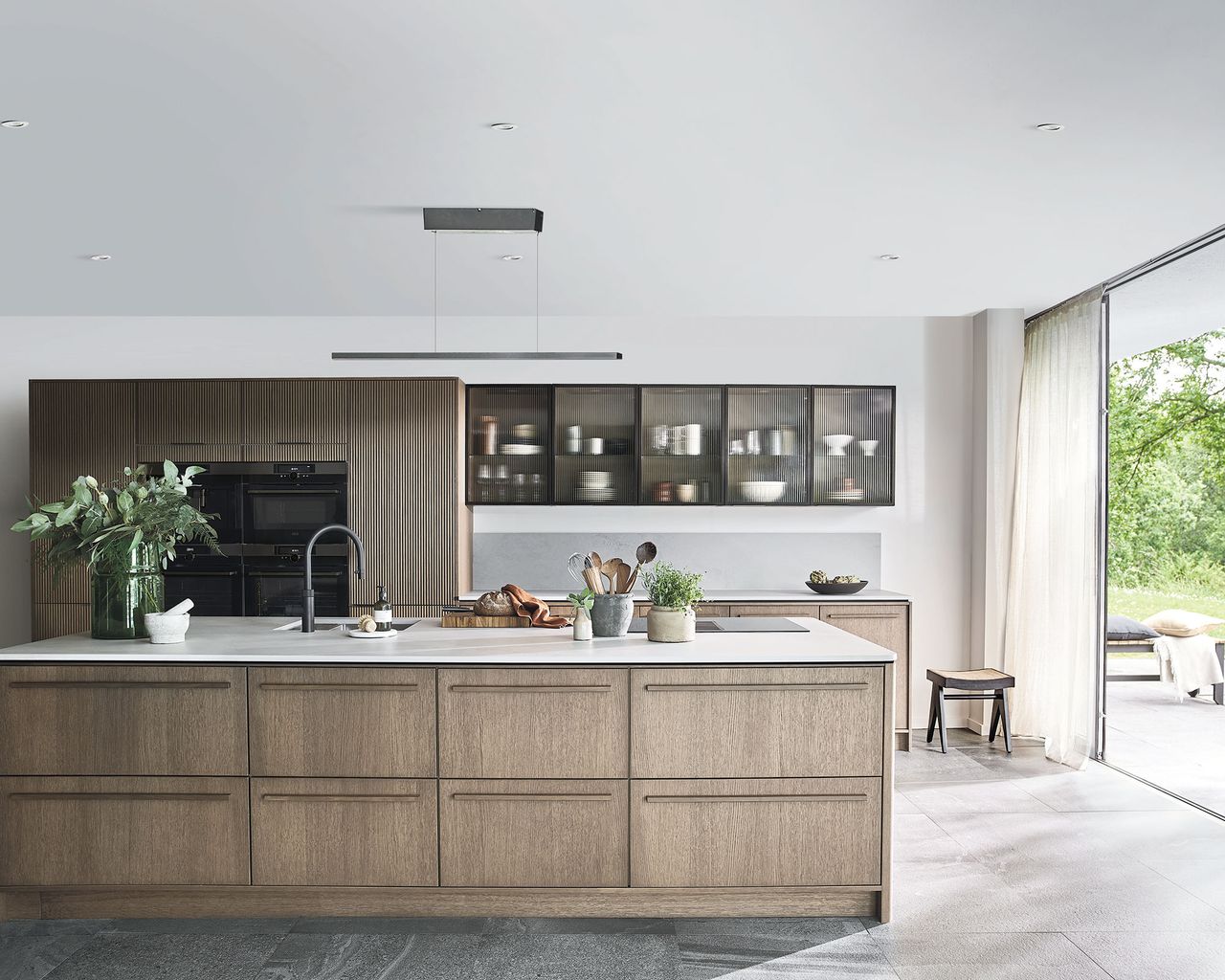 Inspired by the beauty of Scandinavian woods, the new Nordic Nature range of Magnet features oak effect doors in smooth, fluted and glass fronted designs. "Incorporating shapes inspired by nature improves our physical and mental well-being," says Herman Persson, Group Design Director.
Are oak kitchens outdated?
Oak kitchens are enduringly stylish and designs made from sustainably produced or reclaimed wood are more popular than ever. What has changed is the design of oak kitchen cabinets: fluting, unusual, textured surfaces and inlays are currently at the forefront of kitchen trends.
How do you complement oak cabinets?
Oak cabinetry ideas can be complemented in a variety of ways and suit open kitchens, galley kitchens, U-shaped kitchens and L-shaped kitchens.
If you are looking to give an existing oak kitchen cabinet an update, then you should first consider the best painted kitchen cabinet ideas. Painting existing cabinets is a great way to transform a kitchen's aesthetic without the upheaval of a complete room makeover—plus, it will take less time, skip the renovation disruption, and save money.
Kitchen lighting ideas are another brilliant way to add interest and lighting to your kitchen ideas with oak cabinets. Aside from its key function, lighting can have a transforming effect on your kitchen cabinetry ideas by making them appear brighter, highlighting important details and creating a certain ambiance.