Mediterranean decor is a brilliant way to bring a relaxed holiday feel into your home. Influenced by a melting pot of cultures from North Africa and Spain to Tuscan and Greek, the Mediterranean style encompasses a huge range of different looks, from cool and coastal to rich and textured.
To inspire you, we've rounded up a range of characterful home decor ideas perfect for adding a Mediterranean flair to any space, from living room color palettes to beautiful kitchen tile ideas.
Mediterranean decor
Covering a vast geographic area, Mediterranean decor can conjure up all sorts of looks from Tuscan farmhouses to Greek coastal villas, offering a wealth of inspirational decorating ideas.
In addition to the classic whitewashed look, the characteristic colors range from rich earth tones to deep ocean blue.
There's also a big focus on texture, with rustic finishes celebrated wherever possible, from warm terra-cotta floors to raw plaster walls. In fact, if you are fortunate enough to have beautiful original features such as exposed stone walls and weathered ceiling beams then make sure you feature these as part of the interior design as this is guaranteed to bring that coveted rustic character that Mediterranean decor is so prized for .
Tile ideas are also a common feature and there are many designs, from Moorish Spanish tiles to Moroccan Zellige tiles.
Last but not least, the Mediterranean decor blurs the lines between outside and inside, so remember to include plenty of houseplants like palm trees, cacti, and fragrant geraniums.
1. Embrace patterned tiles
Make an impression in an entryway by tiling with Portuguese-style blue and white tiles. As connecting spaces, hallways can be easily forgotten, but they're a great place to be bold with decor. Inspired by the intricately azulejo painted tin glazed tiles seen on buildings across Portugal, these decorative tiles are a brilliant way to add life, pattern and color to your entryway ideas.
2. Combine sun protection and tiles in the kitchen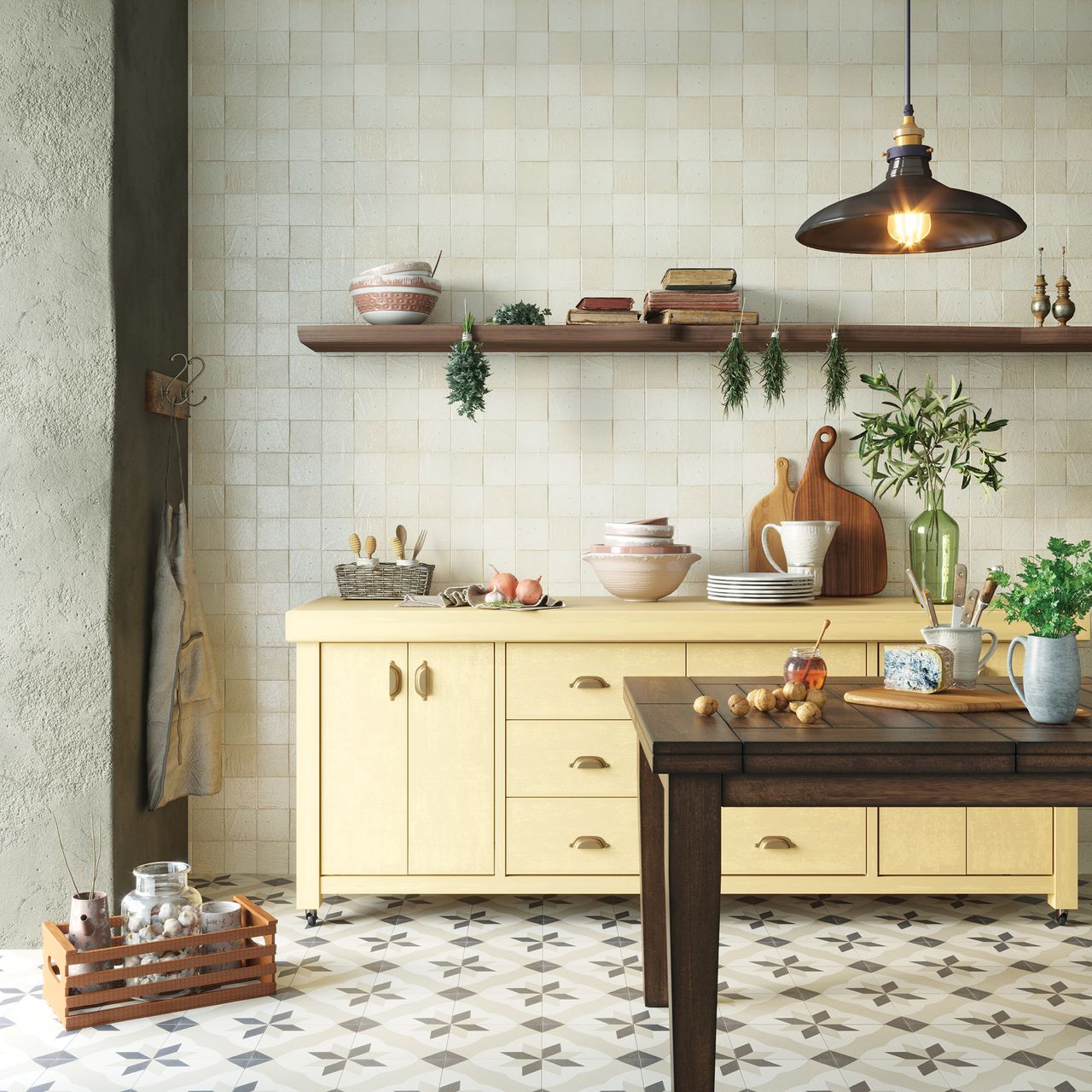 Decorating with yellow is a great way to bring warmth and joy indoors all year round. Kitchen cabinets in sunny saffron are guaranteed to bring smiles and evoke fond holiday memories, creating an ideal backdrop for rustic and patterned tiles that evoke Mediterranean style. For tiles that bring beautiful patterns and subtle textures, try Otto's Moroccan-style Zellige tiles on the wall and patterned encaustic designs on the floor.
3. Embrace rich, earthy colors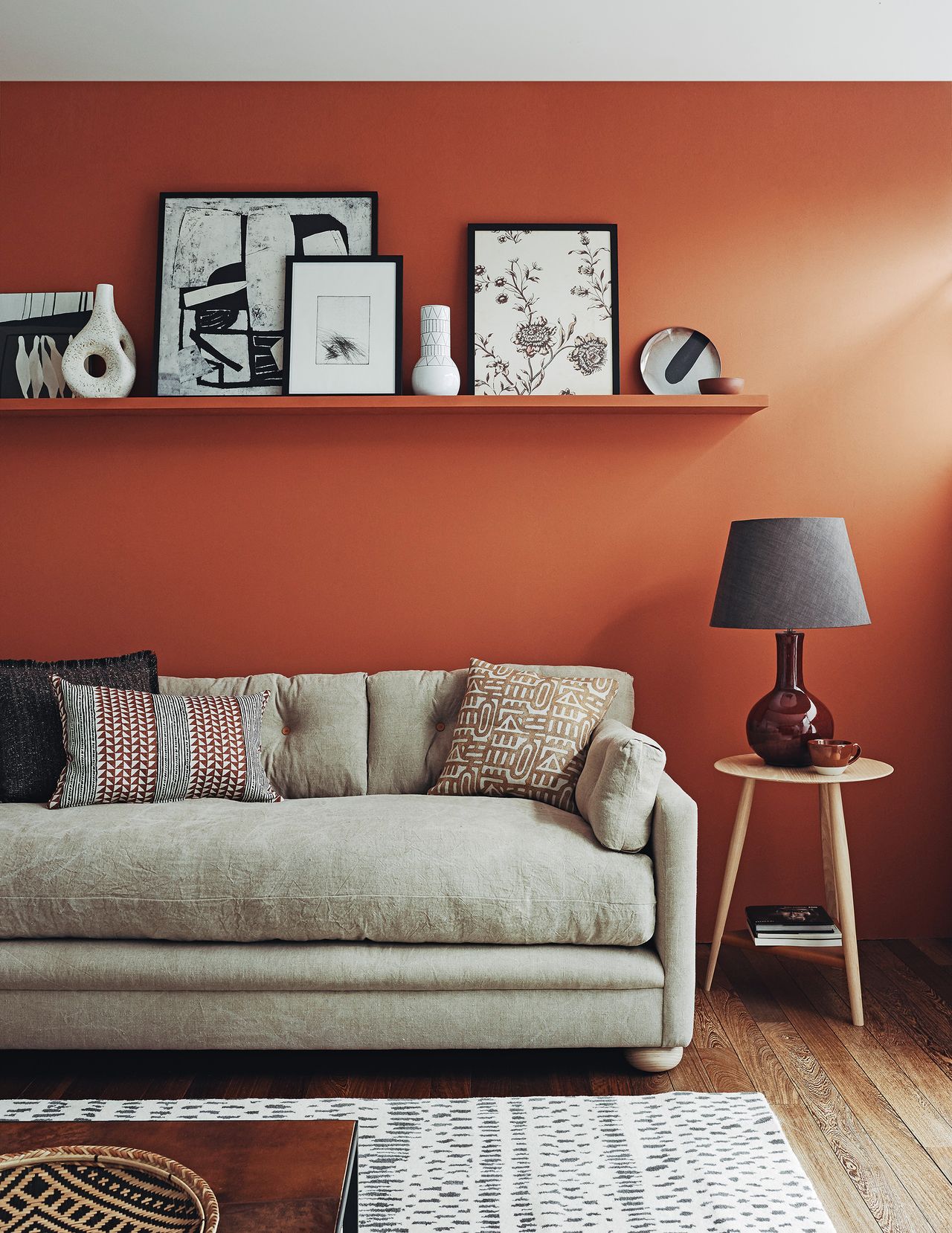 Vibrant color ideas are an instant mood booster and a quick and easy way to transform the look of a room. Rich terracotta, umbra and orange tones conjure up the facades and roofs of Spanish and Italian buildings and bring summer warmth into the house even on the gloomiest days. They make particularly good color ideas for living rooms and give a cozy and cozy feeling.
4. Integrate Zellige tiles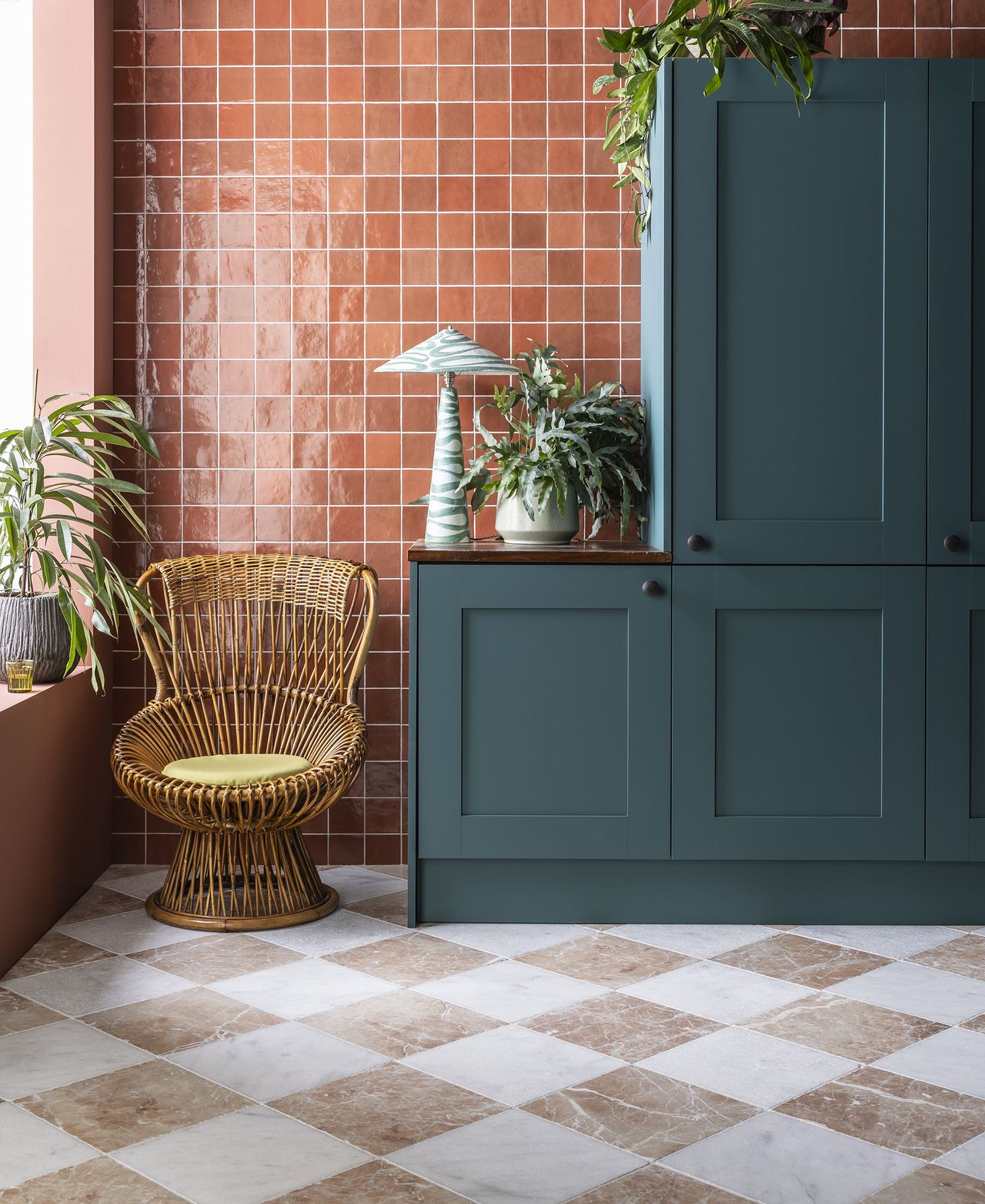 Handcrafted in Morocco, Zellige tiles feature beautiful variations in tone, color and depth of glaze that combine to create a stunning textural backdrop. Designed to mimic traditional zellige tiles, these coral ceramic tiles from Mandarin Stone bring beautiful warmth and texture to your kitchen tile ideas and bathrooms.
5. Go for a blue and white color scheme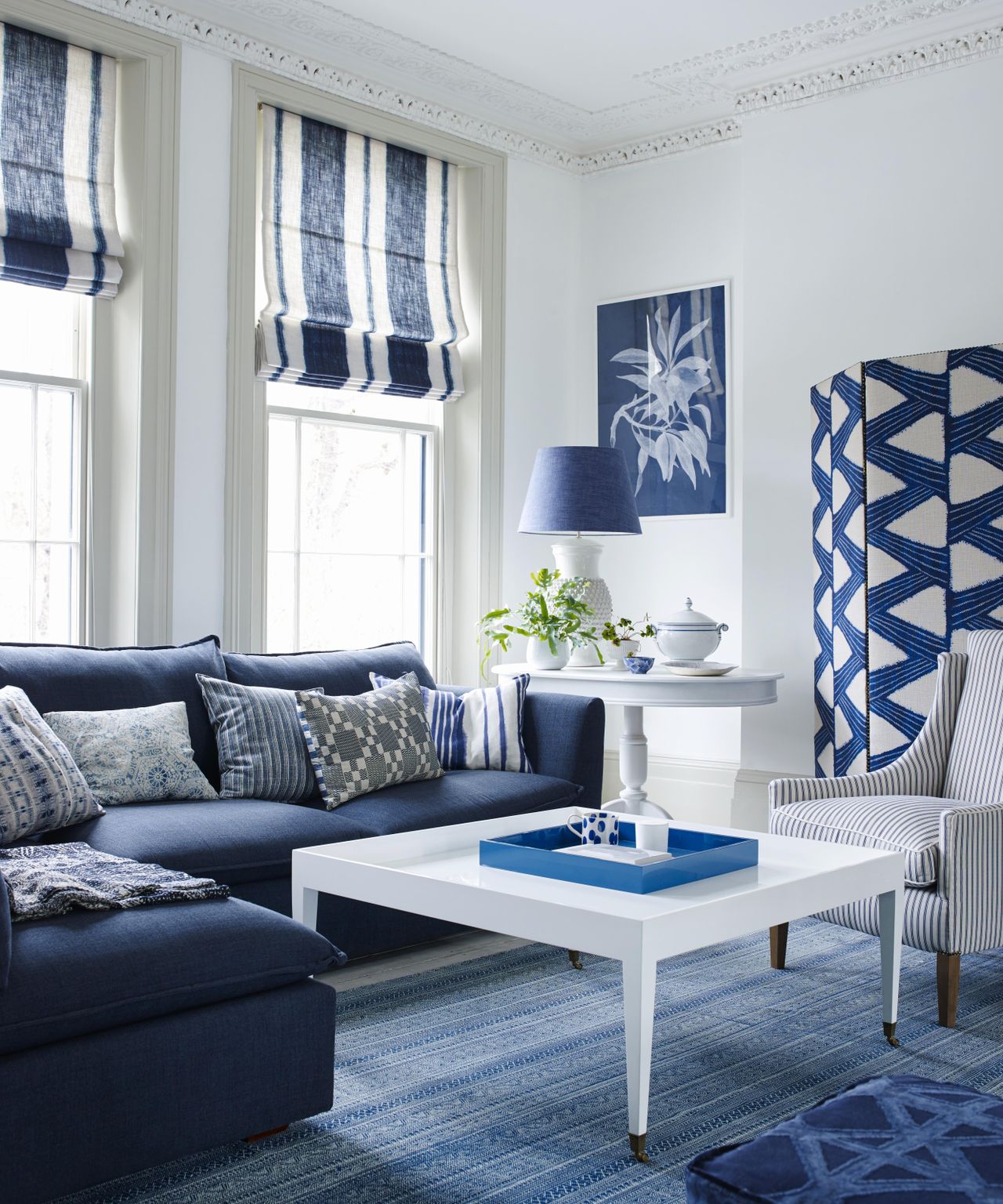 Decorating with blue and white is an easy way to channel Mediterranean decor. A timeless combination synonymous with coastal style, blue and white is a brilliant color scheme for calm, traditional living rooms and remains popular with interior designers for its versatility.
"Rich navy blue with white is such a smart combination, especially when the paintwork is also bright white. It's a classic and not limited to a beach house," says Saffron Hare, Creative Director of James Hare. To ensure that a living room has plenty of depth and interest with a monochromatic scheme, try introducing a mix of fabrics in patterns, different textures and scales.
6. Use hot floral prints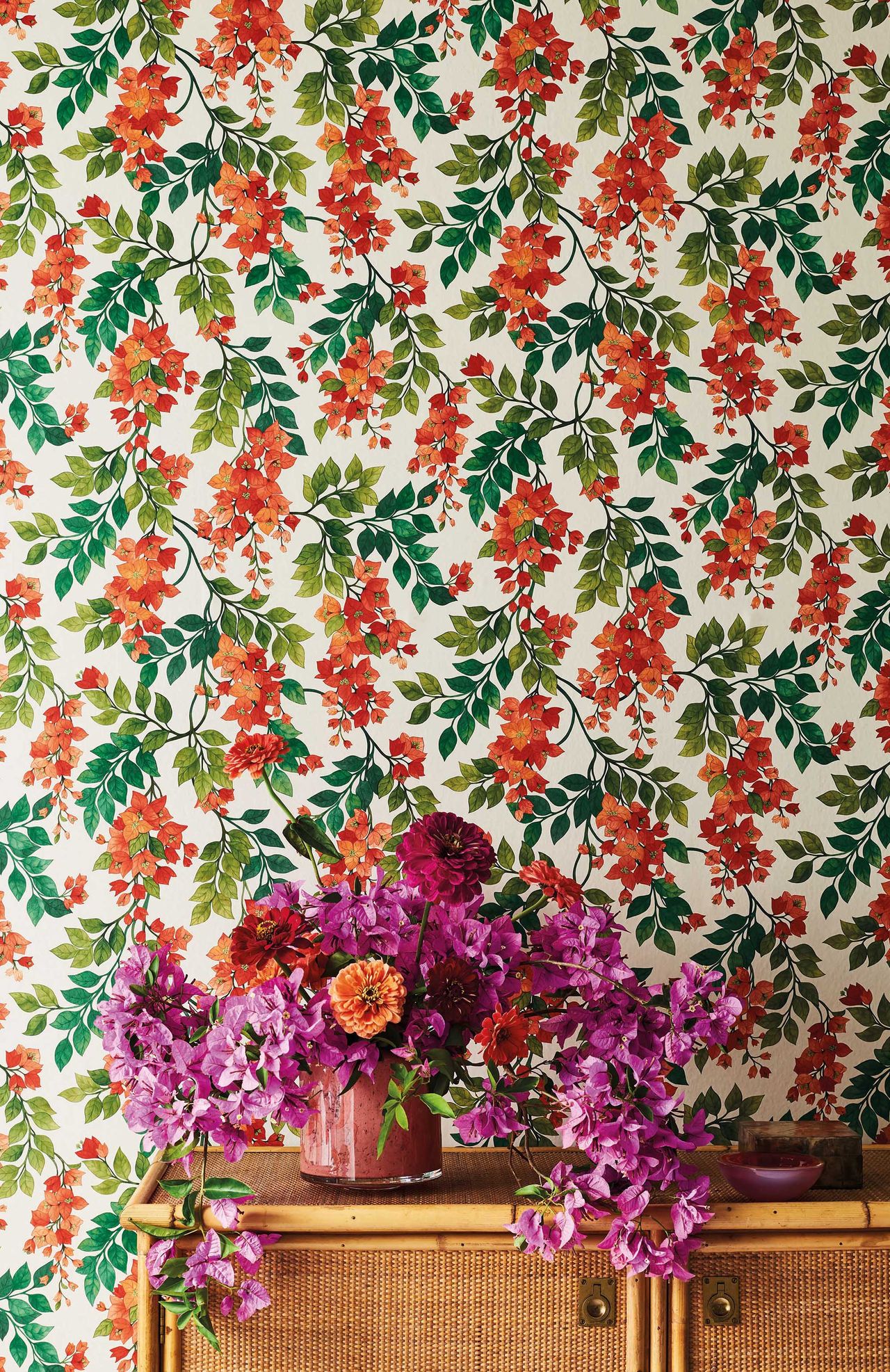 If you prefer Mediterranean decor, be inspired by its flora and fauna. A common sight climbing up old walls and doorways in the Mediterranean, bougainvillea takes center stage in a beautiful wallpaper from Cole & Son. An extravagant floral repeat brought to life by a delicate ombré effect, the design will delight any room wake up. Alternatively, you can try it in a closet for a more subtle pattern.
7. Embrace natural materials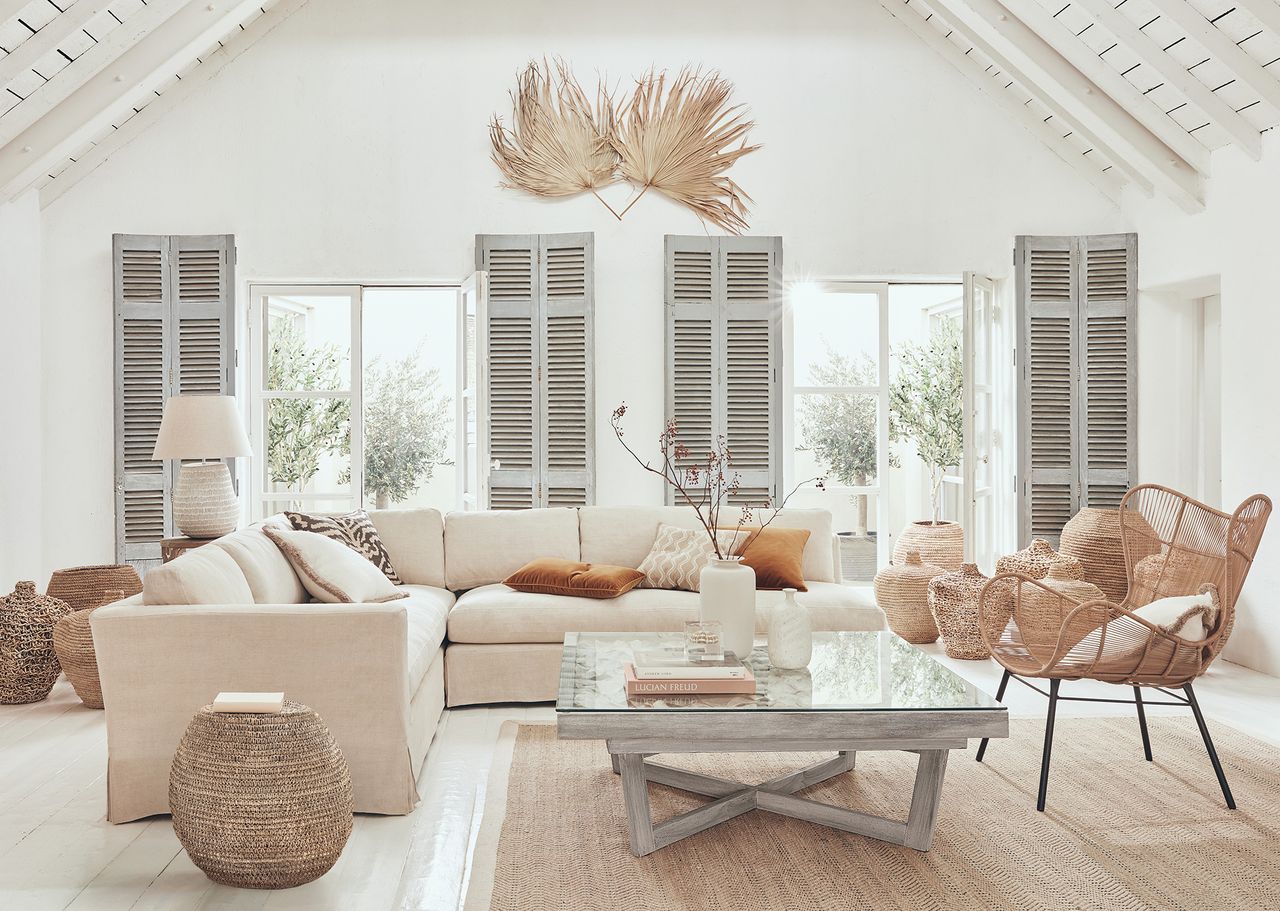 If you want to create a Mediterranean ambience, you can never go wrong with a white background. Because white reflects sunlight, many Mediterranean interiors are whitewashed to create a cool and comfortable environment, as are the exteriors of buildings, for example in Greece.
Though light and airy, white living room ideas can lack atmosphere – to bring extra texture and warmth, decorate with furniture and accessories made from natural materials like wood, linen, jute and rattan and consider infusing your space with a few rustic ones Upgrading accessories and cane furniture for a holiday feel, suggests Sue Jones, co-founder and creative director at Oka.
"I love bringing natural materials and lighter tones into the home for the warmer months. Try swapping out more wintry vases for cool-toned ceramics and natural woven planters and vases. There are no rules when it comes to bringing patio furniture; a synthetic rattan chair," she says, "can be the perfect summer alternative to a traditional armchair."
8. Decorate with tile-inspired wallpaper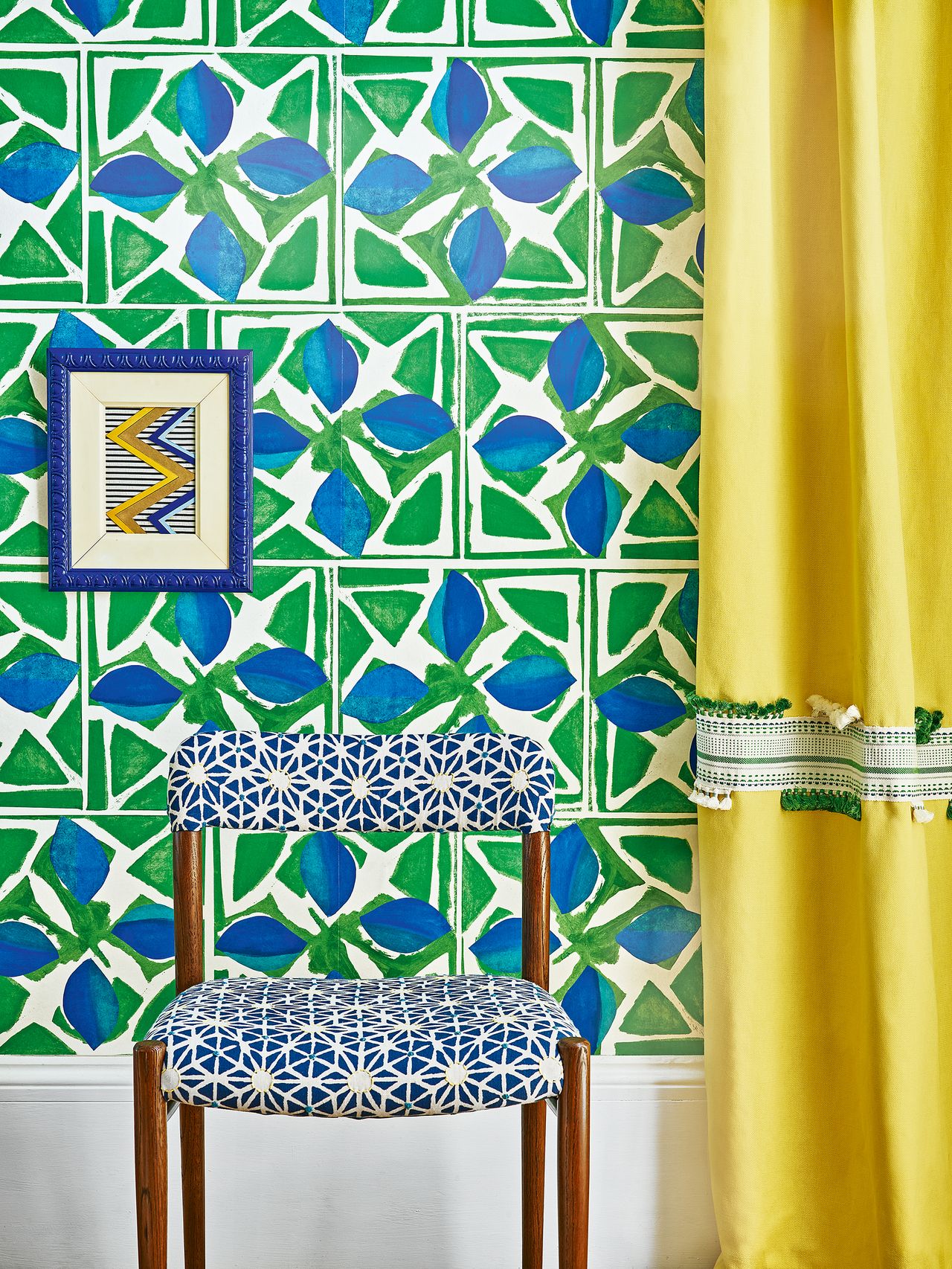 Colorful abstract tiles are a brilliant way to channel the Mediterranean look, but tiling a surface is a big decision and not easy to change.
For a simpler solution, why not try a wallpaper idea that gives the illusion of tiles. Although it has a distinct Mediterranean flavor, this eye-catching wallpaper idea is actually based on original artwork by Cornish artist Sandra Blow.
9. Make a highlight in a bathroom with abstract tiles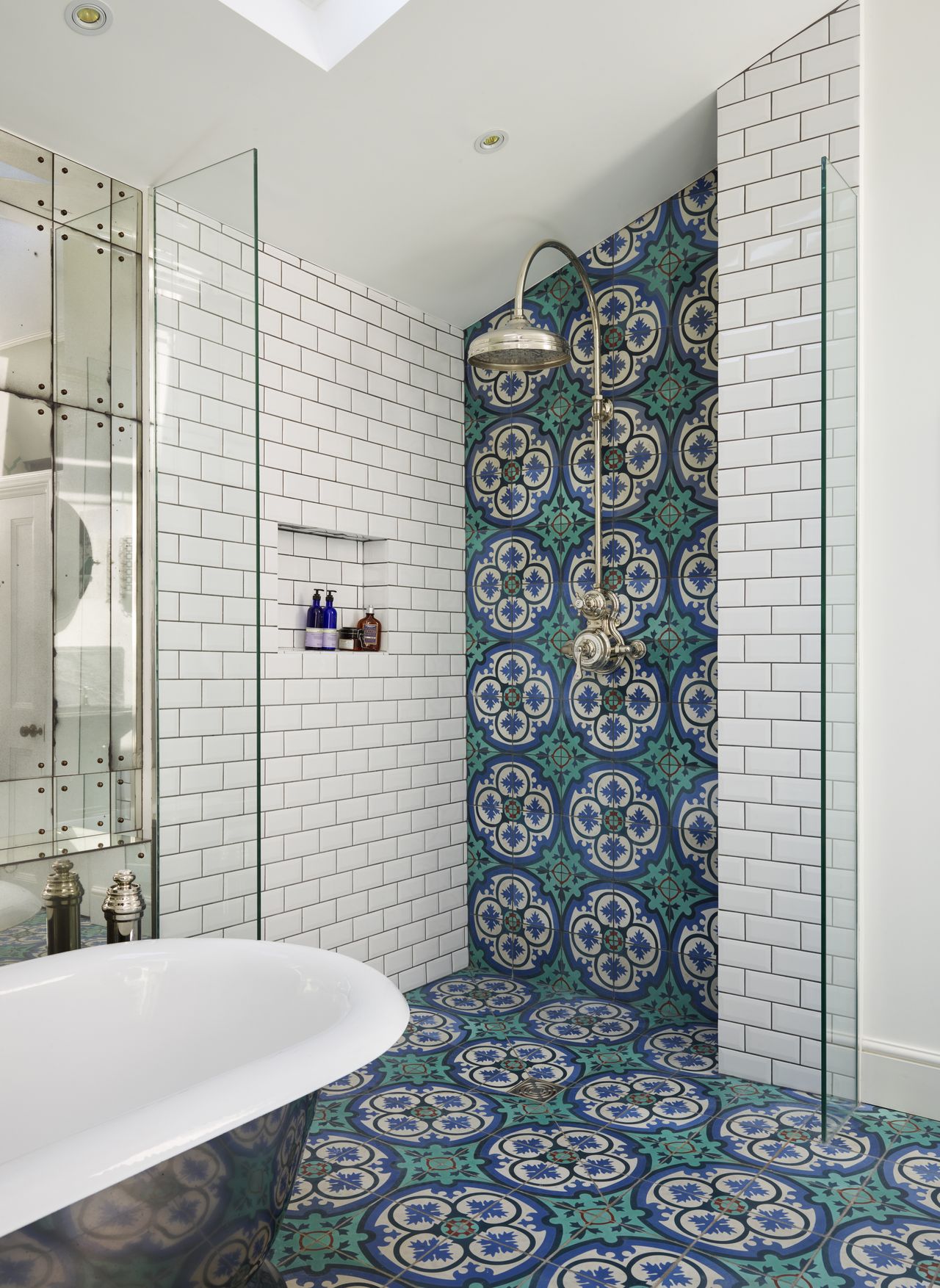 If there's one room that deserves that holiday feeling, then it's the bathroom. The bathroom is a private space where we relax and unwind, so the introduction of elements evoking distant lands is guaranteed to help us drift away.
Shower rooms and bathrooms can run the risk of feeling cold and clinical, but opting for vibrant Moroccan style bathroom tile ideas is a brilliant way to bring colour, pattern and personality.
"Maximalism is all the rage and more and more people are experimenting with bold patterns and bright colors. Using colored or patterned tiles is a great way to accentuate a walk-in shower area," says James Lentaigne, Creative Director at Drummonds.
10. Layer up the textures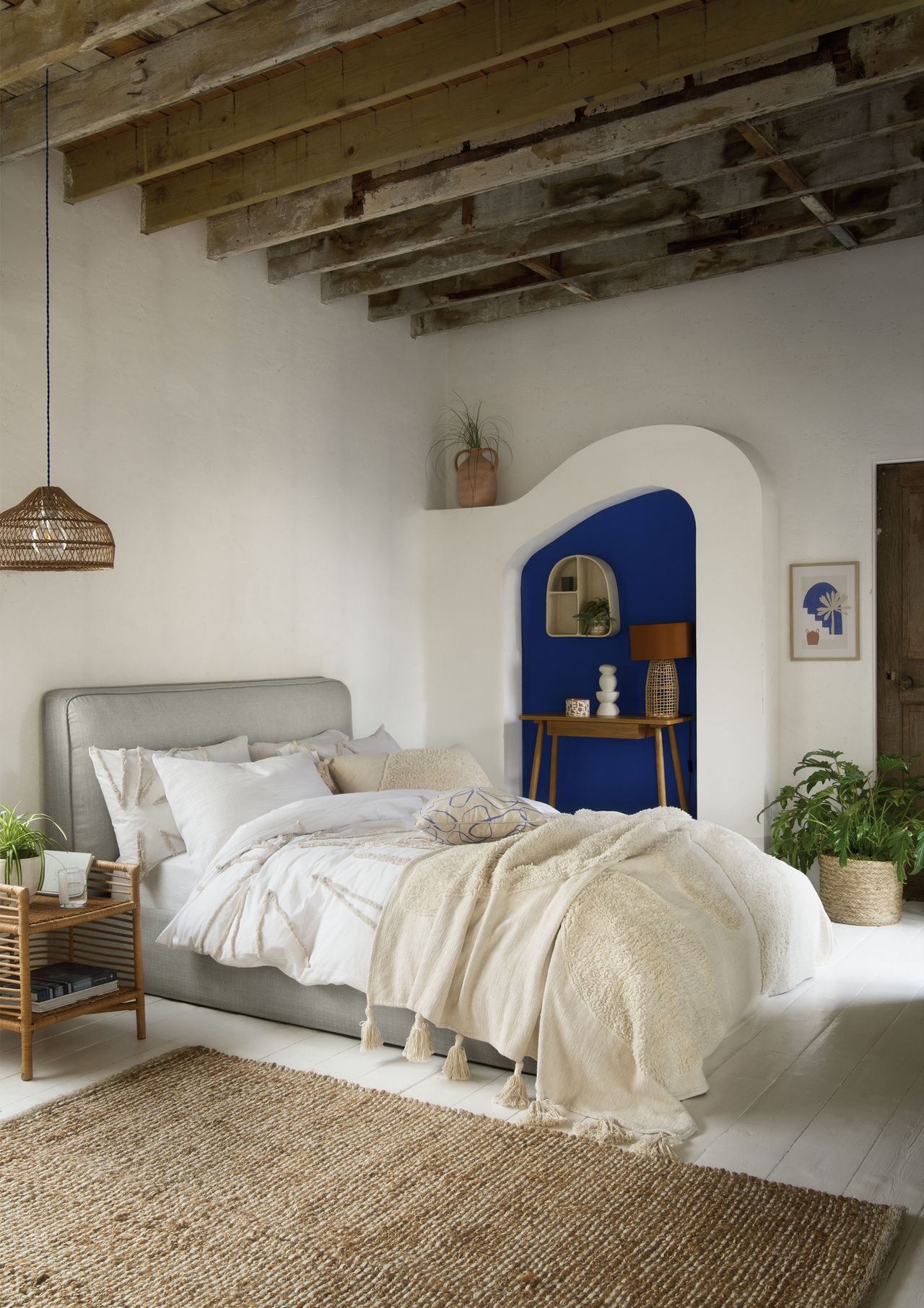 Cool and soothing whites and neutral tones are the number one choice for a Mediterranean style bedroom. To create a cozy environment, make sure to introduce plenty of textural pieces like natural jute rugs, rattan lampshades, woven baskets, and a reed end table. For an added touch of Mediterranean style, consider painting the inside of an alcove or cabinet a rich indigo blue.
11. Add colorful pieces for a summer update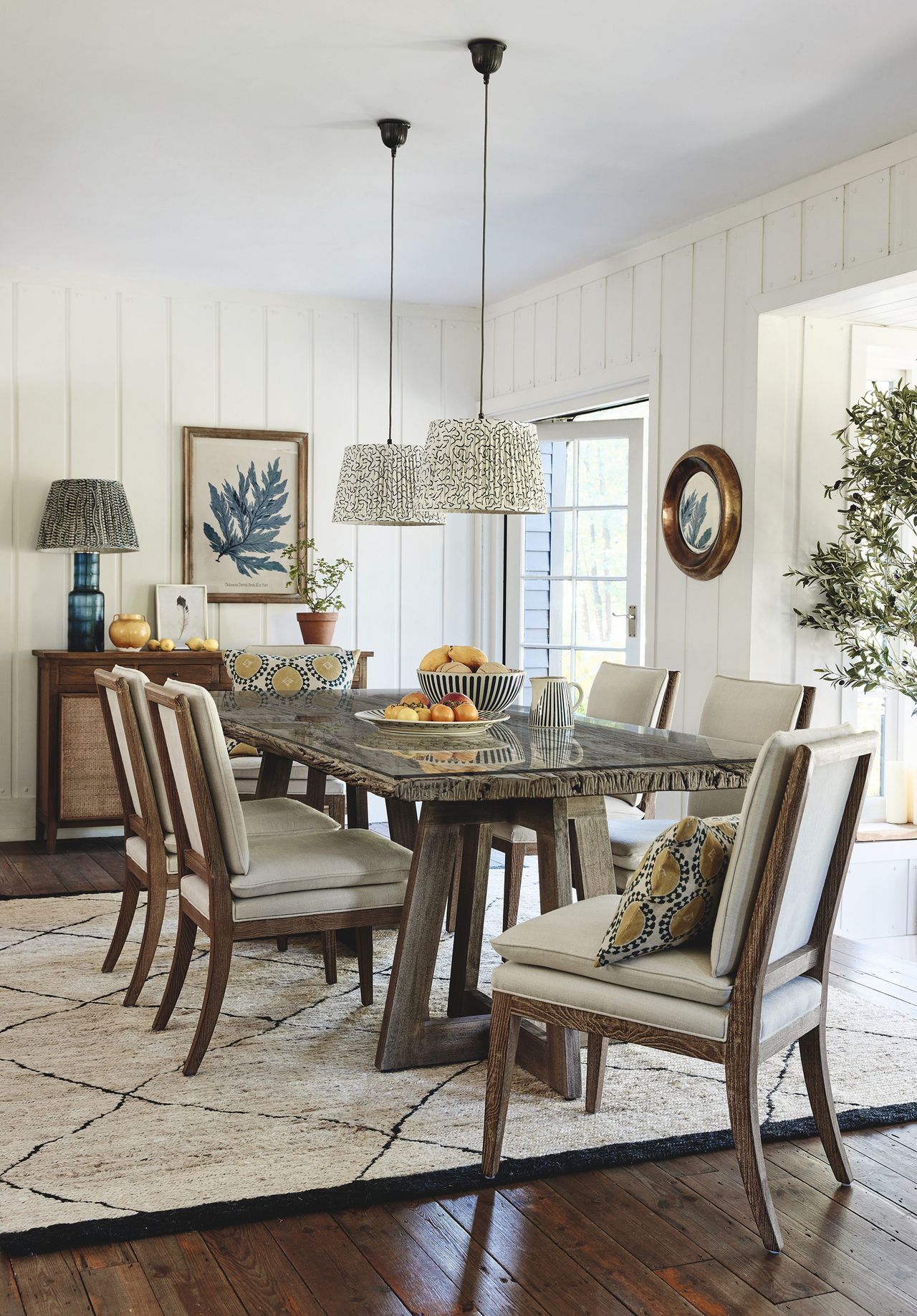 If you're looking to add a summer refreshment to your home, look to the Mediterranean for inspiration, says Sue Jones, creative director and co-founder of Oka.
"It's easier to extend your home than you might think, even when you're surrounded by the English countryside like this cottage. Think big artificial olive trees, lots of natural wood finishes and summery pops of color; I like citrus yellow and sea blue to really bring the Mediterranean flair to life."
How do I design my house Mediterranean?
Are you wondering how to make your house look Mediterranean? Whitewashed walls are a brilliant way to create a relaxed, fresh feel. Alternatively, for a lasting impression, consider decorating in palettes of rich terracotta, umber and yellow, or ocean blue and bright white.
To add a Mediterranean flair to a kitchen or bathroom, try using decorative Moroccan or Spanish tiles on the wall of a shower enclosure or as a splashback. When it comes to furniture, opt for pieces made from natural materials like wood, cane and rattan to add texture and warmth.
Alternatively, for a quick refresher, add a few vibrant and rustic accessories to complement the Mediterranean look.
"I love bringing a touch of summer into my home during the warmer months and Mediterranean colors and materials are a great way to do that. It's all about mixing natural tones with accents of citrus yellow, calming blue and warming terracotta," says Sue Jones of Oka.
"You can bring these tones into your scheme by simply swapping out your wintery pillowcases (which have had their time to shine) for summery alternatives — palm tree prints and neutral fringes are great ways to call out the season. To add a bit of vibrancy, I like to decorate surfaces with hand-glazed ceramics in bold colors.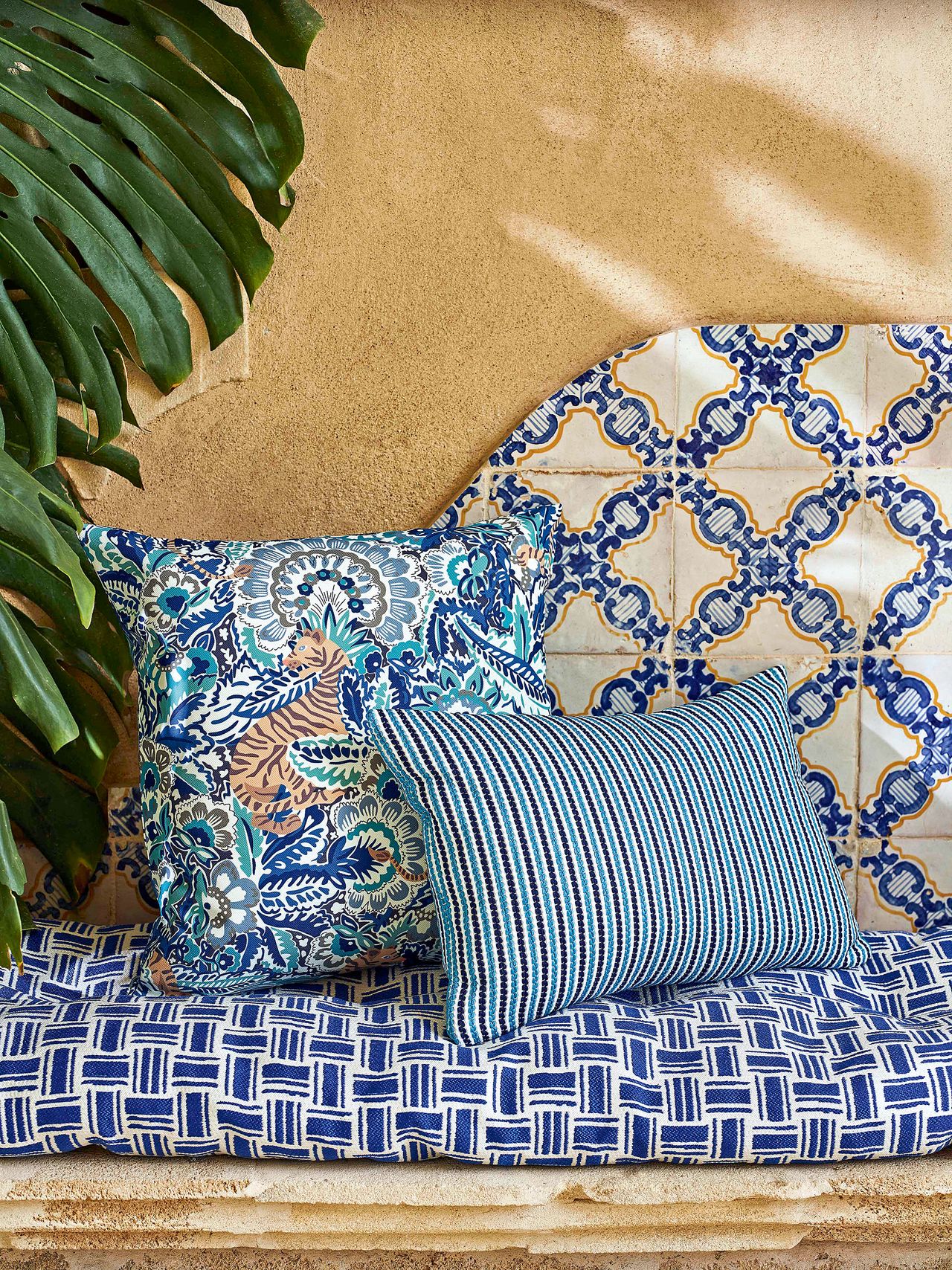 What are considered Mediterranean colors?
Mediterranean decor is a vibrant mix of different cultural influences, giving you a wide range of colors to choose from when it comes to capturing the look. Rich, warm earth tones such as terracotta, umbra, ochre, golden yellow and red are guaranteed to bring a touch of Tuscan warmth into the interior. Or for a cool coastal look reminiscent of a Greek island, with a palette of crisp whites and ocean blues, from deep indigo to captivating turquoise.