The design ideas used in creating this London garden create a calm and relaxing oasis in an urban setting and give the impression that the property has evolved naturally over many years.
It now feels like it belongs to the stunning Georgian house and tree lined gardens that surround it.
Large garden borders on the scale of the house, soft lines, subtly separated garden spaces, wild pond and structures made of shrubs and trees are among the garden ideas that have resulted in such a beautiful space.
"The garden used to be nothing – it was all lawn, with huge plane trees and shallow, neglected borders," explains garden designer Jo Thompson.
"The owners wanted to create a garden that would blend in well with its site; a romantic, welcoming family area for all to enjoy. It looks more like soft intervention than heavy design," adds Jo.
The space evokes the history of the house and incorporates elements of Georgian garden design.
Jo shares her design ideas for creating this elegant and peaceful urban garden.
1. Use soft lines to add character
Curves and contours contribute to a more natural look.
"The soft lines of the design add to the character and romance of the space. Curved flower bed ideas guide you through the garden, separating areas with no obvious division," explains Jo.
The curves open and contract at key points to create glimpses and frame views. Grass garden path ideas meandering through the spacious garden beds help to create different areas with no obvious boundaries.
"There's a sense of gentle waves as you move through space, and it also adds a bit of height in places," Jo adds.
2. Add a wildlife pond for added interest
A garden pond promotes biodiversity in the garden.
This is one of a number of wildlife garden ideas that support birds, insects and other visiting animals, which in turn help pollinate and maintain the garden's natural ecosystem.
"The pond hugs its location surrounded by a number of shrubs to give it a sense of permanence and place that makes it feel like it's meant to be there. It's planted with a soft palette, and stepping stones create a bit of mystery and magic," Jo explains.
Water feature ideas were a hallmark of Georgian garden design, so they also fit the estate's heritage.
3. Create structure with shrubs and small trees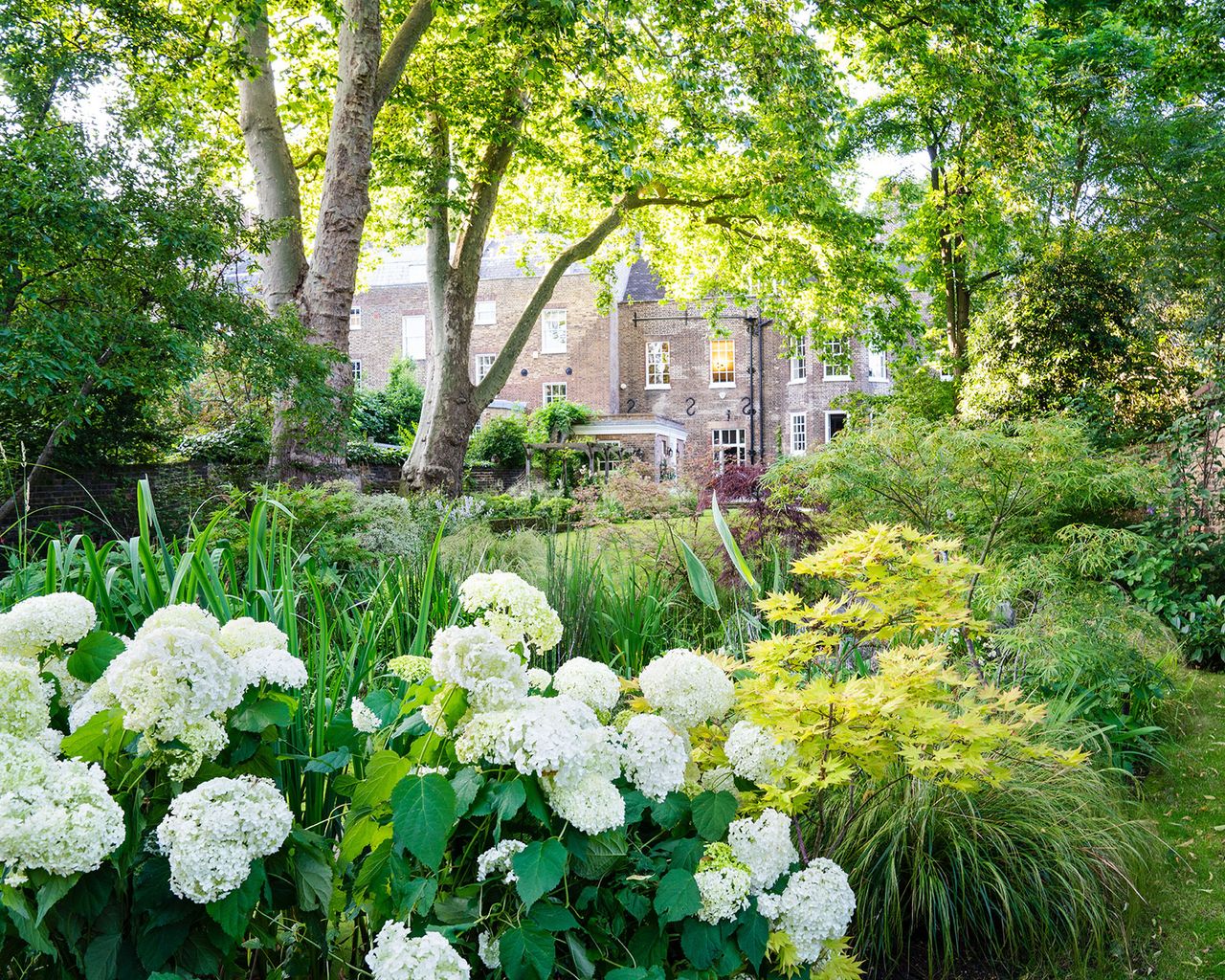 Evergreen shrubs and small trees such as hydrangeas, maples and magnolias abound, providing texture and form, with colors gently merging through the seasons.
"An underpinning of elegance with seemingly relaxed abandon underpins the planting style, which is actually carefully considered," explains Jo.
Ease of care is key with this style, so taking care of the plants and learning how to prune hydrangeas or tend to Japanese maples is important if you have similar shrubs or trees in your yard.
4. Build garden walls to increase the sense of privacy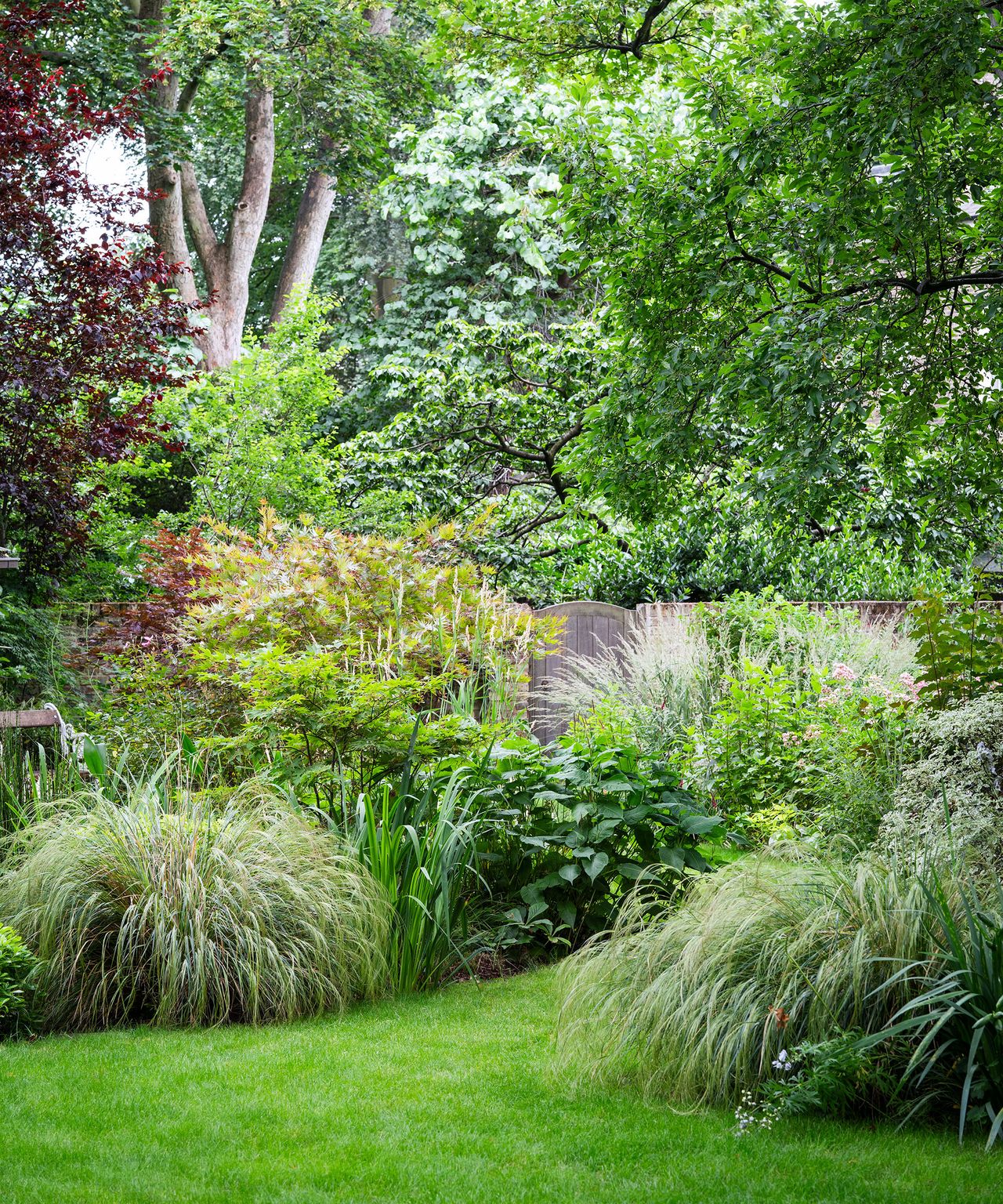 The original garden walls have been restored and new garden wall ideas added to create this secret walled garden in the heart of Georgian London.
"A vegetable garden is around the corner, with paved pathways and espalier fruit trees adorning the walls; a functional, charming space hidden from the rest of the garden," says Jo.
A solid gate in the back wall suggests the journey continues and adds to the feeling of a secret garden within walls.
If you can't build walls, you can use trees instead for privacy and privacy in a backyard, which is especially useful in urban, overlooked spaces.
5. Separate areas and add height with a pergola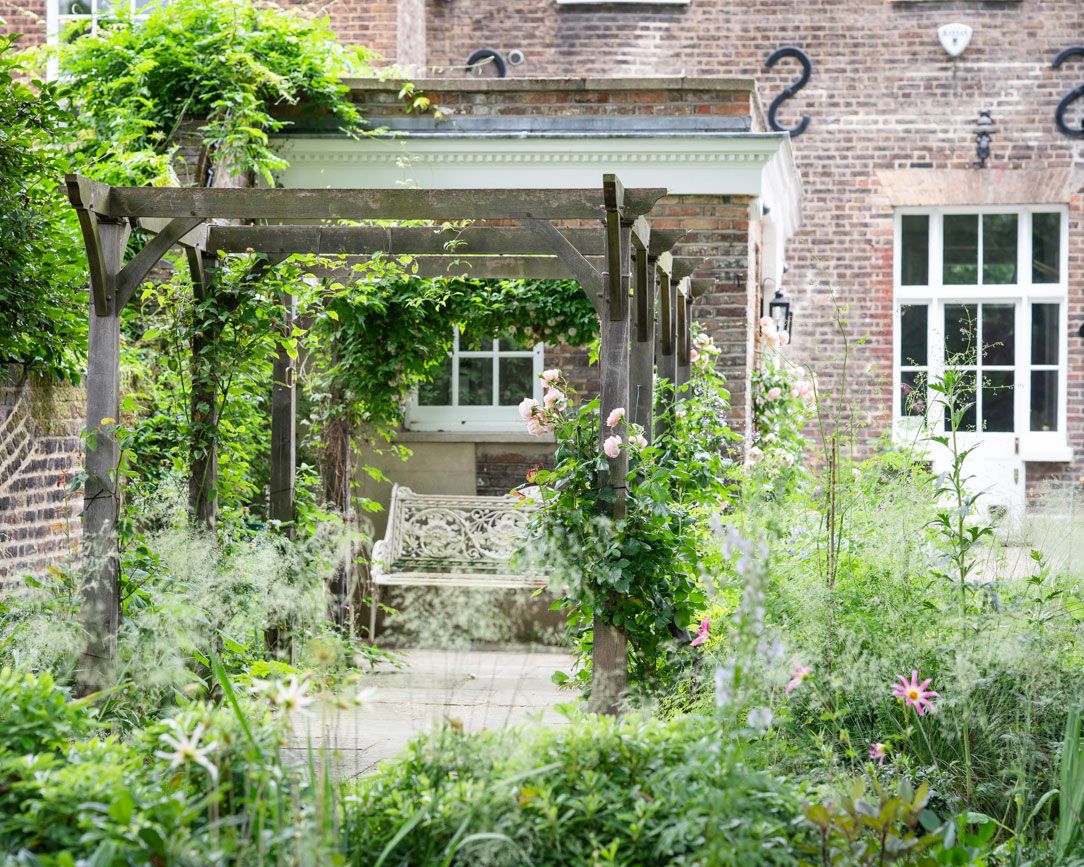 "An oak pergola adds a subtle sense of separation without using a solid border and creates a garden space for the guest suite that sits to one side of the patio," Jo explains.
The oak pergola suits the more natural aesthetic in this traditional setting. It is planted with some of the finest vines, roses and clematis, carefully selected to add color throughout the season. These include Alpina to Viticella Clematis and roses such as 'Madame Alfred Carrière', 'Albertine' and Pink Banksiae Var. banks.
There are many pergola ideas that can help structure a backyard or delineate spaces.
The result of all these subtle and clever design ideas is a timeless garden that complements the elegant Georgian home perfectly.