Adding one of these bird bath ideas to your yard is essential to the well-being of our feathered friends. Bathing loosens the dirt in the birds' plumage and makes it easier for them to clean—a process that allows them to maintain the health of their feathers, keep them warm, and distribute the oil that makes their feathers waterproof.
Whether you opt for a majestic stone structure or a more minimalist hanging design, bird bath ideas are a quick and easy way to incorporate more wildlife gardening ideas into your property.
"Bird baths are one of my favorite recommendations for gardeners looking to expand the diversity and concentration of wildlife in their gardens," says Marc Parnell, author of The Birding Pro's Field Guides. "In fact, some domestic bird baths attract over 50 species each year."
Bird bath ideas to add to your yard
Adding a bird bath is a great way to attract birds to your garden. With a wide variety of bird bath ideas to choose from, it will be easy to find the perfect style to complement your garden ideas.
"Bird baths provide garden birds with fresh, clean water all year round. During the warmer months, birds can struggle to find sources of water to drink and bathe in, so adding a bird bath to your garden will help them thrive," explains Will Haxby, Ornamental Sales Manager at Haddonstone. "Even in autumn and winter, birds still need water to survive, especially when ponds and streams are frozen." As well as providing a water supply during the colder months, it is also important that you feed the birds during the winter as food is often in short supply during this time.
1. Consider stone bird baths a traditional and enduring feature
With a classic aesthetic, stone bird baths are sure to make an elegant addition to your garden ideas, especially if you're channeling a more traditional look like Georgian garden design or Victorian garden design.
Cast from cast stone, this Haddonstone baluster design is frost proof meaning it can remain in your garden all year round and will age beautifully to blend into your garden scheme.
When considering stone bird bath ideas, it is worth noting that they are one of the hardest options. While this is great if you live in a wind-prone area, the weight can make your bird bath more difficult to move and clean. If you're likely to have to move your birdbath, you might want to consider ceramic, which has a similar appearance to stone but supports a fraction of the weight.
2. Go for a minimalist design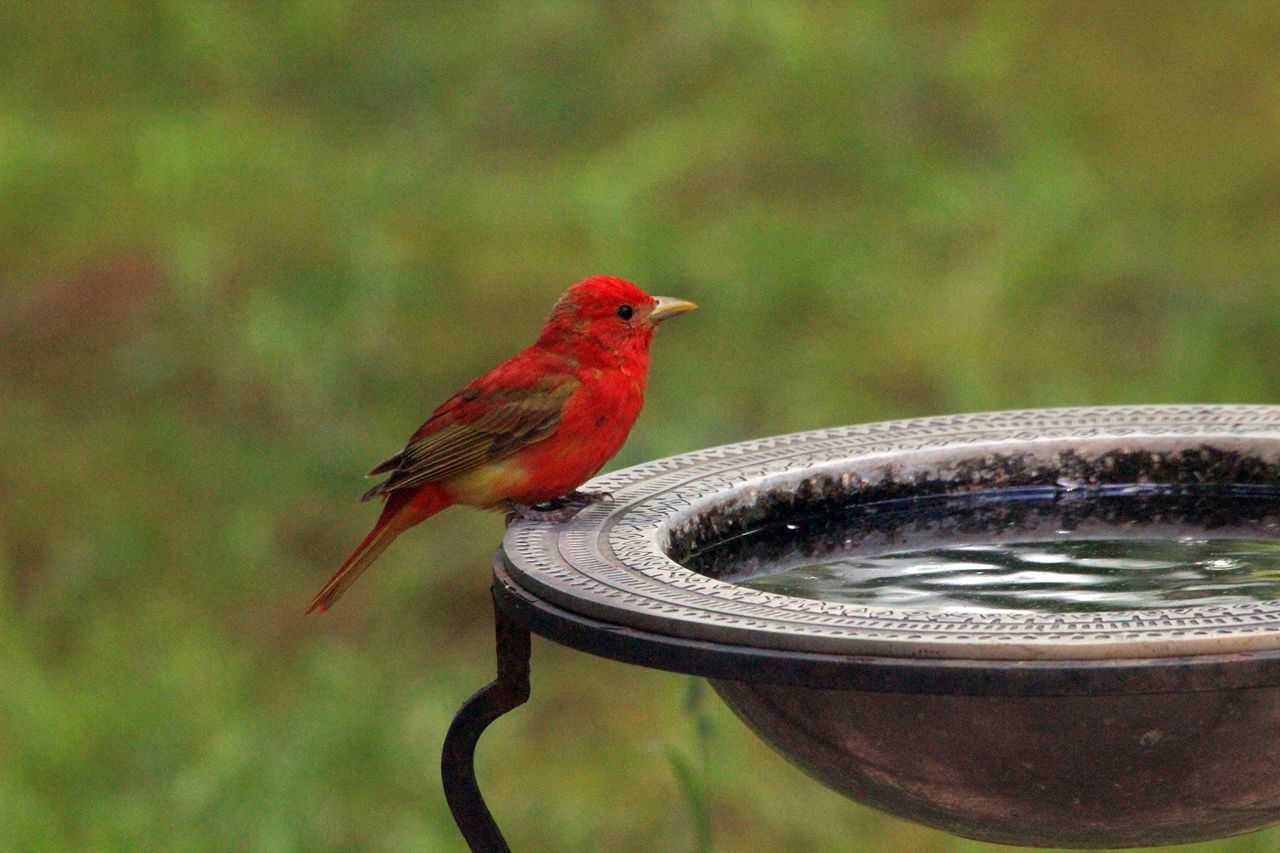 In recent years, more minimalist bird bath ideas have proliferated. Rather than requiring your birdbath to be a statement in its own right, these sleek designs, usually mounted on a thin metal stand, can easily be incorporated into your borders or lawn. Metal and glass are popular materials for minimalist bird bath ideas and are relatively lightweight, making them easy to move and clean when needed.
3. Consider the depth of your bird bath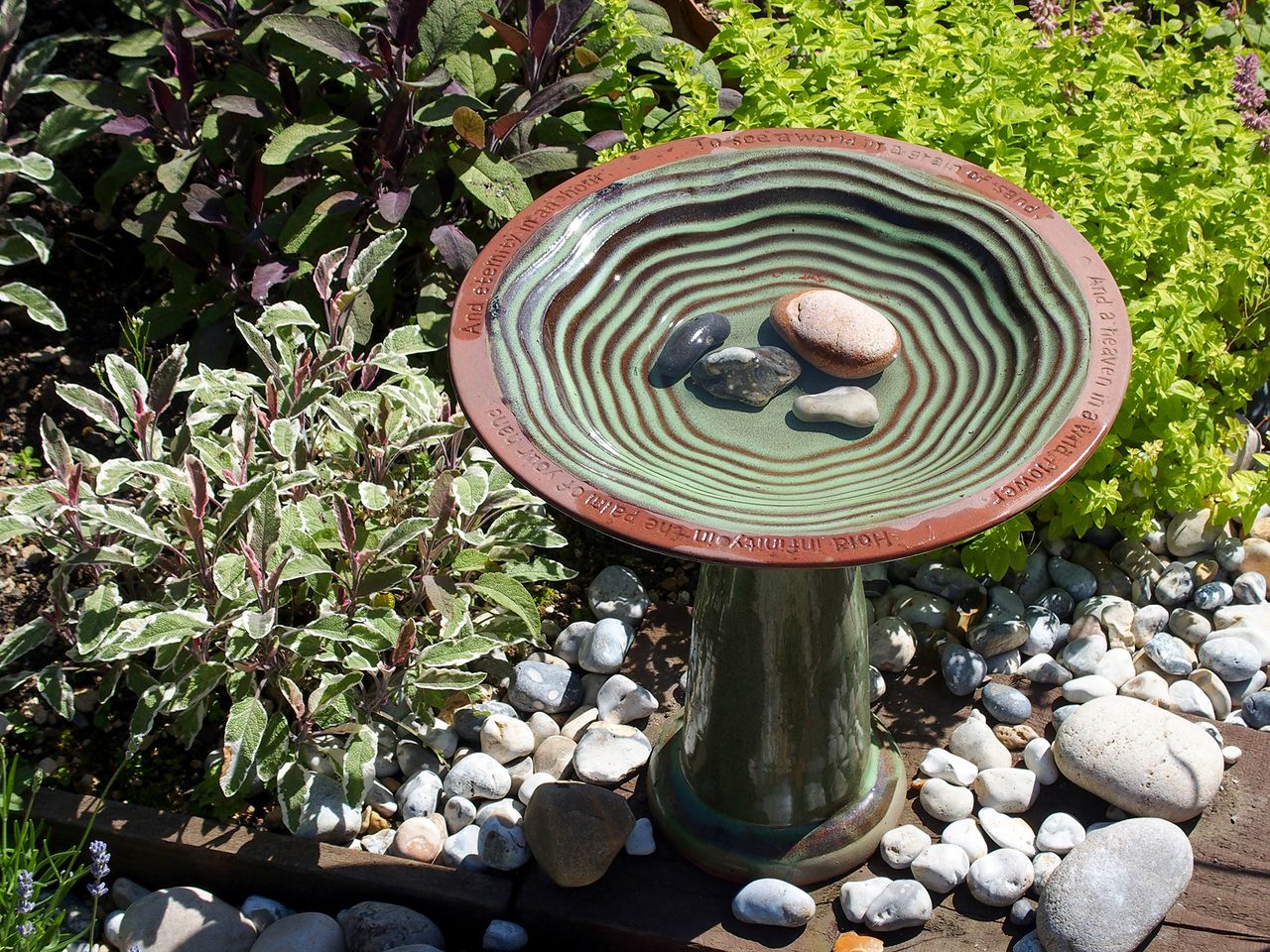 When researching bird bath ideas, it's important to consider their depth. "To allow different species to bathe safely, we recommend a depth of between 1 and 4 inches," says Claire Smith, director of products and partnerships at CJWildlife. "It's also important that the birdbath has sloping sides or rough surfaces and perches that the birds can hold on to and not slip."
Look for a bird bath with a tiered basin so that it includes both shallower and deeper areas, this will help different species bathe. "If you decide to have a deeper birdbath, make sure you put some rocks on the bottom to ensure smaller birds have a perch and can get out easily, too," Claire continues. Placing a few rocks in the shallower parts of your bird bath will also provide bees and butterflies with a place to land and drink.
4. Add a ground level bird bath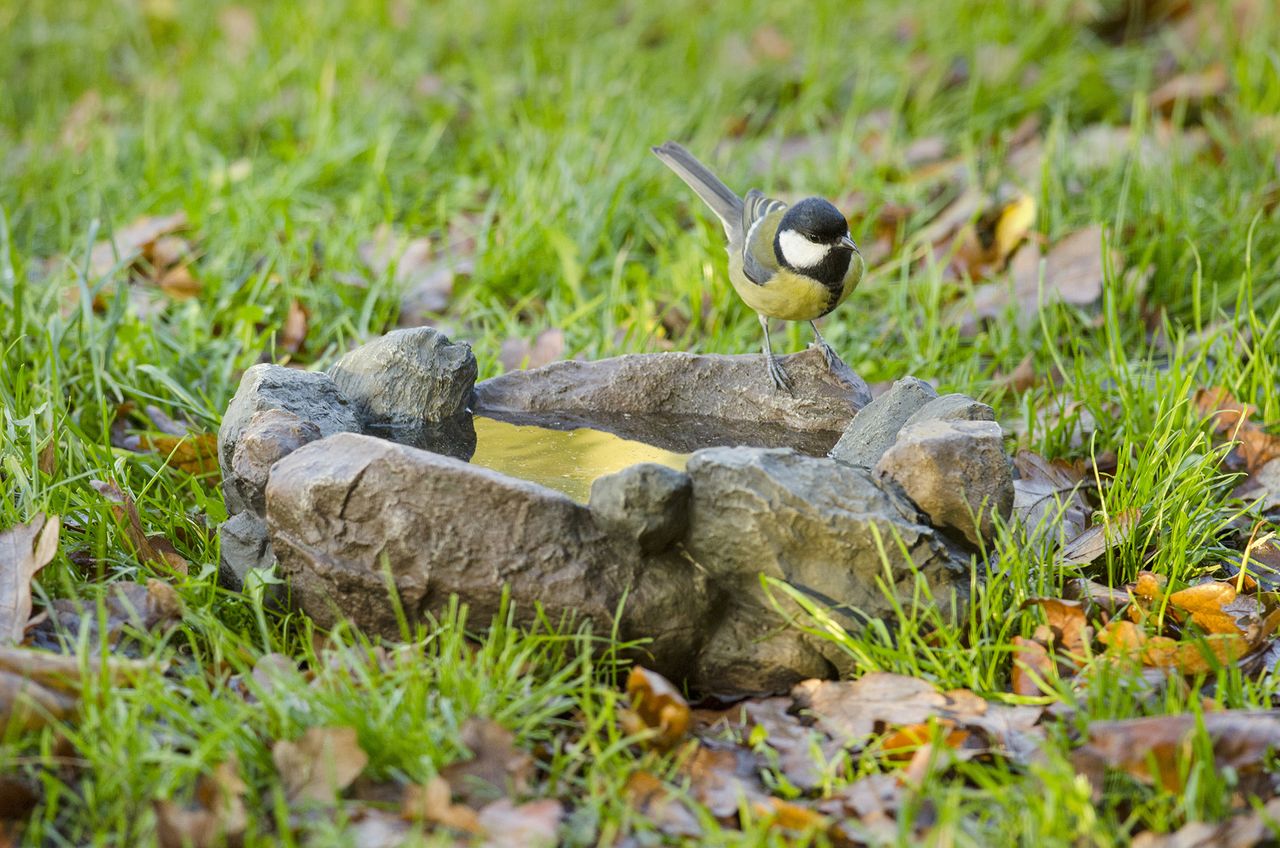 In addition to bird bath ideas that stand on stalls, consider adding a ground level bird bath to your yard.
"Ground bird baths are great for ground feeding birds like robins, blackbirds and thrushes that prefer to be close to the ground. However, because the bird bath is on the ground, there is an added risk that predators may threaten birds while they are drinking or cleaning themselves," says Claire Smith. "Situate your birdbath near an opening or corner where they have the best chance of flying away if they have to."
5. Imagine a statue with a built-in bird bath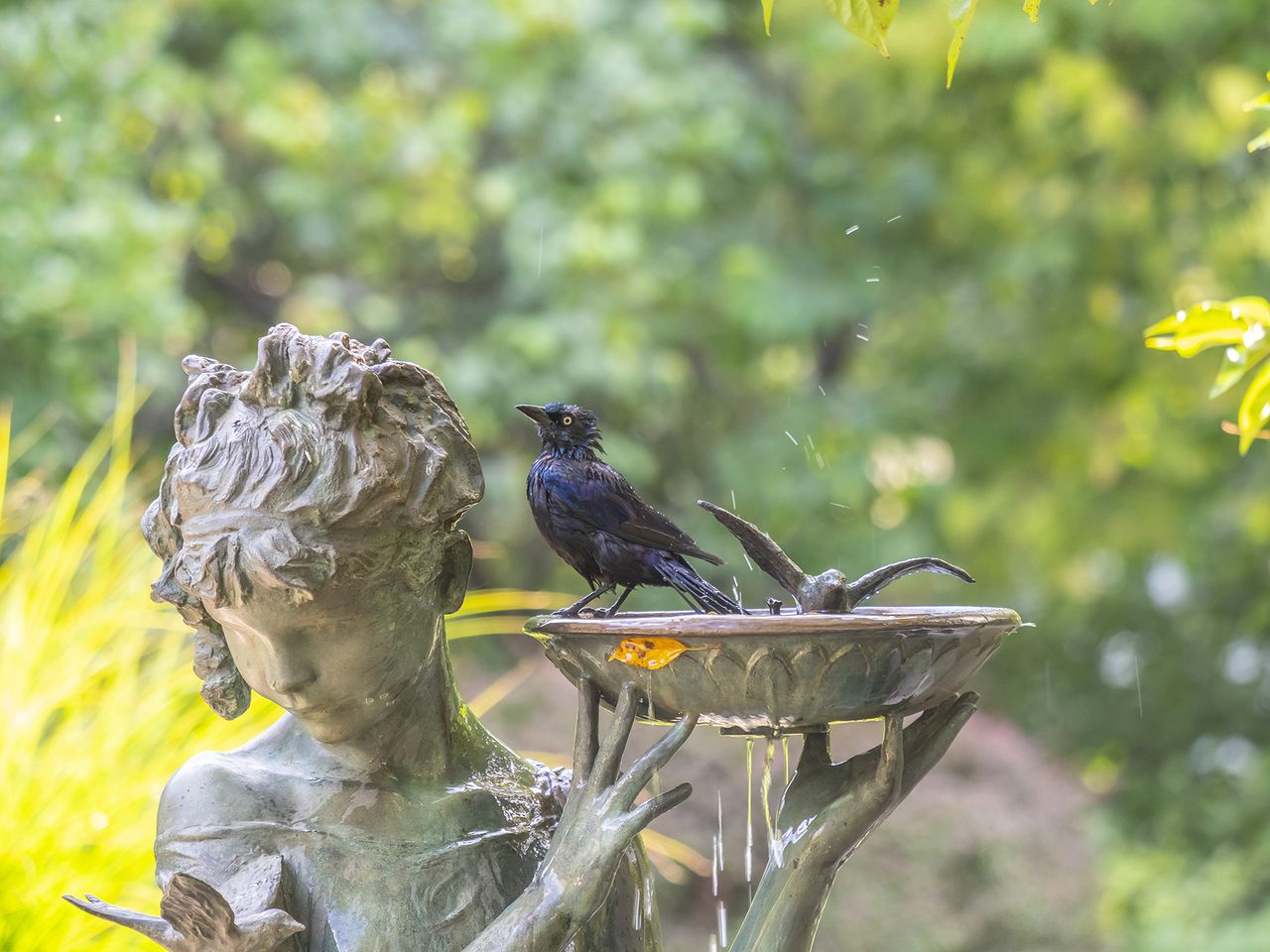 Bird bath ideas aren't limited to the classic saucer on a pedestal design. In fact, there are many decorative designs that suit a variety of gardens. If you are looking for bird bath ideas to add a focal point to your garden, consider a statue with a built in bird bath.
6. Bird bath ideas with fountains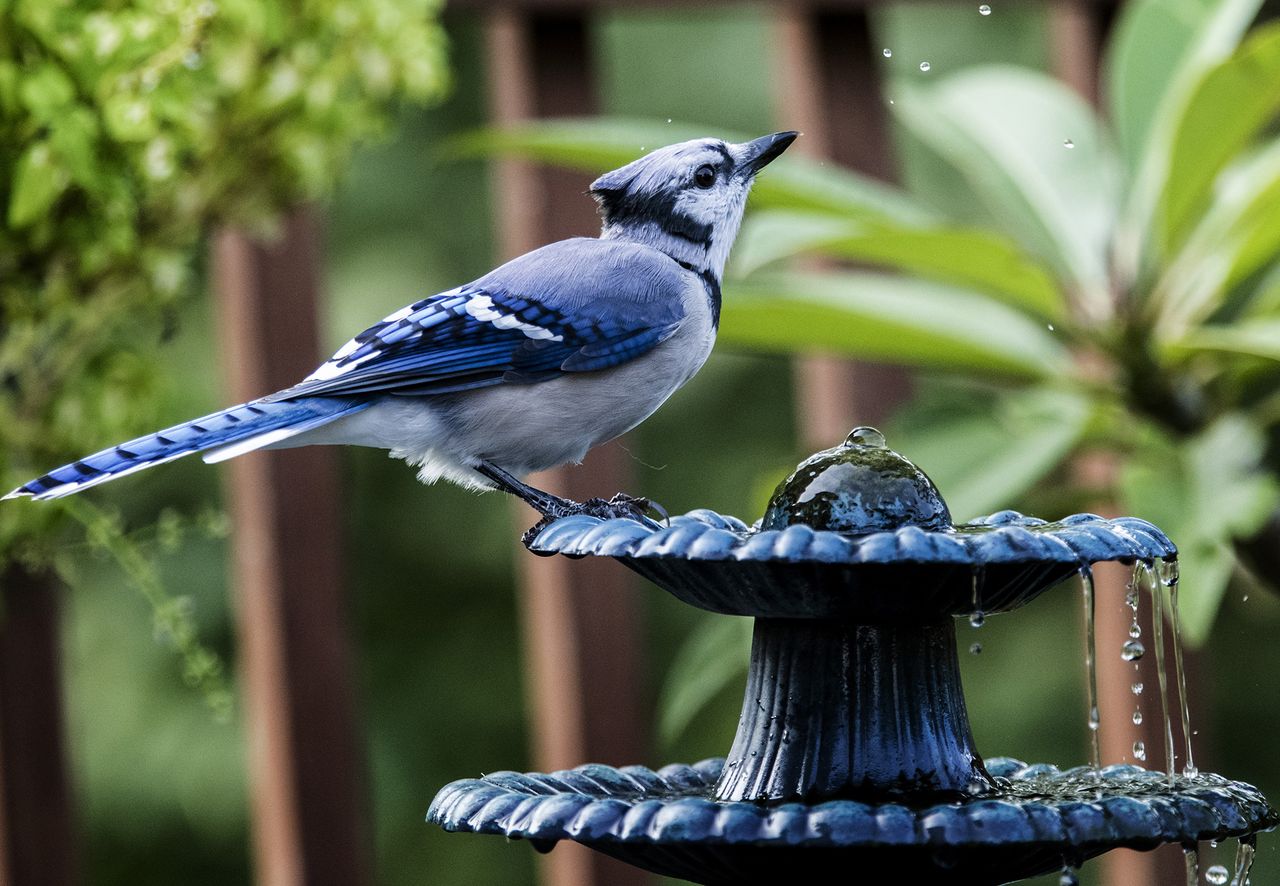 Garden fountain ideas are a beautiful addition to your garden decor and provide a soothing soundtrack to your space. But they are also great for your feathered friends. "A central bubbler, if present, will help prevent insects (and their larvae) from settling and congregating around the bath," says Marc. They will also help attract birds to your birdbath and can help keep the water from freezing in cooler temperatures.
7. Add a bird bath to your patio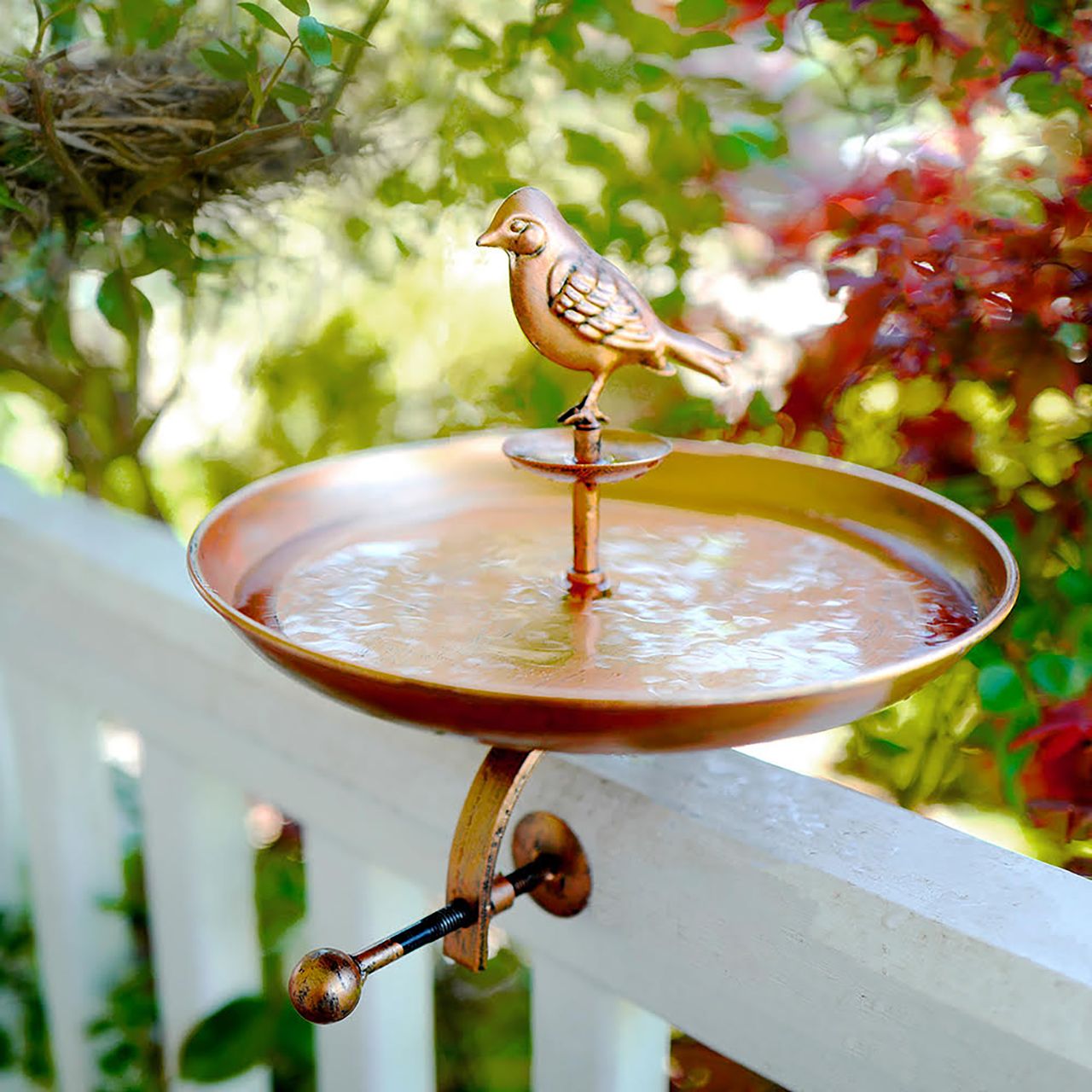 Incorporating a bird bath into your patio or deck ideas is a great way to make your yard more wildlife friendly. There are many different ways to bring bird bath ideas to your patio, porch, or deck. If you're considering adding a freestanding bird bath, opt for a lightweight material like metal or glass, as heavier stone designs can cause your patio to warp.
Alternatively, you can consider bird bath ideas that attach to your patio or porch balustrade or garden fence ideas. Using a bracket instead of a post, they easily attach to the top of the fence and are a great space-saving way to add a birdbath to your garden.
8. Add a hanging bird bath to a small yard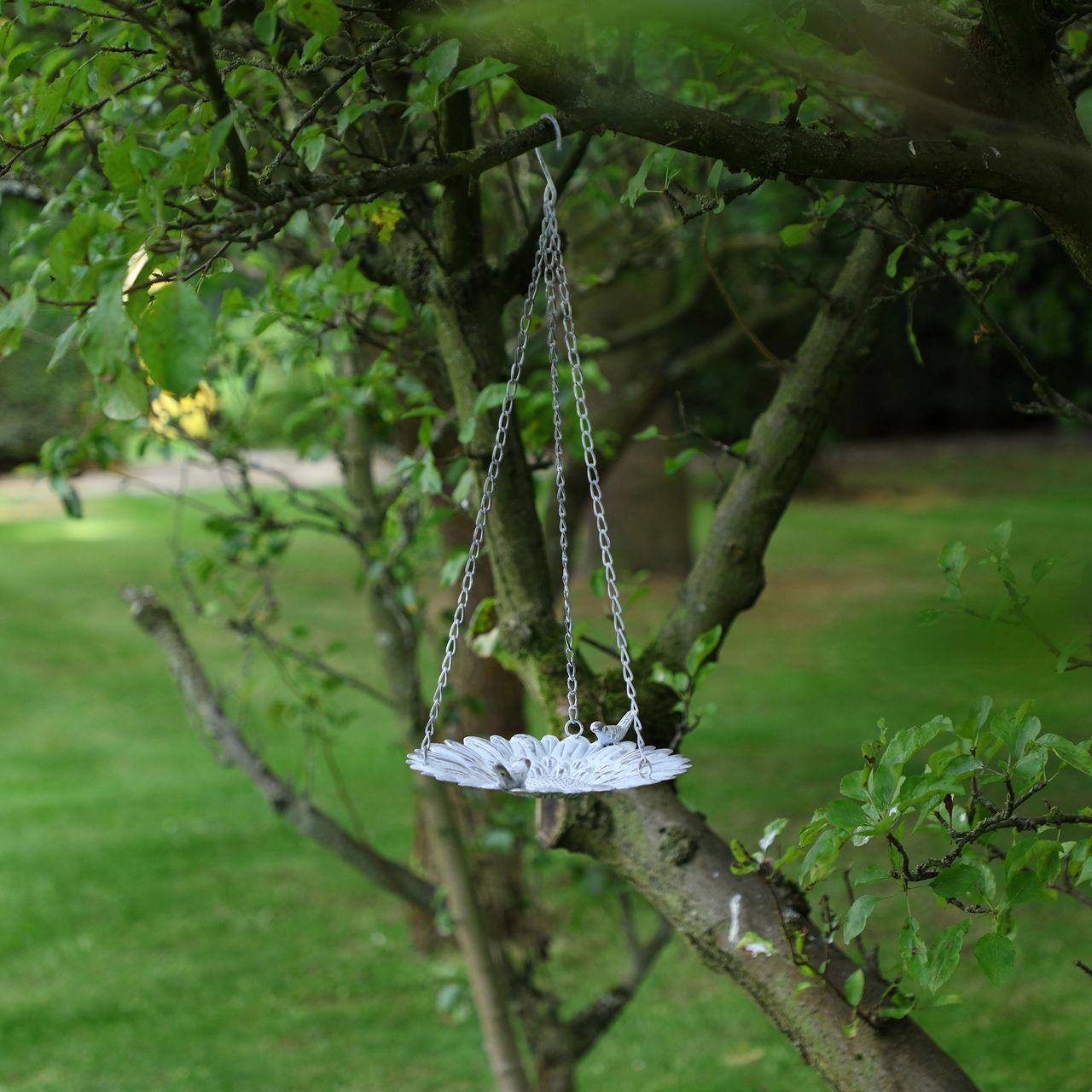 Hanging bird baths are a great choice for small garden ideas as they don't take up any of the limited floor space. Adding hanging bird bath ideas is also a great choice for the birds. Because the bird bath is embedded in a tree, the birds are covered while bathing, making them less vulnerable to a surprise attack.
If you don't have suitable trees in your yard, consider hanging a bird bath from a traffic light bracket. Stand in a shady spot and you'll soon have a flock of feathered friends flocking to take advantage of their new spa facilities.
One thing to consider with hanging bird baths, as well as other bird bath ideas, is their placement. "Bird baths are best located at least 25 feet from nearby windows. This helps prevent bird strikes, which cause hundreds of millions of residential bird deaths in the United States each year," says Marc.
9. Consider a heated bird bath in winter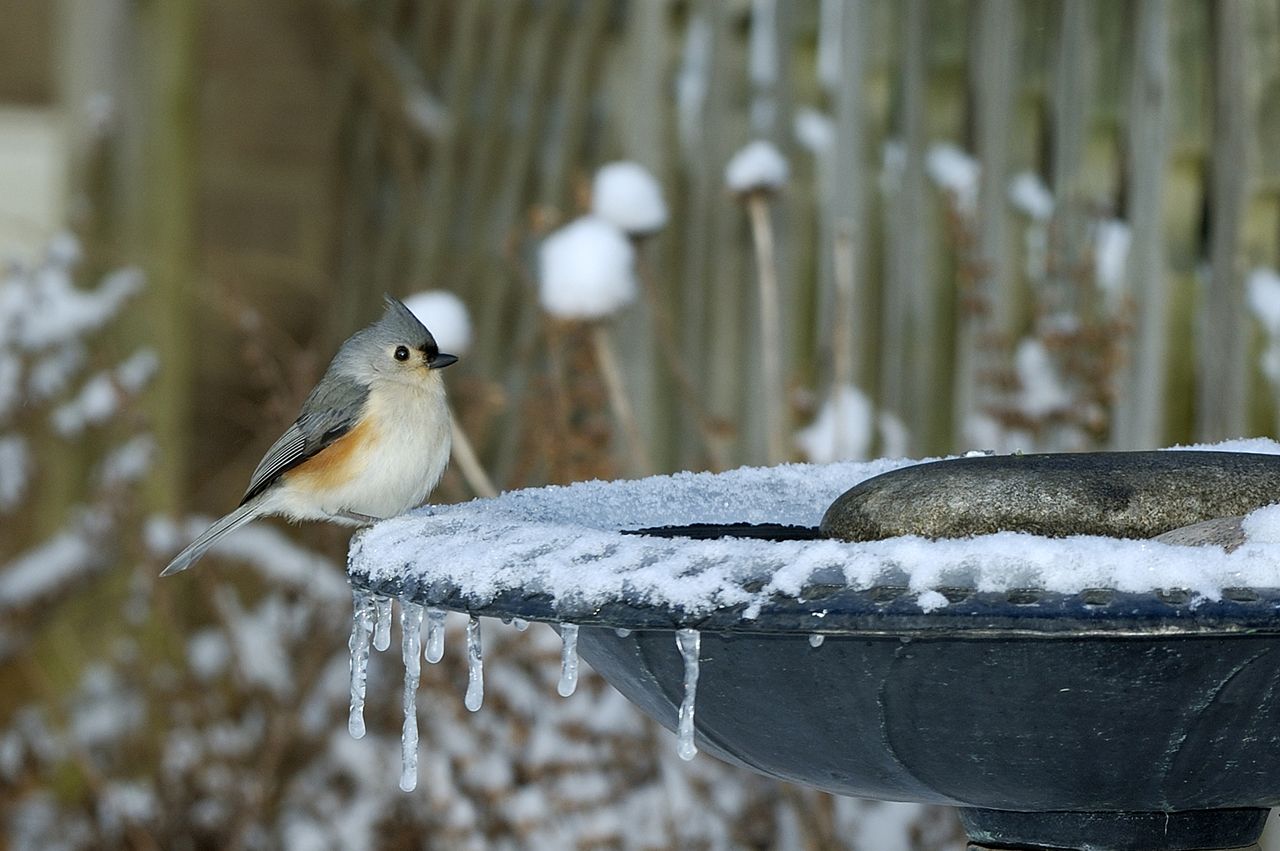 It is important to provide a source of water for birds at any time of the year. In summer, droughts can lead to water shortages, while in winter, freezing temperatures can also make water procurement difficult. Opting for a bird bath with an integrated heater is a great way to ensure it doesn't freeze. Alternatively, add a separate electronic de-icer to your bird bath ideas. However, both options require electricity, which in turn limits the position of your bird bath.
Other ways to keep your birdbath from freezing include adding a fountain or placing a tennis ball or apple in your birdbath—all of these methods make it harder for the ice to form a skin on the water's surface.
During cold weather, be sure to check your birdbath regularly. If you find it's frozen over, simply thaw it by pouring cold water over the surface. Avoid pouring hot water over the bird bath as the sudden temperature change may cause the bird bath to crack. Also, avoid using chemical de-icers as these can prove toxic to birds.
10. Keep your bird bath clean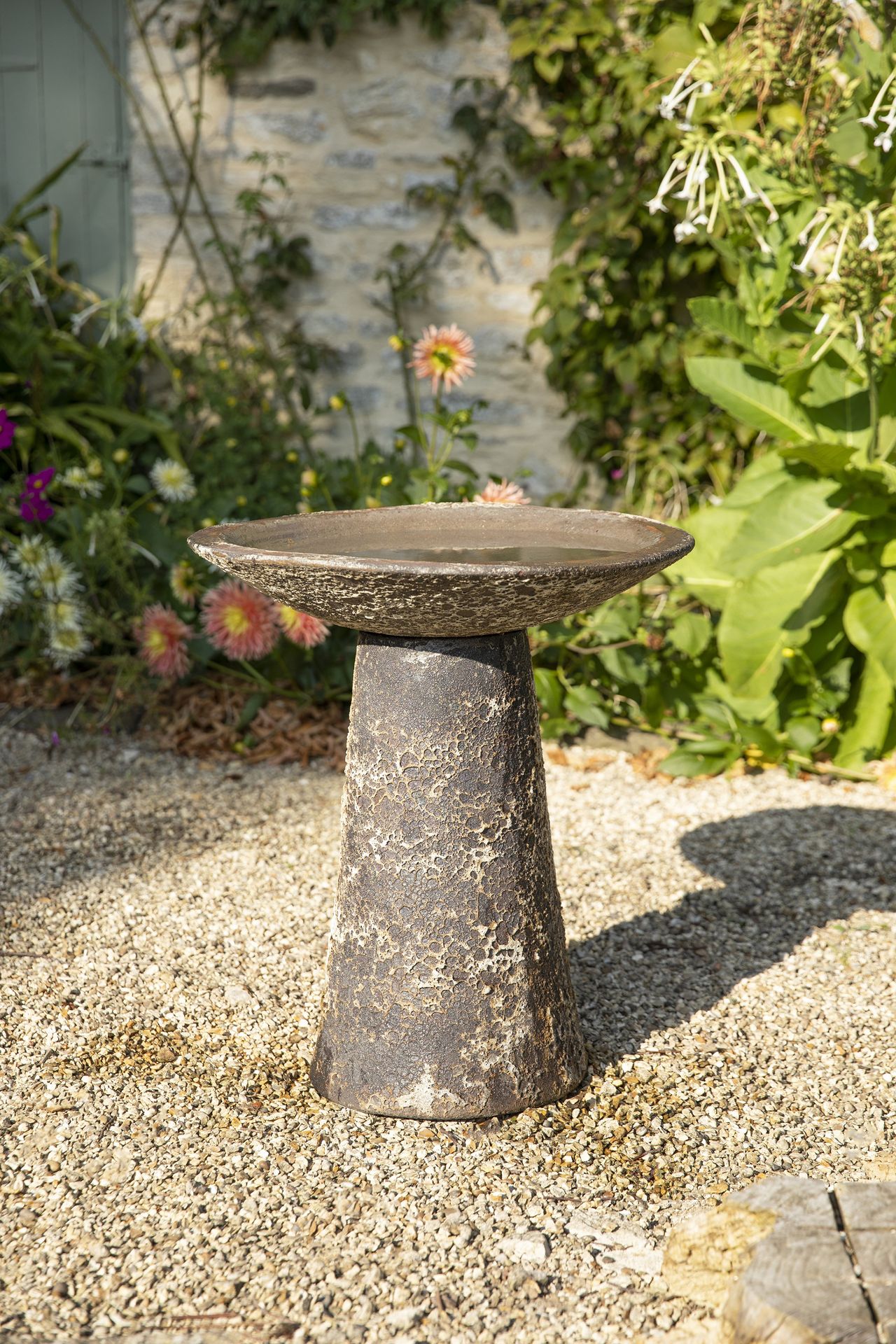 No matter what bird bath ideas you choose to add to your yard, keeping it clean is important. "Bird baths need to be cleaned at least twice a week. Each basin must be completely emptied, scrubbed clean, soaked in a 1:10 bleach to water solution and rinsed thoroughly before being refilled," says Marc Parnell. "If these tasks are not done diligently, the bath can become a breeding ground for various bird diseases – defeating its original purpose of supporting local bird life."
Should a bird bath be in the sun or in the shade?
Your bird bath should be in the shade as it keeps the water fresher and cooler. It also reduces the amount of evaporation, meaning you don't have to refill your birdbath several times a day.
"Bird baths should be placed on a flat, level surface. They can be positioned on a patio, terrace, lawn or in a border, depending on personal taste and available space. If you place your birdbath under a tree you will need to remove fallen leaves and branches from the water as they will crumble and can contaminate the water," recommends Will Haxby, Haddonstone's ornamental sales manager.
Why don't birds come to my bird bath?
There are many reasons why birds may not come to your birdbath.
First, consider the location of your bird bath. Bathing is a vulnerable time for birds as they tend to focus on preening rather than predation. As such, they are more likely to seek out a birdbath where they feel safe. Position your birdbath in a shady spot near trees and spiky bushes as these provide a safe place for the birds to survey the scene before bathing.
It is also important to keep your birdbath clean and full, birds will not visit a dirty birdbath. You can also try adding a fountain to your bird bath ideas as this will make your bird bath more attractive to visiting birds who will be attracted by the sound and sight of the moving water.