Morgan Page stopped by to chat about all things Miami Music Week, his latest songs, production process and more!
---
The joy of listening to music cannot be denied Morgan side. This veteran producer is no stranger to the scene with a slew of popular releases under his belt ranging from "fight for you" and "The Longest Road" With lissie to "Fire & Gold" and "In the air" With Sultan + shepherd, BTand angela McCluskey. And on the DJ side, whether it's your first time seeing him live or your tenth, Morgan Page is sure to keep you on your toes with his infectious, dance-ready beats and melodies to keep you feeling at your best.
That year, Morgan Page continued his dominating path on the scene by collaborating with Corsten ferry and Cara Melin At "Wounded' which went on Armada music back in February. Upon its release, we knew we needed to catch up with Morgan to delve into the making of this track, his other recent releases and more, and had a chance to chat with him before he graced the decks during Miami Music Week.
Listen to Wounded on Spotify or your favorite platform and read on for the latest on what Morgan Page has been up to lately, including some of his photography tips and more!
Stream Ferry Corsten, Morgan Page – Wounded (feat. Cara Melin) on Spotify:
---
Hi Morgan, first of all thank you for taking the time to chat with us. How does it feel to be back at Miami Music Week after such a long break?
It's always overwhelming. It's really interesting to see how much has moved to this side of the dam this year. It's usually just South Beach and a handful of downtown parties, but I think the lockdown has changed things.
Yes, that certainly changed a lot.
But it's good to be back. You're so sick of just plain email and Zoom with everyone. So that's the best part of Miami — randomly bumping into people on the street, meeting people, and having a chance to meet the labels and the other artists that you love.
With that in mind, what do you think makes Miami Music Week so special?
It's just focused – everyone's here at the same time, which is rare. You can have that in Ibiza, but people are spread across multiple venues. It's not the same as crashing here on the street. That said, and just hearing you go in the direction of the music it's moving in is people testing out what's new stylistically and what tracks are resonating.
Speaking of fresh tunes, VIVID just released a remix of your classic "The Longest Road", one of my favorites, and turned it into an energetic, fist-pumping track suitable for any stage. How did this special remix come about?
I wanted an updated version of The Longest Road and I'm a big fan of VIVID. We've worked together before and I love the future rave style MORTEN did with David Guetta. I love this vibe, so I felt that [remix] would add that extra modern sparkle to it and give that energy to others in my sets in other ways.
Do you usually approach someone you want to work with, or do they come to you?
A little bit of both, and of course it happens when people put out solid remixes sometimes, and it's going to explode and get a lot of YouTube views. We license it, make sure the person gets credit and officially release it. So this is a fun way to do it. And other than that, I think it's important to be proactive and reach out to people you really admire. They reach out and DM them; it's much easier now. So it's nice that you both love each other's work.
You also recently collaborated with Ferry Corsten and Cara Melín on "Wounded", a beautiful progressive house track on Armada. Can you walk us through the production process for this collaboration?
It started with her singing. There was a piano version of her singing and I did a piano house version. I made it more progressive with more piano stabs and Ferry added more 80's elements like 80's basslines and synths. We went back and forth and it was a long process finding the right lead, the right supporting lead in the day. He works in another DAW so we just swapped stems and downs for a while and then found a version that just clicked.
your album DC to light came out seven years ago. Do you have plans for new music or possibly another album?
Yes, there are a lot of remixes coming out and we have singles planned for the rest of the year – different sounds than me, some darker but more pop stuff. I got back to the dance grooves, more club stuff. There is so much new music and my MP Quick Tips card game I made for music producers which was a fun side project. It's a physical deck of cards that you shuffle, and it's small creative prompts that help people work through those tensions.
They're also scheduled for a few other shows, including stops in Boston and Vancouver. How do you determine the overall mood of your set? Does it depend on whether you're in a club or at a festival?
It's a bit of both because I don't want to do it all over again every night. I can use chunks that work in specific settings. I really like mixing in keys and a similar tempo groove. It is interesting. I think the size of the venue makes a big difference. In a stadium, you have more protracted glitches and long builds. It feels a bit weird in a club when you have big glitches, so you have shorter drops and shorter builds, maybe no glitches, maybe fewer.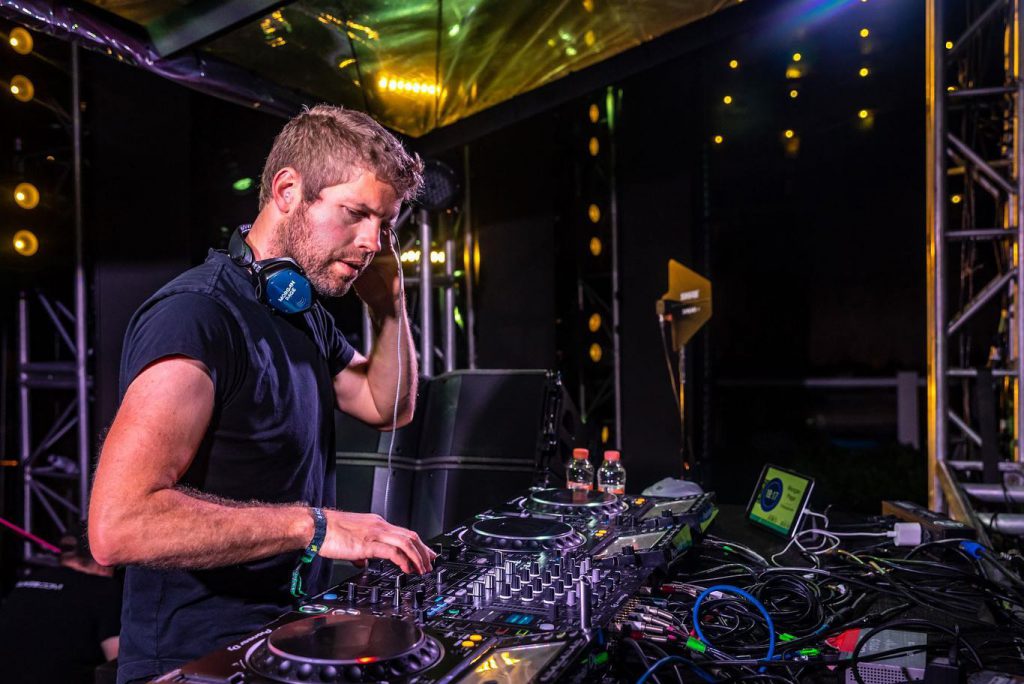 I also saw that over the last year you have been very interested in photography and videography and have experimented with many different cameras from different decades. What was your favorite that you have used so far?
I love the Blackmagic cameras but the best fun lenses are these amazing vintage lenses called Helios. They're incredible lenses that go for $60 on eBay. You can get this, put it on a Sony, and it just changes things. I've always been trying to figure out how to get that cinematic look in those videos or movies and it's now a golden age for image capture, in some ways even more exciting than the audio that's coming out of here. There are more exciting things happening with visuals so it was fun trying that, I'm just embracing that other part of my brain so I'm ready.
Do you have tips for the perfect shot?
The rule of thirds is always helpful with proportions. I prefer to just buy old faceted glass lenses. Old lenses are all manual so you need to learn how to set them up fully. With that really shallow depth of field, I just love this cinematic, emotional shot. This is my favorite, but keeping focus is the hardest part.
One last fun question. You just finished your set here in Miami, it's after your set and you're hungry. Where do you go nearby for the best food in Miami?
I usually try to just stomp water at the end of the night and then fall asleep before I get too hungry. I've learned that the fourth meal is usually a bad idea. [Laughs] But if it's as late as tonight, then yes. There are always these Cuban sandwich shops in Miami and I don't know if they're still open, but there used to be one that was open all night that we could stop by earlier. Or the diners, there used to be a few diners on Washington. Everything has changed so much in dynamic I don't even know if some shops are still here and I've been coming for 20 years.
Wow. It's my second time in Miami so it's still new to me.
It's very shocking. For some people it's an acquired taste, and for other people they're just on that weird wavelength. [Laughs]
---
Follow Morgan Page on social media:
Website | Facebook | Twitter | Instagram | SoundCloud | youtube