Content Note: This article contains a discussion of chronic disease and pain, weight loss, food/appetite, and blood and blood in the context of art
Crohn's disease is an inflammatory bowel disease that causes chronic inflammation in the gut.
When I first conceived this art project about my illness at the beginning of Lent, the harmful symptoms associated with the illness were a distant memory. With only vague memories of the numbing pain I felt in my stomach when I was 13, I created an abstracted, smug version of my relationship with Crohn's disease. If I'm honest with myself, the condition was more of a vehicle to convey something visually striking than it held any particular emotional value for me. I'd recently walked down a Francis Bacon rabbit hole, and so my diseased gut felt like a convenient way to mimic the blood and gore of his paintings. I sculpted these tentacle-like clay sculptures and added small suction cups to represent my formerly ulcerated guts. I didn't care that my art didn't come from a place of intense personal feelings because it looked good to me.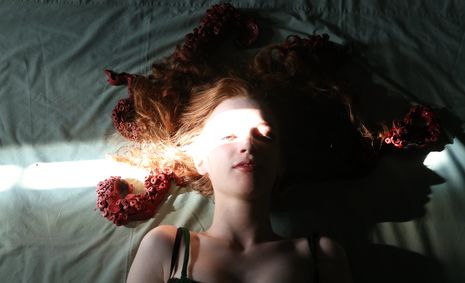 But through a bizarre coincidence, the symptoms I first felt nearly a decade ago began to creep back. At first I hardly noticed it: a soft stomach noise when eating, loss of appetite, an extra portion of tiredness. A heavy workload and the dubious offerings of an overhauled, underpaid college kitchen explained away all of those signals, and I found them easier to ignore. But my attention-seeking gut became more stubborn: my body refused solid food and I looked spooky after losing about 10 pounds. Making tentacle sculptures morphed from an idle distraction from my looming dissertation to a means of relief, a means of catharsis: shaping the wet clay into odd, wavy shapes allowed me to channel the rumbling pain in the pit of my stomach. My room turned into an uninhabitable nest of flushed, sprawling creatures as I sat hunched late into the night, my fingers caked.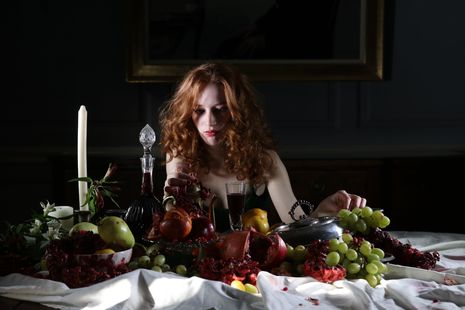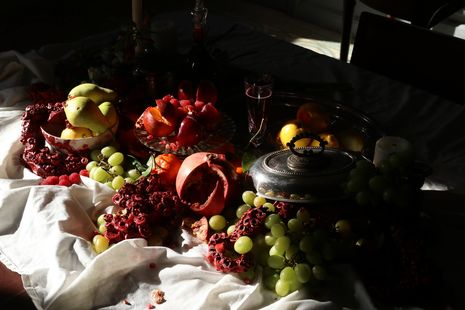 Based on this, I designed a photo series in which the intestinal sculptures are laced around a rich meal – imperceptibly at first among the spilled grapes and pomegranates. I was inspired by late 17th-century Dutch still lifes, filled with their unpeeled lemons and gleaming goblets and crumpled tablecloths. There was something delightfully menacing about her stillness, her silent symbolism. The point of this arrangement was to convey a kind of reversal, a strangling of the food that I felt was strangling me every time I tried to eat.
"The condition was more of a vehicle to convey something visually striking than having specific emotional value"
The return of Crohn's triggered a strained relationship with food that made its alluring appearance feel deceptive: I craved something I knew would cause me pain. I also wanted to show the concealment of the condition. If you look at me today, you would only notice that I look a little gaunt, a little thin. But inside it's a different picture: I'm bleeding, I've got ulcers, I don't look pretty… My wonderful photographer, Fin Scott, captured that sense of innate monstrosity by creating a set where the sculptures look like a Medusa popped up in my head.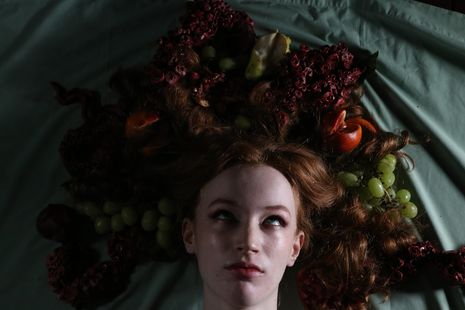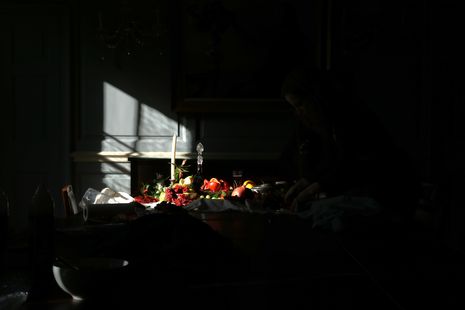 When I was first diagnosed with Crohn's disease, I felt like a monster: I would go to great lengths to hide from anyone that I have the disease. As a full-fledged teenager, I found it socially debilitating to spend weeks sucking powdered food out of a straw like an infant and answering hospital questionnaires that asked things like, "Are you worried about ever finding a girlfriend or boyfriend?" I was relieved when the illness came to the edge of my life and actually never wanted to talk about it again. But now I think it's really worth sharing because it's a lifelong condition that few people know about, even though the illnesses affecting IBS affect around 300,000 in the UK and are increasing among young adults.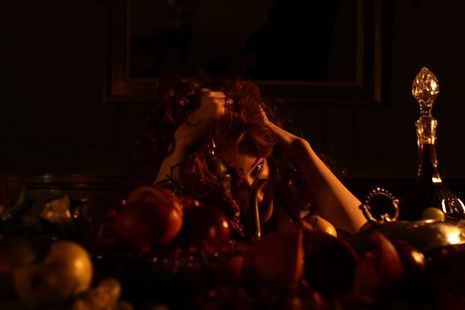 I'd honestly rather have a healthy gut and less creative inspiration, but hopefully this series will raise awareness of a disease that's underdiagnosed and often misunderstood.
For more information or support, please visit: https://www.crohnscolitisfoundation.org/.
Nicola's project is featured in the second issue of the zine Lunulae.
Photoshoot Credits:
Creative director and model: Nicola Medicoff
Photographer: Finn Scott
Creative assistants: Sam DeMarco and Anna Chandler de Waal